In August, The International Wine of the Month Club's Premier Series is proud to offer four exceptional wines, beginning with the 2015 Graffito Mendoza Malbec (92 Points – James Suckling). Jimena Lopez has fashioned a rich, flavorful wine in her 2015 Graffito Mendoza Malbec. Perhaps, even more impressive is how she has imbued her Malbec with as much charm and grace as she has flavor and structure. Made from 100 year old vines emanating from Mendoza's famed Uco Valley, the 2015 Graffito Malbec displays an enviable cachet the likes of well-made Bordeaux: a deep inviting color, aromas of ripe fresh blackberries infused with hints of rose petal, incense and spice, along with juicy berry flavors imbued with dark chocolate and espresso tones. Medium-bodied but full of flavor, there is everything to like about Jimena Lopez's 2015 Graffito Malbec.
Our next Premier Series feature is the 2017 Areyna Valle de Cafayate Torrontes, a wine that marks a new chapter for the award winning Casarena winery and sheds a whole new light on the Torrontes varietal. Sporting a snappy golden color with fresh green highlights as well as a wickedly aromatic bouquet, it is obvious that Casarena's young and innovative winemaker Mariano Quiroga Adamo has mastered the Torrontes varietal. Fresh intoxicating scents of spring flowers, lychee fruit, and citrus waft from the glass to set the stage for the wine's marvelous, almost explosive flavors, which emerge on the palate. Energetic and invigorating in the mouth, Aryena's 2017 Valle de Cafayate Torrontes not only transfers its highly charged aromatics onto the palate to great appeal, it balances the wine's floral and fruit tones with refreshing acidity and delightful tension.
Next in this month's exciting quartet is a wine made from an heirloom grape varietal known as Mission or Pais. J. Bouchon's 2017 Pais Viejo (92 Points – Descorchado) emanates from 100 year old dry farmed vines from Chile's Maule Valley. These head-trained Pais vines were 100% naturally-vinified using century-old winemaking techniques, including the use of the zaranda (a structure made of sticks to destem the grape clusters). All of the grapes were hand harvested and fermented with native yeasts in concrete tanks to preserve the wine's fruit and an authentic expression of terroir. One whiff of this light fresh wine is all one needs to know that this is no ordinary, cookie cutter varietal from the shelf of a big box store. Aromas of ripe fresh strawberry, raspberry, and wild cherry mingled with the first scent of spring flowers quickly greet the nose and alert the palate that something good and very different is about to happen. In the mouth, juicy berry flavors fill the mouth and glide gleefully down the throat on a bed of soft tannins with just the right amount of refreshing acidity. Bouchon's Pais Viejo is a wine to enjoy with abandon or simply linger over as it slowly reveals charming hints of exotica.
Completing this month's Premier Series portfolio is the 2016 Green Eyes Grüner Veltliner, a white wine from Austria that is "Light, lovely, and ohhh so drinkable." Light in color, crisp and refreshing, Hermann Moser's 2016 Green Eyes Grüner Veltliner leads with an appealing bouquet of freshly picked pears mingled with a hint of spice for which Grüner Veltliner is renowned. Appetizing and lively in the mouth, Moser's Green Eyes goes down easily but not before treating the taste buds to an appetizing burst of citrus and clean mineral flavors that leave the mouth begging for more. Dry and engaging, Herman Moser's dry Green Eyes Grüner Veltliner is just plain fun to drink from start to finish. Prost!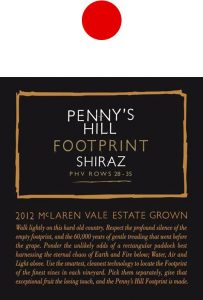 The International Wine of the Month Club's Collectors Series is proud to offer in August three exceptional wines from three continents. Beginning this month's Collectors Series is the 2012 Penny's Hill Footprint McLaren Vale Shiraz (93 Points – Stephen Tanzer), which proudly comes across as the estate's ultimate luxury offering. Rich, powerful and highly aromatic, the still youthful 2012 Footprint offers a heady bouquet that fills a room with its breath. Pure blackberry fruit along with a complex mélange of cocoa, spice, vanilla and a touch of eucalyptus thoroughly captivate the nose. In the mouth, this "Footprint" leaves an even greater impression. Rich, bold and beautiful, the 2012 Penny's Hill Footprint graces the palate with juicy fruit, dark chocolate and spice tones, textured tannins, and impressive structure. Yet, with all of this wine's flavor and power (14.9% alcohol), it retains great length and a polished patina.
Our next August Collectors Series offering is the 2016 Amayna Leyda Valley Sauvignon Blanc, a wine that convinced us of just how far Leyda Valley has come in producing world-class wine. Although it sparkles and cuts a fine figure in the glass with flashes of sunshine and a gentle green glint, it is this wine's intense aromatic profile and bright snappy flavors that sealed the deal for us. Mango, pineapple and passionfruit scents and flavors mingle with touches of citrus, ginger, and well-integrated minerals, all of which add complexity and a delicious mouthwatering snap to this wine, making it hard to beat, with or without food.
Completing this month's Collectors Series is an exceptional Provençal classic in the 2015 Château Margüi Côteaux Varois Rouge. Elegance and purity wed to power characterize this certified organic offering. From the moment the wine is poured, it tantalizes the senses. The wine's brilliant ruby/purple robe captivates the eye, while an enchanting bouquet of floral scents, dark cherries, exotic spices, and well-integrated oak tones entertain the nose. Moreover, the wine's pleasing aromas have happily seeped into the marrow of the wine, filling the mouth with an explosion of black cherry fruit, spice and racy tannins. The wine's polished tannins lend structure to the wine, promising a long illustrious life and even greater rewards to come. Enjoy!