Jimena Lopez has fashioned a rich, flavorful wine in her 2015 Graffito Mendoza Malbec, which has earned 92 points from James Suckling along with rave reviews from our tasting panel. Perhaps even more impressive is how she has imbued her Malbec with as much charm and grace as she has flavor and structure. Made from 100 year old vines emanating from Mendoza's famed Uco Valley, the 2015 Graffito Malbec displays an enviable cachet the likes of well-made Bordeaux. A deep, inviting color coupled with aromas of ripe, fresh blackberries infused with hints of rose petal, incense and spice beckon the taster to jump right in. On the palate, juicy berry flavors mingle with floral tones, a hint of dark chocolate or espresso, and a light, pleasant earth tone, which reminded us of classified Bordeaux. Medium-bodied but full-flavored and superbly balanced with smooth and graceful tannins, there is everything to like about Jimena Lopez's 2015 Graffito Malbec. For optimal enjoyment, we suggest affording the finely crafted 2015 Graffito Malbec 20-30 minutes of aeration before serving. Enjoy!
The smooth, complex flavors and supreme balance of the 2015 Graffito Mendoza Malbec pair beautifully with a wide variety of meats and grilled vegetables. As a beautiful Argentine Malbec, beef roasts and rare, juicy steaks make fine accompaniments. Game birds, winter stews, and hearty meat and cheese lasagnas also provide tasty accompaniments to Jimena Lopez's exuberant Malbec. Veal and lamb deserve to be on that list as well. Veal Medallions wrapped with prosciutto ham get a serious nod as does Roast Colorado Rack of Lamb, served with potato gnocchi, pearl onions, and mushrooms. And if the truth be told, with a little aeration and in the company of a few morsels of a flavorful cheese and sliced crisp apples or pears the 2015 Graffito Mendoza Malbec will shine all on its own. Enjoy!
Malbec may be one of the easiest red wines to pair with cheese, and Graffito's splendid 2015 Mendoza Malbec is no exception. The Graffito Malbec offers full, rich flavors and a moderate tannic structure, which allows it to complement a wide variety of cheeses. Some tried and true favorites include mature or lightly smoked Gouda, Beaufort, Malagon, and Manchego. To learn more about the world's finest cheeses, please contact us at www.cheesemonthclub.com.
Winemaker Jimena Lopez owns and operates Graffito, overseeing everything from tending the estate's more than century old vines to making each of her award winning wines – all of which exhibit beautiful expression, structure, and texture. Jimena's concentrated and deeply colored wines are named after the dark mineral graphite. Jimena left her corporate wine job and two decades of making wine in seven countries, including France, Germany and California, to pursue her dream of making her own wine, so that she could handle all aspects of production from vine selection to the final blend. She believes so deeply in her wine and is so committed to quality from vineyard to table that she puts her fingerprint stamp of approval right on the label.
Graffito sprang to life when Jimena came across an old-vine Malbec vineyard planted in 1908 in Mendoza's Alto Agrelo region that had been farmed by Don Pepe and his family. The balance and structure that these old vines yielded quickly became the pillars upon which Graffito rests. Since then, Jimena has further spread her wings by fashioning exceptional Cabernet Franc. Jimena utilizes only estate fruit or grapes from old, family-owned vineyards in Los Arboles and Vistaflores in the Uco Valley that allow her to create in her wines the perfect blend of fruit flavors, floral notes, spices, and tannins. Jimena is truly a passionate, dedicated winemaker with tenacious drive and an unparalleled attention to detail. Her winemaking principles reflect her passion and personality. "In my eyes, good winemaking is simple winemaking," she states unabashedly. "It needs to start in the vineyard. The good quality and purity of the grapes is essential. We can have the best technology in the winery, but what you don't have in the vineyards you can't have in the cellar. I believe there are three things that make the difference in great winemaking: Know-how, obsession for details, and above all passion." No wonder that Graffito consistently receives high ratings from top wine reviewers and its wines have become some of Argentina's most sought-after.
Malbec is one of the original red wine grapes of Bordeaux, France (where it is called Cot or Pressac). While Malbec plays a purely supporting role today in Bordeaux, adding color and body to the region's Merlot and Cabernet blends, it remains one of the six legal grape varieties permitted in red Bordeaux (along with Cabernet Sauvignon, Cabernet Franc, Merlot, Petit Verdot, and Carmenère). However, south of Bordeaux in the region of Cahors, Malbec still reigns supreme. It remains the chief grape used in what historically has been called the "black wine" of Cahors.
Despite the grape's deep French roots, Argentina has come to fore as the contemporary champion of Malbec, where the varietal reigns as the most important grape variety, both in terms of quality and quantity. The best Argentinean Malbecs and Malbec blends offer considerable flavor and body at a relative young age, yet they remain age-worthy wines capable of true distinction.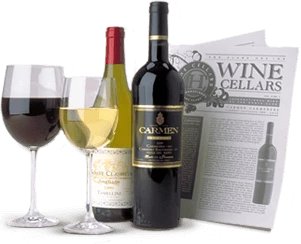 Enjoy Limited Production Estate
Bottled Wines
Discover limited production estate bottled wines such as Vergenoegd's internationally
acclaimed 2005 Cabernet Sauvignon, imported exclusively for our members.
DISCOVER OUR FOUR CLUBS