The 2017 Areyna Valle de Cafayate Torrontes marks a new chapter for Casarena and sheds a whole new light on the Torrontes varietal. Sporting a snappy golden color with fresh green highlights as well as a wickedly aromatic bouquet, it is obvious that Casarena's young and innovative winemaker Mariano Quiroga Adamo has mastered the often fickle Torrontes varietal. Fresh intoxicating scents of spring flowers, lychee fruit, and citrus waft from the glass to set the stage for this wine's marvelous, almost explosive flavors, which emerge on the palate with the very first sip. Energetic and invigorating in the mouth, Areyna's 2017 Valle de Cafayate Torrontes not only transfers its highly charged aromatics onto the palate to great appeal, it balances the wine's floral and fruit tones with lovely acidity and a delightful tension, which made more than one tasting panel member beg for more. As a modern fresh style of Torrontes, the unique 2017 Areyna Valle de Cafayate Torrontes is hard to resist. For optimal enjoyment, we suggest moderate chilling (40° F) before serving.
Although the 2017 Areyna Valle de Cafayate Torrontes provides tremendous flavor and enjoyment on its own, this wine, like most Torrontes, will truly shine at table. It pairs perfectly with seafood dishes, curried shrimp, spicy stir fries and ceviche. Moreover, the more difficult a dish is to pair with other wines, the more appealing and gratifying Torrontes becomes. Consequently, we suggest pairing the 2017 Areyna Valle de Cafayate Torrontes with Chinese and Thai specialties, and vegetables such as asparagus, avocado, cucumber and eggplant. Crab cakes made with lump crabmeat, salmon, cucumber, and avocado, and then topped with a light cream sauce provide winning complements to Areyna's Valle de Cafayate Torrontes. Shrimp Tempura, topped with slices of fresh mango and avocado, makes another tasty pairing. Shrimp Curry with snow peas, eggplant, and red pepper makes a compelling case to share a meal with this wine, too. And if Asian inspired dishes are not to your liking, Areyna's Torrontes provides the ideal companion to Low Country Shrimp and Grits, simple salads and most creole dishes with chicken or seafood. It also provides a superb accompaniment to aged hard cheeses such as Gouda and Manchego.
Casarena, whose name is a creative merging of the Spanish words "casa" (house) and "arena" (sand) in tribute to the estate's restored 1930s winery made of sand-colored stone and the sandy soil that their estate is built on, is a young boutique winery that enjoys a well-deserved reputation for producing wines of uncompromising quality at all levels of its portfolio. This month's feature, the 2017 Areyna Valle de Cafayate Torrontes, is Casarena's newest addition to an already formidable portfolio and another example of Casarena's ability to craft exceptional white and red wines.
In a land of extremes and in a viticultural region known equally for oceans of cheap, hunky, one-dimensional wines as well as expensive, complex, full-bodied masterpieces, Casarena shines as a beacon of quality and value. Situated in Mendoza's premier viticultural areas of Agrelo and Lujan de Cuyo and drawing the finest fruit from established vineyards in Salta, Casarena's ultimate goal is to become Argentina's greatest vineyard project. Casarena utilizes the finest terroirs at differing elevations to produce world-class wines under the Areyna and Casarena labels. Eno Rolland (renowned Bordeaux oenologist Michel Rolland's team of consultants) consulted at Casarena from the very start, so not surprisingly Casarena's definitive mantra is "less quantity, more quality." Casarena sets high standards for its wines, selling in bulk any juice that does not come up to its standards in order to maintain the consistency, quality and integrity of the wines it sells – a rarity in Argentina. Casarena's Areyna Torrontes hails from high elevations of Valle de Cafayate in Salta, while the estate's reds emanate from Mendoza. Each is a limited production, and for red wines, only small batches of Cabernet Sauvignon and Malbec with intense color and aromatics qualify as Estate Reserve or Single Vineyard offerings. Cabernet Sauvignon, Chardonnay and Malbec constitute the lion's share of the estate's production. Casarena also offers a very limited bottling of a single vineyard Cabernet Sauvignon from Owen's Vineyard, a tiny high altitude plot that was planted in the 1930s, and whose vines average 85 years of age. An equally impressive single vineyard Malbec from Jamilla's Vineyard also emanates from Casarena's old estate vines.
Torrontés is unique to Argentina, and it has become over the centuries Argentina's emblematic white grape variety. A genetic cross between two grape varieties brought to Argentina during the colonial period, Torrontés has only recently burst onto the international scene. The precise ancestors of Torrontés remain a bit uncertain although it is believed to be a cross between Criolla, a mission varietal, and the Muscat of Alexandria, of which the latter may also go by the name Uva d'Italia. It is thought that Torrontés originated in Argentina's Mendoza province, although Torrontés is now cultivated throughout Argentina. Several varieties or clones of Torrontés exist, which are commonly identified as Mendocino, Sanjuanino and Riojano. Riojano is widely acknowledged to produce the best Torrontés, while Cafayate Valley in Salta Province has built a reputation as the source of the finest Torrontés, and it is from Cafayate's high elevation vineyards (which can reach altitudes of over 9,800 feet) that Torrontés derives its greatest intensity and purity.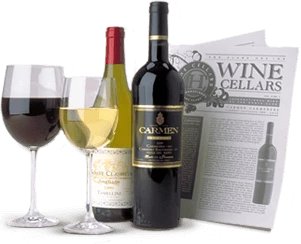 Enjoy Limited Production Estate
Bottled Wines
Discover limited production estate bottled wines such as Vergenoegd's internationally
acclaimed 2005 Cabernet Sauvignon, imported exclusively for our members.
DISCOVER OUR FOUR CLUBS