One sip of the 2016 Amayna Leyda Valley Sauvignon Blanc convinced us of just how far Leyda Valley has come in producing world-class wine. Although it sparkles and cuts a fine figure in the glass with flashes of sunshine and a gentle green glint, it is this wine's intense aromatic profile and bright snappy flavors that sealed the deal for us. Mango, pineapple and passionfruit scents and flavors mingle with touches of citrus, ginger, and well-integrated minerals, all of which add complexity and a delicious mouthwatering snap to this wine. Big, balanced and beautiful, it is hard to beat the 2016 Amayna Leyda Valley Sauvignon Blanc. Enjoy this exceptional premium Sauvignon Blanc moderately chilled (40° F) and often. Enjoy!
The 2016 Amayna Leyda Valley Sauvignon Blanc makes a splendid aperitif, providing a superb respite from a long day and the cares of life. Tried and true Sauvignon Blanc aficionados will want to sip and savor this wine with nary a morsel. Everyone else will want to pair this flavor-packed wine with fish, fowl, cheese or spicy vegetable dishes. Clams, mussels, oysters, scallops, and nearly any other creature that once carried a shell provide especially tasty companions to the wine's snappy fruit flavors tempered by the sea breezes that fan Amayna's vineyards. The saline qualities carried by the sea breezes aptly complement the briny qualities of the shellfish. White fish, shrimp, spicy Asian dishes, and all kinds of soft cheeses make splendid accompaniments, too. Blue crab with spinach dip, crispy spring rolls, Mediterranean tapas with Serrano ham and pancetta wrapped dates, and vegetable medleys with goat cheese will also be in fine company with Amayna's estate Sauvignon Blanc. Buen Provecho!
Matias Garcés Silva and his family launched Amayna in 2003. However, Amayna, which in Chile loosely translates to "the calm after the storm," has its origins in a vine irrigation project Matias worked on in the 1990s that brought water from the Maipo River to Chile's San Antonio coast. With this water project the Garcés Silva family realized the tremendous potential of the San Antonio coast for premium viticulture. With a steady source of water from the Maipo River for vine irrigation, the Leyda Valley along the San Antonio coast has quickly become a source of premium Chilean wine, and Amayna has become one of Leyda Valley's star performers.
Amayna, which lies just 7 miles from the Pacific Ocean, evokes the calm after the storm, the peaceful feeling one gets when danger has passed. Prior to 2000 the Garcés Silva family had property in the Leyda Valley devoted to the production of grain and lamb. In 2000 Matias made wine from a small experimental vineyard, which gave rise to launching Amayna in 2003. Today Matias continues to be passionate about Amayna and the tremendous potential of Leyda Valley. He works hard to produce the best quality wines, a task that begins long before planting. Matias believes in making thorough soil studies before planting the precise grape varieties for each type of soil, and along with his strong technical team he selects the finest plants from which he fashions two world-class wines in the family's gravity-fed winery. Amayna fashions just two wines, the estate's Leyda Valley Sauvignon Blanc (this month's feature) and an estate Pinot Noir.
Sauvignon Blanc is a premium white wine grape that for all intents and purposes is indigenous to Bordeaux. Yet, in Bordeaux Sauvignon Blanc has traditionally been blended with a percentage of Semillon and other grapes to create a special flavor profile all of its own. This stands in contrast to the 100% varietal offerings from France's Loire Valley, most notably from Sancerre, Pouilly-Fumé, and increasingly Menetou-Salon, whose wines remain some of the world's truest expressions of the grape. Other French appellations have mostly followed suit, preferring 100% varietal bottling so as not to diminish Sauvignon Blanc's inimitable characteristics.
In the New World, winemakers mainly follow the Loire Valley's lead in bottling Sauvignon Blanc as a single varietal. In California, Sauvignon Blanc is sometimes called Fumé Blanc, a relic of a marketing ploy that popularized the grape, but confused the consumer since there is no clear cut difference in California between wines labeled Sauvignon Blanc and Fumé Blanc. In the past three decades, Argentina, Australia, Chile, New Zealand, and South Africa have proven to be equally adept at producing excellent Sauvignon Blancs. Each country appears to have developed a unique variation on the same theme. Yet, what nearly always distinguishes Sauvignon Blanc is its distinct aroma, which resonates with citrus, herb and freshly cut grass scents that range from almost imperceptible to nearly intoxicating.
Sauvignon Blanc makes a particularly compelling companion to seafood, hors d'oeuvres, tapas, and warm sunny days, and unlike Chardonnay, which possesses an affinity for extensive oak barrel ageing, Sauvignon Blanc eschews oak. Instead, it prefers to allow its bold distinctive flavors to do its bidding.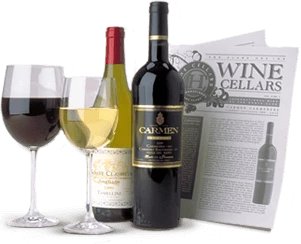 Enjoy Limited Production Estate
Bottled Wines
Discover limited production estate bottled wines such as Vergenoegd's internationally
acclaimed 2005 Cabernet Sauvignon, imported exclusively for our members.
DISCOVER OUR FOUR CLUBS