Select a Wine Club Subscription
Four distinct membership clubs to fit any palate
Each month, our members receive premium wine selections from two different award-winning boutique vineyards, accompanied by our monthly newsletter which profiles the winemakers and provides tasting notes, recommended food accompaniments, and complementary recipes. As a club member, you'll also be able to reorder your favorites at significant discounts.
Choose from the four wine club membership types below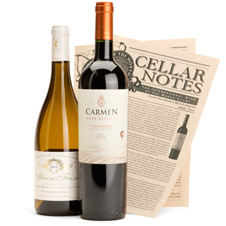 $39.95 a month plus $13 S&H

Our original and most popular club since 1994, The Premier Series has earned us our reputation for delivering premium wines of exceptional quality and value from the world's most renowned wine producing regions. Our purchasing volume and strong relationships with importers and wineries enable us to deliver estate-bottled, limited production boutique wines at unbeatable prices. You can also choose to receive two reds selections each month, two whites, or one of each.
Join or Give this club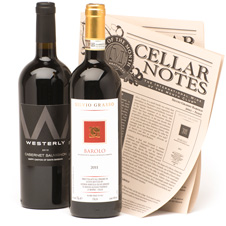 $51.95 a month plus $13 S&H

Featuring only robust, red wines with deep color and rich, complex flavor profiles, The Bold Reds Wine Club delivers medium- to full-bodied wines with deep fruit flavors, pronounced ripe tannins, superb structure, and well-integrated oak tones from barrel aging. Bold red wine examples include full-bodied California Cabernets, single vineyard red Zinfandels, sublime Priorats and Ribera del Dueros from Spain, Châteauneuf-du-Papes from the Rhône Valley, highly acclaimed Carmenères, Cabernets, and Malbec blends from South America, and much more.
Join or Give this club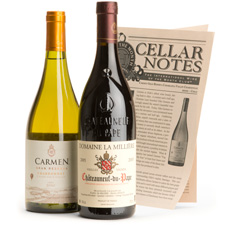 $54.95 a month plus $13 S&H

We created the Masters Series to offer members the best of all worlds, the luxury of tasting and cellaring Collectors Series wines while still enjoying the exceptional quality and value of The Premier Series. Each month members receive one bottle of fine wine from The Collectors Series and one bottle from the Premier Series. Members may elect to receive one red wine and one white wine or two red wines.
Join or Give this club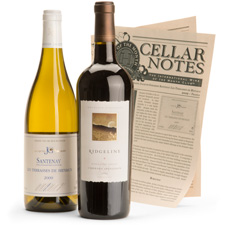 $72.95 a month plus $13 S&H

The Collectors Series focuses on extremely limited production and exclusive offerings that have not only aged nicely to date and are drinking well now, but are built to be cellared for even longer periods so they'll take on fuller, richer, more complex expressions of their regions and grape types. These rare wines take longer and are more expensive to make, using the oldest vines, spending more time in the barrel, and using only the best vintage grapes. Many featured wines are unavailable outside of their respective countries or appellations. Members may choose to receive one red wine and one white or two red wines.
Join or Give this club
Customer testimonials
"In nearly 10 years, we have never been disappointed…" Rhonda & Karl Taube, CA
"Without a doubt, it has been one of the BEST gifts I've ever received…" Kristi Anderson, GA
"…love the variety as we have received just about every type of grape or blend that is produced." Jim Mulvaney, OH
"We tried several other wine clubs and my husband and I have been extremely impressed with your selections..." Maggie & Joe L., NY
"If you're a wine enthusiast as I am, I highly recommend this club. You won't be disappointed!" Lisa Vitale, FL
"Their customer service is AWESOME and I am NEVER disappointed." Maddie "Punky" T., AL
"You've introduced us to so many outstanding wines that we never would have tried otherwise." Dennis, NY
"...picking a good bottle can be a gamble and why I absolutely love and trust your expertise." Charley B, CA