In the New World, wines are often bottled under the name of their primary grape variety (a minimum of 75% of one grape variety must be present for varietal bottling in the United States). Proprietary names are often used for blends that do not contain the minimum percentage of a single variety. Conversely, in Europe, the finest wines are known primarily by geographic appellation rather than their primary varietal (although this is changing; more and more French and Italian wines from less celebrated wine producing regions are being bottled with varietal names). Elsewhere, as in the United States, Argentina, Australia, Chile, New Zealand, and South Africa bottle most wines under a varietal name; even sometimes by grape combinations such as Cabernet-Shiraz.
Whether a wine appears as a varietal or a generic offering (Bordeaux, Burgundy, Chianti, Rioja, etc.) the following list of grape varieties should serve a good starting point for understanding the varietal connection among wines. We invite you to learn more about everything that goes into a great bottle of wine by reading our wine glossary index.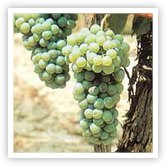 Arneis (White) [ahr-NAYZ]
Arneis is an ancient grape variety native to the Roero district of Italy's Piedmont. Arneis, which has been translated as "little rascal" has had a long, but not always illustrious history. Like most of Italy's indigenous grape varieties, Arneis has only recently been cultivated and bottled as a varietal. For centuries, the local white Arneis, also known as Bianchetta and Nebbiolo Bianco, was most often blended into the Piedmont's full-bodied, rustic reds to augment their aromatic profile and soften their tannic edge. In the days before the laws of denominazione di origine controllata, even Barolo would receive a dollop of Arneis to enhance its aroma and tame its fire.
Since the 1970s, Arneis has come of age. With the advent of technical wine equipment and the enforcement of DOCG regulations in Italy, Arneis has been rescued from extinction and born again as Piedmont's finest and most expensive dry white wine. Arneis yields a medium-bodied wine of haunting bouquet. Spring flowers, stone fruits, and a waft of fennel are the scents and savors most associated with this charming, food-friendly varietal that is highly adaptable to stylistic interpretation. It can be enjoyed quite chilled or slightly cool, as you like it.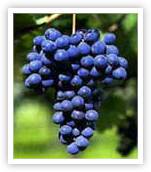 Barbera (Red) [bar-BEHR-uh]
The Barbera grape variety is the most successful type of grapes in Italy's Piedmont region, where it makes such wines as Barbera d' Asti, Barbera di Monferato and Barbera di Alba. Its wines are characterized by a high level of acidity (meaning brightness and crispness), deep ruby color, full body, and low tannin levels; flavors are berrylike. Nevertheless, plantings have declined sharply in the United States. A few California wineries still produce it as a varietal, but those numbers too are dwindling. Its main attribute as a blending wine is its ability to maintain a naturally high acidity even in hot climates. This wine grape varietal has more potential than is currently being realized and may stage a modest comeback as Italian-style wines gain popularity.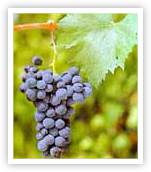 Brunello (Red) [broo-NEHL-oh]
This strain of Sangiovese is the only grape permitted for Brunello di Montalcino, the rare, costly Tuscan red that at its best is loaded with luscious black and red fruits and chewy tannins.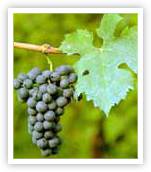 Cabernet Franc (Red) [cab-er-NAY FRAHNK]
Cabernet Franc grapes as a varietal in wine, usually benefits from small amounts of Cabernet Sauvignon and Merlot, and can be as intense and full-bodied as either of these wines. At its worst, it strays away from currant and berry notes into stalky green flavors that become more pronounced with age. On a brighter note, the most successful Cabernet Franc wines exhibit chocolate and roasted coffee tones as well as rich uplifting fruit.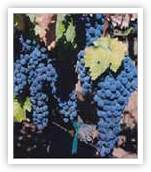 Cabernet Sauvignon (Red) [cab-er-NAY SO-vin-yon]
The undisputed king of red wines, Cabernet Sauvignon grapes are remarkably steady and consistent performers through much of the world. While it grows well in many countries, in specific appellations it is capable of rendering wines of uncommon depth, richness, concentration and longevity. Bordeaux has used the grape consistently since the 18th century, always blending it with Cabernet Franc, Merlot and sometimes a soupcon of Petite Verdot and Malbec. The Bordeaux model is built around not only the desire to craft complex wines, but also the need to ensure that different grape varieties ripen at different intervals and to give lesser wines color, tannin, or backbone.
Cabernet Sauvignon grapes classic flavors are blackberry, currant, plum, black cherry and spice. It can also be marked by herb, olive, mint, tobacco, cedar, and anise as well as ripe, jammy notes. In warmer areas, it can be supple and elegant; in cooler areas, it can be marked by pronounced vegetal, bell pepper, oregano and tar flavors (a late ripener, it can not always be relied upon in cool areas, which is why Germany, for example, has never succumbed to the lure). It can also be very tannic, which is why it produces many of the world's longest-lived wines. The best Cabernets always start out dark ruby or purple in color, with firm acidity, a full body, great intensity, concentrated flavors, and firm tannins.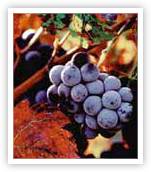 Carignan (Red) [karin-YAN]
Carignan grapes varietals are also known as Carignane (California) or Cirnano (Italy). Once a major blending grape for jug wines, Carignan's popularity has diminished, and plantings in California grapes have dropped from 25,111 acres in 1980 to 8,832 in 1994. It still appears in some blends, and old vineyards are sought after for the intensity of their grapes, especially in France's Languedoc - the grapes ancestral home. Elsewhere, the likelihood is that other grapes with even more intensity and flavor will replace it in the future.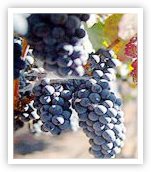 Charbono (Red) [SHAR-bono]
Found mainly in California, Charbono grapes have dwindled in acreage. Its stature as a wine in California was supported mainly by a few notable producers, who up until the 1970's regularly bottled it as a varietal. The better examples could age quite well. A few wineries still produce it, but the grape's story and relative rarity are usually more interesting than the wines it produces.
Chardonnay (White) [shar-dun-NAY]
If Cabernet Sauvignon is the king of reds, Chardonnay is the king of white wines, it makes consistently excellent, rich, and complex whites. Chardonnay grapes are amazing, versatile grapes that grow well in a variety of locations throughout the world. In Burgundy, it is used for all of that appellations exquisite whites, such as Montrachet, Meursault, Pouilly-Fuisse, and true Chablis; in Champagne, it is the sole player in Blanc de Blancs Champagnes and an integral part of nearly all of Champagne's sparkling wines. Among the many other countries that have caught Chardonnay fever, Australia and the United States have been the most consistent in fashioning top-notch offerings.
When well made, Chardonnay offers bold, ripe, rich and intense fruit flavors of apple, fig, melon, pear, pineapple, lemon and grapefruit, along with spice, honey, butter, butterscotch and hazelnut flavors. Winemakers build more complexity into this easy-to-manipulate wine using common vinification techniques; barrel fermentation, sur lie aging during which the wine is left on its natural sediment, and malolactic fermentation (a process that converts tart malic acid to softer lactic acid). No other white table wine benefits as much from oak aging or barrel fermentation. Chardonnay grapes have a fairly neutral flavor, and because they are usually crushed or pressed and not fermented with their skins the way red wines are, whatever flavors emerge from the grape are extracted almost instantly after crushing. Hence, winemakers love to strut their stuff with this varietal.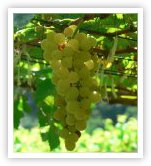 Chenin Blanc (White) [SHEN'N BLAHNK]
This native of the Loire valley has two personalities: at home it is the basis of such famous, long-lived wines as Vouvray and Anjou, Quarts de Chaume and Saumur, but on other soils it becomes just a very good blending grape. It is South Africa's most-planted grape, although there it is called Steen, and in both South Africa and in California it is currently used primarily as a blending grape for generic table wines. Chenin Blanc grapes should perform better in California, and someday it may. It can yield a pleasant enough wine, with subtle melon, peach, spice, and citrus notes. The great Loire whites vary from dry and fresh to sweet, depending on the vintage and the producer. In South Africa, Chenin Blanc is used for fortified wines and spirits as well as table wines.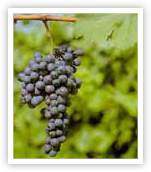 Dolcetto (Red) [dole-CHET-oh]
Dolcetto Grapes are Almost exclusive to the Piedmont of Italy, this varietal produces soft, round, fruity wines that are fragrant with licorice and almonds. It is best drunk within three years. It's used as a safety net for producers of Piedmont's Nebbiolo and Barbera wines, which take much longer to age. There are seven DOC's: Acqui, Alba, Asti, Dinao d' Alba, Dogliani, Langhe Monregalesi and Ovada.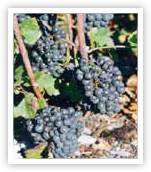 Gamay (Red) [ga-MAY]
Beaujolais makes its famous, fruity reds exclusively from one of the many Gamay clones available. Gamay grapes produce wines low in alcohol and relatively high in acidity, the wines are meant to be drunk soon after bottling; the ultimate example of this is Beaujolais Nouveau, which is whipped onto shelves everywhere almost overnight by the third week in November. It is also grown in the Loire, but there it makes no remarkable wines. The Swiss grow it widely for blending with Pinot Noir.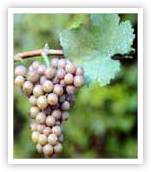 Gewurztraminer (White) [ge-VERTS-trah-mee-ner]
Gewurztraminer grapes can yield magnificent wines, as is best demonstrated in Alsace, France, where it is made into a variety of styles from dry to off-dry to sweet. The grape needs a cool, sunny climate to ripen fully. It is a temperamental grape to grow and vinify, as its potent spiciness can be overbearing when unchecked. At its best, is produces a floral and refreshing wine with crisp acidity that pairs well with spicy dishes. When left for late harvest, it's uncommonly rich and complex, yielding a tremendous dessert wine.
Gewurztraminer is also popular in Eastern Europe, New Zealand, and the Pacific Northwest.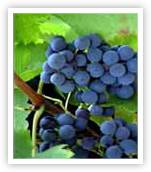 Grenache (Red) [greh-NAHSH]
Drought and heat resistant, Grenache grapes yield a fruity, spicy, medium-bodied wine with supple tannins. The second most widely planted grape in the world, Grenache is widespread in the southern RhôneValley. It figures strongly in the blend of Chateauneuf-du-Pape (although there are some pure varietals), and it is used on its own for the rose wines of Tavel and Lirac; it is also used in France's sweet Banyuls wine. Grenache is also important in Spain, where it's known as Garnacha Tinta; it is especially noteworthy in Rioja and Priorat. Grenache used to be more popular in Australia, but has now been surpassed by Syrah, although a few Barossa Valley producers are making wines with Grenache similar to Chateauneuf-du-Pape. In California, it's a workhorse-blending grape, although occasionally old vines are found and its grapes are made into a varietal wine, which at its best can be quite good. It may make a comeback as enthusiasts of Rhône style wines seek cooler areas and an excellent blending grape.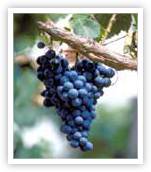 Malbec (Red) [MAHL-beck]
Malbec was once important in Bordeaux and the Loire, where it figured into various blends, but it has steadily lost ground in recent years. This 'not very hardy' grape as been steadily replaced by Merlot and the two Cabernets. However, Argentina is markedly successful with this varietal. In fact, some of that country's finest wines are made exclusively from Malbec. In the United States, Malbec is used almost exclusively as a blending grape, and an insignificant one at that, but a few wineries use it, the most obvious reason being that it is considered part of the Bordeaux cepage or blend.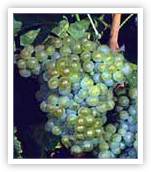 Marsanne (White) [mahr-SANN]
Marsanne is popular in the Rhône (along with Grenache Blanc, Roussane and Viognier) and Australia, especially in Victoria, which now has some of the world's oldest Marsanne vineyards. At its best, Marsanne can be a full-bodied, moderately intense wine with spice, pear and citrus notes.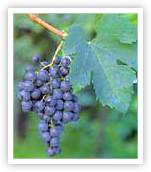 Merlot (Red) [mur-LO]
Merlot is the red-wine success of the 1990s: its popularity has soared along with its acreage, and it seems wine lovers can't get enough of it. It dominates Bordeaux, except for the Medoc and Graves. Although it is mainly used as a supporting player in the Bordeaux blend, it can stand alone. In St. Emilion and Pomerol, especially, it produces noteworthy wines, culminating in Chateau Petrus - Bordeaux's most expensive wine. In Italy it's everywhere, though most of the Merlot there is light, unremarkable stuff. However, there are strong exceptions to that rule. Despite its popularity, its quality ranges only from good to very good most of the time, though there are a few stellar producers found around the world.
Several styles of Merlot have emerged in California. One is a Cabernet-style Merlot, which includes a high percentage (up to 25 percent) of Cabernet blended into the Merlot. A second style is less reliant on Cabernet, so it yields a softer, suppler, medium-weight, less tannic wine that features more herb, cherry and chocolate flavors. A third style is a very light and simple wine; this type's sales are fueling Merlot's overall growth.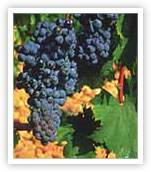 Mourvèdre (Red) [more-VEHD-ruh]
As long as the weather is warm, Mourvèdre ably tolerates a wide variety of soils. It is popular across the south of France, especially in Provence, where it is responsible for the greatness of Bandol, and many a fine red Cotes-du-Rhône. It is often blended in Chateauneuf-du-Pape; Languedoc makes it as a varietal. Spain uses it in many areas, including Valencia. In the United States, Mourvèdre remains a minor factor for now, pursued by a few wineries that specialize in Rhône-style wines. The wine it produces can be quite pleasing, with medium weight, spicy cherry and berry flavors and moderate tannins. It ages well.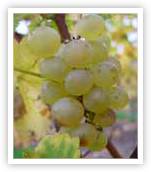 Muscat (White) [MUSS-kat]
Muscat is a legacy of the ancient world. Today, it is known primarily as Muscat, Muscat Blanc, or Muscat Canelli. It is marked by strong spice and floral notes, and it can be produced as a varietal or used in blending, its primary function in California. Moscato in Italy, Moscatel in Iberia, this grape can turn into anything from the low-alcohol, sweet and frothy Moscato d' Asti and Muscat de Canelli to bone-dry wines like Muscat d' Alsace. Muscat also produces fortified wine such as Beaume de Venise.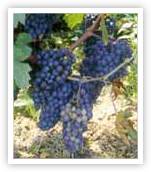 Nebbiolo (Red) [Neb-be-OLO]
The great grape of Northern Italy, where it excels in Barolo and Barbaresco, Nebbiolo fashions strong, flavorful, age-worthy wines. Mainly unsuccessful elsewhere, Nebbiolo is struggling to gain a small foothold in California. So far, the Nebbiolo wines from California have been light and uncomplicated, bearing little resemblance to their Italian cousins.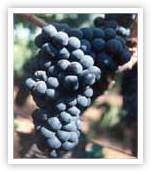 Petite Sirah (Red) [peh-TEET sih-RAH]
Petite Sirah has long been favored as a blending grape in France and California, where it offers otherwise simple, light-colored wines greater color, depth, intensity, and tannin. Petite Sirah is actually related to Durif, a minor French varietal, and is not a true Syrah. As tastes change, Petite Sirah, with its ripe berry flavors and crisp, chewy tannins, has begun to fall out of favor. Moreover, the dense, inky examples of Petite Sirah that show so much promise early in their lives fail more often than not to improve with age, only becoming more tannic and earthy.
As a supporting player, the Petite Sirah grape often shines with Zinfandel.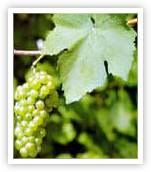 Pinot Blanc (White) [PEE-no BLAHNK]
Now believed to be related to Pinot Noir and not Chardonnay, Pinot Blanc was once extensively referred to as the poor man's Chardonnay because of the two grapes similar characteristics. Presently, Pinot Blanc is used in Champagne, Burgundy, Alsace, Germany, Italy, and California, where it can make terrific wines. When well made, Pinot Blanc is intense, concentrated and complex, with ripe pear, spice, citrus, and honey notes. It can age well, but is best early on while its fruit shines through.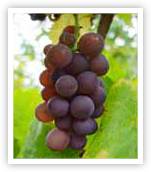 Pinot Gris or Pinot Grigio (White) [PEE-no-GREE or GREE-zho]
Known as Pinot Grigio in Italy, where it is grown extensively in the northeast part of the country, this varietal produces quite a lot of very drinkable dry white wines as well as Collio's excellent whites. As Pinot Gris, it used to be grown in Burgundy and in the Loire Valley, although it has been supplanted there. However, Pinot Gris comes into its own in Alsace-where it is known as Tokay. Southern Germany plants it as Rulander. When fine, this varietal is soft and gently perfumed. Moreover, it possesses more color and charm than most whites.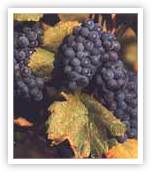 Pinot Noir (Red) [PEE-no NWAR]
Pinot Noir, the great red grape of Burgundy, is a touchy varietal. The best examples offer the classic black cherry, spice, raspberry, and currant flavors, and an aroma that can resemble wilted roses, as well as earth, tar, herb and cola notes. Conversely, Pinot Noir can also be rather ordinary, light, simple, herbal, vegetal and even weedy. Other times, it can be downright funky, with pungent barnyard aromas. In fact, Pinot Noir is the most fickle of all grapes to grow: It reacts strongly to environmental changes such as heat and cold spells, and it is notoriously fussy to work with once picked, since its skins are easily bruised and broken. Even after fermentation, Pinot Noir can hide its weaknesses and strengths, making it a most difficult wine to evaluate out of barrel. In the bottle, too, it is often a chameleon, showing poorly one day, brilliantly the next. Nevertheless, it can and does produce some of the planet's greatest red wines, like Romanee Conti.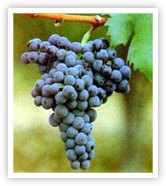 Primitivo (Red) [pri-meh-TEE-voh]
Primitivo, referring to the early ripening of this ancient varietal rather than any supposed rusticity, hails originally from Greece. It was most likely brought to southern Italy more than 2,500 years ago by the Greeks, who named Apulia and the nearby Italian peninsula Enotria - land of the vine - because of its natural proclivity for the production of wine. Today, Primitivo remains one of the most important varietals in southern Apulia, especially on the Salento peninsula. In addition to being the earliest maturing grape variety in Europe, and perhaps the world, it is also capable of registering the highest sugar content of any grape, translating into the world's most alcoholic table wine. In fact, Primitivo can garner enough natural sugar to produce nearly 19% alcohol, without fortification. Recent DNA evidence points to Primitivo as the forebear of California Zinfandel, a grape with which it shares many common characteristics, thereby ending the mystery surrounding the origin of Zinfandel.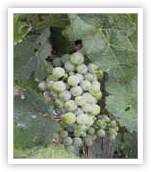 Riesling (White) [REES-ling]
Riesling wines can be distinguished by their floral perfume, but after that they vary widely. In Germany's Mosel-Saar-Ruwer area, the wines are delicate and subtle, with very low-alcohol, while in the Pfalz they become spicy, exuberant and full-bodied. In Alsace, the result is more often than not bone-dry. Because Riesling is one of the grapes susceptible to Botrytis cinerea, it also produces luscious late-harvest dessert wines. In addition to Germany and Alsace, Australia, Austria, and New Zealand also produce some compelling Rieslings.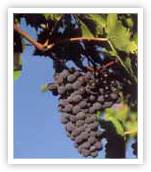 Sangiovese (Red) [san-geeo-VEHS-eh]
Sangiovese is best known for providing the backbone for many superb Italian red wines, including Chianti and Brunello di Montalcino, as well as the so-called SuperTuscan blends. Sangiovese is distinctive for its supple texture and medium-to-full-bodied spice, raspberry, cherry and anise flavors. When blended with a grape such as Cabernet Sauvignon, Sangiovese gives the resulting wine a smoother texture and more supple tannins.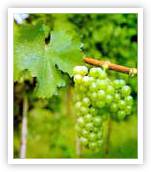 Sauvignon Blanc (White) [SO-vin-yon BLAHNK]
Sauvignon Blanc is a white varietal with a notable aroma, which is often characterized as "grassy" or "herbal." The pure varietal is found mainly in the Loire, especially in and around Sancerre and Pouilly-Fume. As part of a blend, the grape is all over Bordeaux, in Pessac-Leognan, Graves and the Medoc; it also shows up in Sauternes. New Zealand has had striking success with Sauvignon Blanc in recent years, producing its own perfumed, fruity style that has spread to North America and back to France.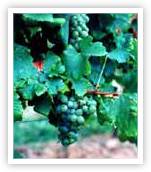 Semillon (White) [SEM-ih-yon]
On its own or in a blend, this white varietal can age. With Sauvignon Blanc, its traditional partner and life long friend, Semillon is the foundation of Sauternes and most of the great dry whites found in Graves and Pessac-Leognan; these are rich, honeyed wines. Semillon is one of the grapes susceptible to Botrytis cinerea. Australia's Hunter Valley uses it solo to make a full-bodied white that used to be known as Hunter Riesling, Chablis or White Burgundy. In South Africa, this grape was once so prevalent that it was just called "wine grape," but production there has declined drastically in recent years.
Semillon can make a wonderful late-harvest wine, and those wineries that focus on it can make well-balanced wines with complex fig, pear, tobacco and honey notes. When blended into Sauvignon Blanc, Semillon adds body, flavor and texture. When Sauvignon Blanc is added to Semillon, the latter gains fresh, grassy herbal notes.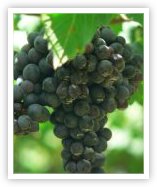 Syrah or Shiraz (Red) [sih-RAH or shih-RAHZ]
Hermitage and Cote-Rotie in France, the great old vines renditions of South Australia-the epitome of Syrah is a majestic red that can age for half a century. The grape seems to grow well in a number of areas and is capable of rendering rich, complex, and distinctive wines, with pronounced pepper, spice, black cherry, tar, leather and roasted nut flavors, as well as a smooth, supple texture and ripe tannins. In the south of France, it finds its way into various blends, as in Chateauneuf-du-Pape and the better wines of the Languedoc-Roussillon. Known as Shiraz in Australia, Syrah was long used there for bread-and-butter blends, but an increasing number of high-quality varietal bottlings are now being made, especially from old vines in the Barossa Valley.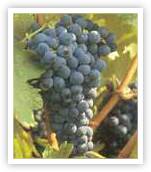 Tempranillo (Red) [tem-PRAN-ee-O]
Tempranillo is the ubiquitous Spanish grape varietal that is responsible primarily or in part for nearly every great Spanish red, whether it is from Rioja, Priorat, or Ribera del Duero. Its greatness is almost always consummate with the skill of the winemaker and the yield per acre.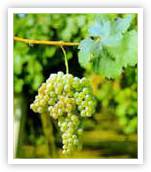 Trebbiano or Ugni Blanc (White) [treh-bee-AH-no or OO-nee BLAHNK]
Trebbiano in Italy and Ugni Blanc in France. Regardless of the name, this varietal is tremendously prolific; low in alcohol but high in acidity, it is found in almost any basic white Italian wine. It is so ingrained in Italian winemaking that it is actually a sanctioned, ingredient of the blend used for (red) Chianti and Vino Nobile di Montepulciano. However, most current Tuscan producers choose not add it to their wines, any longer.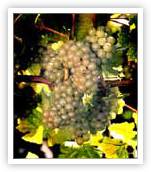 Viognier (White) [vee-oh-NYAY]
Viognier, the rare white grape of France's Rhône Valley, is one if the most difficult grapes to grow. Nevertheless, fans of this floral, spicy white wine are thrilled by its prospects in the south of France and in the New World, most especially in California and Chile.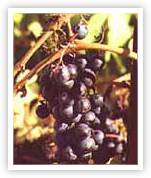 Zinfandel (Red) [ZHIN-fan-dell]
The origins of this tremendously versatile and popular grape are still not known for certain, although it is thought to have come from Southern Italy as a cousin of Primitivo. Zinfandel is the most widely planted red grape in California (although Australia has also played around with the grape.) Much of it is vinified into white Zinfandel, a blush colored, slightly sweet wine.
Real Zinfandel, the red wine, is the quintessential California red. It can also be used for blending with other grapes, including Cabernet Sauvignon and Petite Sirah. It has been made in a claret style, with berry and cherry flavors, mild tannins and oak shadings. Zinfandel has also been made into a full-bodied, ultra-ripe, intensely flavored and firmly tannic wine designed to age. In addition, it is sometimes made into late harvest and Port-style wines that feature very ripe, raisiny flavors, alcohol levels above 15 percent and chewy tannins. At its best, Zinfandel can and often does produce shining wines that are ready to drink when only a couple of years old.
Responsive Customer Service
Our friendly and knowledgeable customer service team will help you with any questions. You may also place orders over the phone.
Mon-Fri, 7am - 5pm Pacific
Sat-Sun, 8am - 12pm Pacific
Rated Customer Service
Assuring satisfaction to over 2,000,000 CUSTOMERS since 1994 has earned us an
rating from the BBB. A BBB Accredited business since 10/05/2005
View Our Profile
100% Satisfaction Guarantee
Our 100% satisfaction guarantee ensures that every item you purchase at The International Wine of the Month Club meets your high standards or we will replace it or refund your purchase.