"Light, lovely, and ohhh so drinkable," gushed one panel member to the smiles and nodding approval of the other members of the panel. Light in color, crisp and refreshing, Hermann Moser's 2016 Green Eyes Grüner Veltliner leads with an appealing bouquet of freshly picked pears mingled with a hint of spice for which Grüner Veltliner is renowned. Appetizing and lively in the mouth, Moser's Green Eyes goes down easily, but not before treating the taste buds to an appetizing burst of citrus and clean mineral flavors that leave the mouth begging for more. Dry and engaging, Herman Moser's dry Green Eyes Grüner Veltliner is just plain fun to drink from start to finish. Prost!
The 2016 Hermann Moser Green Eyes Grüner Veltliner makes a splendid aperitif. Its light, racy flavors cleanse the palate as they satisfy the soul. But Moser's Green Eyes is more than just a good quaff. It complements an enormous variety of foods and it positively shines in the company of mildly spicy dishes and hard to pair foods. It seems the more piquant the food, the bolder Green Eyes becomes. Traditional Viennese specialties such as veal and pork schnitzels provide ideal companions to Moser's Green Eyes Grüner Veltliner. Yet, Asian stir fries, rich heart-stopping pâtés, and spicy vegetable dishes comprised of artichoke, asparagus, cucumber, or eggplant fare equally well in the company of Hermann Moser's Green Eyes Grüner Veltliner. Sushi and light fish dishes also make fine companions. Indian and Thai foods offer more opportunities for Green Eyes to shine: stir fries and mild curries complement Green Eyes, too. Yet, not everything has to be about heat and spice. Equally satisfying with Green Eyes are fresh summer fruits and fine Alpine cheeses such as Apenzeller or Emmenthaler. Enjoy!
Hermann Moser is one of the most respected names in Austrian wine. Run by the husband and wife team of Martin and Carmen Moser, Weingut Hermann Moser specializes in fashioning exceptional wines from Austria's indigenous varietals, especially Austria's signature white grape varietal: Grüner Veltliner. Martin Moser is one of only 23 growers who are members of Traditionsweingüter Österreich (Traditional Austrian Wineries Association), an association that created a single level classification of the most exemplary vineyards in the four important wine growing regions along the Danube: Kremstal, Kamptal, Traisental and Wagram. The goal of the classification is to identify the best vineyard sites that illustrate the uniqueness of the 'terroir' and special characteristics of the wine from those areas.
The 300 year old Hermann Moser estate is located in the village of Rohrendorf in the Kremstal wine-growing region of Lower Austria. Moser's vineyards cover just 47 acres and are devoted primarily to Austria's traditional white varietals. In addition to crafting excellent Grüner Veltliner in several forms, Moser fashions Riesling, Welschriesling, Sauvignon Blanc, Chardonnay, Gelber Muskateller and Pinot Blanc as well as Zweigelt, Austria's iconic red grape varietal.
Grüner Veltliner is Austria's most important white grape variety. Moreover, it has recently garnered iconic status as the magical varietal behind one of the world's most unique wines. Grown in nearly all of the major wine producing regions of Austria, Grüner Veltliner is at its best around Vienna and atop the steep hillsides above the Danube to the north and west of the capital. In the hands of a skilled winemaker, Grüner Veltliner can yield a fresh, lively wine for near term consumption or a concentrated, complex wine that is capable of long maturation. In either case, Grüner Veltliner offers tremendous flavor, rich fruit, spicy accents, and a citrus-like freshness that make it a perfect match for many difficult to pair dishes. So, whether dinner includes traditional Viennese fare, a scrumptious pâté, Asian stir fry, or a just a plain old persnickety vegetable such as asparagus, Grüner Veltliner is nearly always the perfect white wine to serve.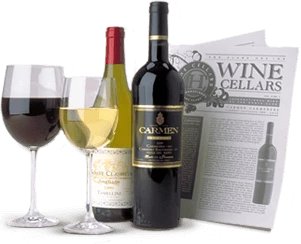 Enjoy Limited Production Estate
Bottled Wines
Discover limited production estate bottled wines such as Vergenoegd's internationally
acclaimed 2005 Cabernet Sauvignon, imported exclusively for our members.
DISCOVER OUR FOUR CLUBS