Wine Club Gifts & Gift Ideas
Finding the perfect wine gift idea for an anniversary, holiday, or special occasion can be a real challenge, and sometimes even intimidating. You can easily spend hours combing through wine racks, catalogs, wine gift baskets, and specialty stores hoping to find just the right thing that's truly memorable. We invite you to let us do the legwork for you and give what any serious wine lover would appreciate the most…extraordinary estate bottled wines from The International Wine of the Month Club, the best online wine club gift.
Since 1994, The International Wine of the Month Club has been delivering exceptional, limited production wines, expertly chosen by a two-tier tasting panel led by nationally recognized wine industry consultant, Don Lahey. Our dedication to customer satisfaction and offering quality wines at outstanding values is why 98% of our customers highly recommend us and why we've earned endorsements from Forbes Magazine as well as an A+ rating from the Better Business Bureau.
Use our promo codes for your order to save up to $30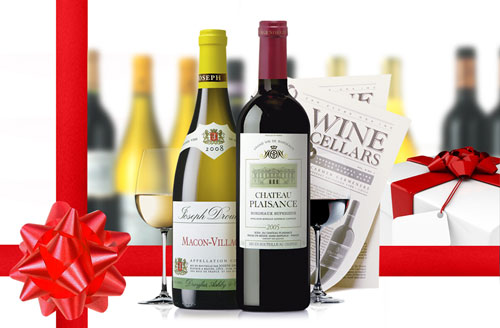 Choose from 4 unique wine club membership types
Send anywhere from 2 to 12 shipments every month, every other month, quarterly or on specific months you choose.
Design Your Own Club and combine our four wine clubs or any of our other five monthly clubs in one membership.
Make your gift more valuable with a personalized announcement.
Rest easy - we're going to make you stand out by shipping expertly selected, world-class wines.
Giving the Gift of a Wine Club Membership is Easy, Affordable and Customizable
Select from 4 distinct wine club membership options to suit all palates and meet your budget. Save up to $30 with our promo codes.
Choose from 2-12 months and ship monthly, every other month, quarterly or even on specific months and your generosity will be remembered for months to come.
Our Design Your Own Club™ program allows you to combine our wine clubs into one membership, or combine your wine club with our other monthly clubs, like our Flower of the Month Club!
Print or email a customized gift announcement immediately or on a specified date.
No wrapping or waiting in line at the post office to ship your gift.
Order easily online or toll free in minutes. Set up an account to manage your address book, review past orders, edit gift announcements and more.
Rest easy knowing we've got you covered on the hardest part, consistently selecting outstanding wines throughout the duration of your gift.
Customer Testimonials
"In nearly 10 years, we have never been disappointed…"

Rhonda & Karl Taube, CA
"Without a doubt, it has been one of the BEST gifts I've ever received…"

Kristi Anderson, GA
"I would highly recommend the wine of month club. The gift that keeps on giving!"

Jessica Dailey, NC
"We continually enjoy our wine club selections."

Joan and Phillip G.,CA
"You find the most interesting wines from vineyards we would never discover on our own..."

Gini Cassara,CA
"The wine is unique and wonderful and really 'what's not to love?' "

Chuck & Ann Weidner, IL
Read more testimonials
100% Satisfaction Guarantee
Our 100% satisfaction guarantee ensures that every item you purchase at The International Wine of the Month Club meets your high standards or we will replace it or refund your purchase.