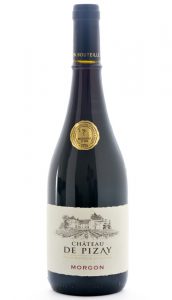 In November, The International Wine of the Month Club's Premier Series offers four unique, highly acclaimed wines. To begin this month's odyssey is the 2018 Château Pizay Morgon, a wine that personifies the endearing side of cru Beaujolais, which is nothing like the oceans of "Nouveau" that inundate the market each fall. From the very first sniff of the 2018 Château de Pizay Morgon, the accolades heralding the superior quality of the 2018 vintage in Beaujolais are confirmed. 92 points from Decanter adds further affirmation. Beautiful cherry and freshly picked strawberry fruit scents leap from the glass. Add a bright crimson and purple robe and savory silky smooth flavors and it's hard to think of the 2018 Château de Pizay Morgon as anything but hedonism in a glass. In the mouth, raspberry and strawberry fruit with hints of cinnamon, crushed minerals, and a delightfully seductive vinosity seduce the palate. Although wonderful to drink now, this top notch Morgon still has several years of development ahead of it, as the wines of Morgon are traditionally some of the longest-lived Beaujolais.
Next in line is Domaine Houchart's 2018 Côtes de Provence Blanc, a wine that embodies the best of Provence. In this rare white wine made from traditional Provençal grapes, one can almost taste the Provençal sun, feel the cool breeze wafting from the Mediterranean Sea, and smell the scented fragrance of Provence's magical landscape. Light, fresh, but full of flavor and pinpoint precision, the 2018 Domaine Houchart Côtes de Provence Blanc offers an intoxicating aroma of citrus, mango and white peach. In the mouth, the wine's crisp orange peel and spice flavors appear on a sea of delicate acidity, making the wine's delightful finish both round and refreshing. With Domaine Houchart's simple but delicious blend of Clairette and Rolle, there is no smoke or mirrors, oak, or butter tones, just one fresh, unique white wine.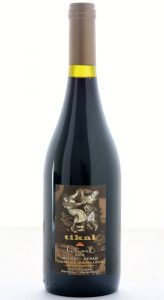 This month's adventure continues with Ernesto Catena's certified biodynamic 2015 Tikal Natural from organic grapes. This is a masterful blend of Malbec (60%) and Syrah (40%) from this premier estate. Born in an excellent vintage and the offspring of a vineyard in Mendoza's renowned Vista Flores region, the 2015 Tikal adds further evidence of Argentina's ability to craft natural tasting world-class red wines that do not require bank loans to enjoy. A more natural, plush, and thoroughly satisfying red wine will be hard to find as the 2015 Tikal Natural captures the essence of biodynamic farming. It offers a deep rich color, fresh cherry and wild raspberry aromas, and a delicious array of fruit, spice, mocha and vanilla flavors to tantalize the palate. Bold-flavored, yet smooth and immensely satisfying, the 2015 Tikal Natural will spoil your palate for anything less natural and sensuous.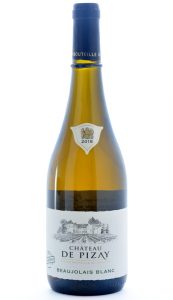 The last leg of this month's odyssey is the 2018 Château de Pizay Beaujolais Blanc. Purity and precision pervade Château de Pizay's vibrant 2018 Beaujolais Blanc. This recent release from Château de Pizay sports an eye-catching, sunny straw-colored robe, but this wine has more than visual appeal going for it. Fresh draughts of spring, apple blossoms, and melon waft from the glass. In the mouth, this Mâcon style Chardonnay offers delicate floral and fruit flavors infused with a gentle palate-pleasing minerality. Although imbued with the soft lovely fruit of a first rate Mâcon-Villages, the 2018 Château de Pizay retains the pinpoint precision of Beaujolais from the appellation's granite soil, adding vibrancy to the wine's smooth palate-cleansing finish.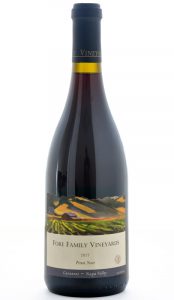 The International Wine of the Month Club's Collectors Series is proud to offer three exciting and highly allocated wines in November from three countries. We begin with the 2017 Fore Family Carneros Napa Pinot Noir. Few California producers fashion a Pinot as bold and beautiful as the 2017 Fore Family Carneros Napa Pinot Noir, yet still retain the elegance and complexity for which the finest Pinot Noirs are renowned. The 2017 Fore Family Carneros Napa Pinot Noir does that and more, offering up savory scents of Morello cherries, woodland blackberries and a cornucopia of enticing spices from the minute it is poured. Faithful to the Fore style, the wine's beckoning aromatics follow through on the palate, carried on a bed of silky tannins that continue to caress the palate long after the wine has been swallowed. Unfolding slowly with each sip, the wine's hauntingly beautiful fruit, exotic spice, and fresh forest floor tones are an absolute delight. And given Fore Family's track record for crafting Pinot Noirs that continue to improve in bottle and drink well for up to a decade or more, you can bet the 2017 Fore Family Carneros Napa Pinot Noir will be even more enticing tomorrow than it is today.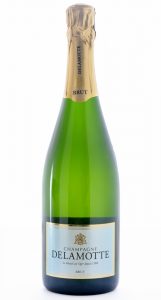 This month's highly allocated Collectors Series white wine is Delamotte's Brut N.V. Champagne from the celebrated Champagne house that fashions Champagne's legendary Salon-Le-Mesnil. Elegance, finesse, and delicacy are the hallmarks of all Delamotte champagnes, and Delamotte's Brut N.V. provides the ideal introduction into Delamotte's prestigious house style. Lithe in the glass and sporting a fine delicate mousse, Delamotte's Brut immediately strikes the right chord. Enticing aromas of orchard fruits mingled with soft scents of hazelnuts and pain grillé greet the nose. In the mouth, the wine truly turns on its charm with crisp clean mineral driven flavors that complement the wine's delicate fruit and delightfully toasty elements. Refreshing and beautifully balanced, it is hard to imagine a finer, more sophisticated Brut champagne than Delamotte's Brut N.V.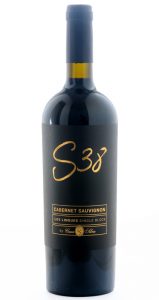 To round out this month's Collectors Series is the 2015 Casa Silva S38 Los Lingues Single Block Cabernet Sauvignon, the estate's rarest and most highly allocated wine: Wow! this newly released wine makes quite a statement. Always pushing the envelope, the 2015 S38 Cabernet Sauvignon is unquestionably the finest Cabernet to date from Casa Silva. This illustrious winery has imbued their 2015 S38 Cabernet Sauvignon with a gorgeous deep ruby/ purple color, an intense bouquet, and a wealth of flavors in the form of ripe blackberries, tobacco, mint, and chocolate tones. Long in the mouth and saturated with flavor, the 2015 S38 is a tour de force from Casa Silva. No wonder it garnered 93 points from Descorchados, South America's most prestigious wine review. Enjoy!