Ernesto Catena's certified biodynamic 2015 Tikal Natural from organic grapes is another masterful blend of Malbec (60%) and Syrah (40%) from this premier estate. Born in an excellent vintage, and the offspring of a vineyard in Mendoza's renowned Vista Flores region, the 2015 Tikal adds further evidence of Argentina's ability to craft natural-tasting, world-class red wines that do not require bank loans to enjoy. A more natural, plush, and thoroughly satisfying red wine will be hard to find as the 2015 Tikal Natural captures the essence of biodynamic farming. It offers a deep rich color, fresh cherry and wild raspberry aromas, and a delicious array of fruit, spice, mocha and vanilla flavors to tantalize the palate. Bold-flavored, yet smooth and immensely satisfying, the 2015 Tikal Natural may spoil your palate for anything less natural and sensuous. For optimal enjoyment, we suggest at least 20-30 minutes of aeration before consuming the pure, sophisticated 2015 Tikal Natural at cool room temperature (58°-62° F). Anticipated maturity: 2019-2024.
A flavorful natural wine such as the 2015 Tikal Natural requires nothing more than a clean wine glass to be enjoyed. Few young red wines offer as much pleasure and drinkability on their own as Tikal's 2015 Natural, but why not double the pleasure by serving it with grilled meats, vegetables, burgers, sliders, creamy pastas, or a host of bean and lentil dishes? In Argentina, beef reigns supreme as the accompaniment of choice to the country's exceptional red wines such as Tikal Natural, so lean cuts of beef such as filet mignon and sirloin will certainly make great companions to this delightful Malbec/Syrah blend. Add sautéed Portabella mushrooms to a superbly grilled steak and a more pleasing combination would be hard to find. Osso Bucco and Braised Short Ribs also earn high praise in the company of Tikal's 2015 Natural. A thick lentil soup made with carrots and spicy ground sausage makes for another winning combination as does a tasty Moroccan Vegetable Ragout prepared with root vegetables, ras el hanout, and cherry tomatoes, but then nearly any food that one would pair with Malbec or Syrah will shine and give cause for rejoicing in the company of the 2015 Tikal Natural. Buen Provecho!
Tikal is the passion of Ernesto Catena, the eldest son of Nicolás Catena of Catena Zapata. Catena reigns as Argentina's most revered name in wine, as Nicolás, Ernesto, and Ernesto's sister Laura fashion many of Argentina's finest wines. Considered experts with Malbec, Cabernet Sauvignon, Syrah and Bonarda, they fashion wines of both power and finesse and leave nothing to chance.
Ernesto grew up among the vineyards of Argentina's mighty Mendoza, traveled the world, and lived in New York, Buenos Aires, London, Milan and elsewhere before returning to his beloved Mendoza with its majestic mountains and jubilant people. Tikal reflects Ernesto's sensibilities and his desire for all that gives pleasure in life. As a skilled horseman, software developer, fashion designer, and book editor, he delights in offering wines that deliver the ultimate in pleasure. To say that "Tikal wines are hedonism in a glass" would not be an overstatement, as they all provide enormous pleasure and evoke a true sense of joy. With talented winemaker Luis Reginato, Tikal fashions five exceptional red wines: Natural (this month's feature and a certified organic biodynamic blend of Malbec and Syrah), Patriota (Patriot), Corazon (Heart), Amorio (Love), and Júbilo (Rejoice). Tikal wines consistently receive 90+ points from the world's most respected wine critics and publications.
Malbec is one of the original red wine grapes of Bordeaux, France (where it is called Cot or Pressac). While Malbec plays a purely supporting role today in Bordeaux, in the region of Cahors, Malbec still reigns supreme as the chief grape of what historically has been called the "black wine" of Cahors. Despite its deep French roots, Argentina has come to fore as the contemporary champion of Malbec, where the varietal reigns as the most important grape variety, both in terms of quality and quantity.
Syrah has been grown for centuries in the Rhône Valley of France, where it is responsible entirely or in part for many of the country's greatest red wines, including Hermitage, Côte-Rôtie, and Châteauneuf-du-Pape. Two points that everyone seems to agree upon is that Syrah (a.k.a. Shiraz) rivals Cabernet Sauvignon in stature and Syrah has successfully adapted itself to other locales outside of France, with Argentina, Australia, California, Chile and South Africa all capable of fashioning distinctive world-class Syrah and Syrah blends.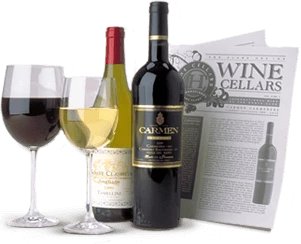 Enjoy Limited Production Estate
Bottled Wines
Discover limited production estate bottled wines such as Vergenoegd's internationally
acclaimed 2005 Cabernet Sauvignon, imported exclusively for our members.
DISCOVER OUR FOUR CLUBS