Elegance, finesse, and delicacy are the hallmarks of all Delamotte champagnes, and this month's feature, the Delamotte Brut N.V., provides the ideal introduction into this prestigious house's style. Lithe in the glass and sporting a fine, delicate mousse, Delamotte's Brut immediately strikes the right chord and sets itself apart. Enticing aromas of orchard fruits mingled with soft scents of hazelnuts and pain grillé greet the nose. In the mouth, the wine truly turns on its charm with crisp, clean, mineral-driven flavors that complement the wine's delicate fruit and delightfully toasty elements. Refreshing and beautifully balanced, it is hard to imagine a finer Brut champagne than Delamotte's Brut N.V. Enjoy this impeccably crafted champagne well chilled (38°-40° F). Anticipated maturity: 2019-2024. À Votre Santé!
In Champagne, hors d'oeuvres, smoked salmon, and charcuterie provide traditional accompaniments to fine Brut champagnes, a custom of which we heartily approve. Although ideal as an aperitif, the balanced elegant flavors of Delamotte's Brut N.V. also make it an ideal partner to grilled fish, scallops, and seafood specialties served with delicate cream sauces. A bowl of steamed Alaskan king crab legs served with warm drawn butter provides one of our favorite accompaniments. Interestingly, foie gras makes a fine companion as well. Chicken and quail provide other excellent accompaniments to this prestigious champagne. Freshly cut slices of apple and pear accompanied by a plate of creamy cows' milk cheeses such as Muenster, Neufchatel, or Port Salut also offer simple, satisfying accompaniments to a glass of Delamotte Brut. Nonetheless, we are truly enamored of this superb champagne as an aperitif, when we can enjoy its delicate mousse and supreme elegance without distraction. Then again, why not enjoy the delicious Delamotte Brut all the time?
Champagne is a wine that is under pressure. It should always be well chilled before opening. Always exercise caution when opening a bottle of sparkling wine. Never use a corkscrew. Point the bottle away from people and objects. Use a clean towel or cloth to firmly grip the bottle. Gently remove the wire stopper while firmly holding the cork in place. Then with thumb and forefinger, remove the cork slowly from the bottle. Do not let the cork fly. Enjoy!
Delamotte is one of the darlings of Champagne and a favorite of the Champenois themselves. It is also one of the oldest family-owned Champagne houses. Founded in 1760, Delamotte has a long history of fashioning some of the most elegant champagnes, especially Chardonnay-based champagnes from Champagne's fabled Côtes de Blancs. Centered in the greatest Côtes de Blancs commune of Le Mesnil-sur-Oger, the king of grand cru vineyards, Delamotte carries a torch for elegance, balance, and the highest quality.
In addition to Delamotte, the Delamotte family also owns and manages the venerable Champagne house of Salon, known for a very special and thoroughly unique champagne made from 100% Chardonnay from one single Grand Cru, Le Mesnil-sur-Oger. The Delamottes have also acquired Laurent-Perrier, one of Champagne's largest producers of quality champagnes.
Champagne is an ancient province of France, a pastoral land of meadows and streams and, most importantly, chalk hills upon which some of the world's choicest grapes are grown. Champagne's boundaries are delimited by law and its wines strictly regulated by the laws of Appellation Contrôlée as to permitted grape varieties (primarily Chardonnay, Pinot Noir, and Pinot Meunier), yield, production, and quality. Yet, Champagne is more than a place; it is also a wine. In fact, champagne is several different wines – only the most recognizable of which is white and bubbly.
Although champagne can be still or sparkling, white or red, and even rosé, the wine the world has come to know best as champagne is always sparkling. So synonymous now is the name champagne with sparkling wine that the nomenclature has been applied generically and indiscriminately to any wine that bubbles, much to the regret of the Champagne producers themselves. Authentic champagnes come only from the Champagne district of France and meet all the approved legal requirements and standards of production, including absolute adherence to the painstaking Méthode Champenoise, which requires that secondary fermentation take place in the bottle for sparkling champagne.
The magic of champagne (the bubbly kind, at least, that now encompasses the overwhelming majority of wine produced in Champagne) comes from encapsulating the bubbles in the very bottle in which the wine starts its life. In the old days, long before the advent of technical wine equipment, temperature control, and central heating, the slow fermentation of grapes in the cool Champagne autumn was often interrupted by winter's chill. With the onset of winter, fermentation would stop completely, or at least appear to cease, so the wine was bottled and prepared for distribution. However, the following spring, temperatures would rise and the fermentation process would begin anew. This delayed completion of fermentation is known as secondary fermentation. Secondary fermentation produces the beautiful bubbles and tiny streams of carbon dioxide that have come to enchant several centuries of well-wishers and hedonists. What began as serendipity is now one of the wine world's highest art forms.
Since the 17th century several historical personages have contributed to the development of champagne, including the renowned Dom Perignon, Frère Oudart (the legendary blind monk and cellar master of the Champagne Abbey of Hautviller), and later the widow Clicquot. Thanks to centuries of improvements and some of the first true brand name marketing, champagne enjoys today a special place in western culture. Champagne has been called the Belle of the Ball and has come to symbolize conviviality, hope, and all that is good in life and love. What would a wedding or any other festivity be without champagne? But why wait for an occasion? Champagne is the perfect way to start an evening, so pop the cork and join in the fun.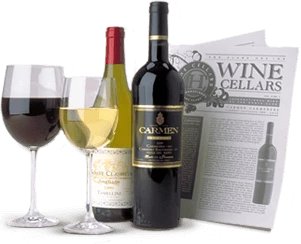 Enjoy Limited Production Estate
Bottled Wines
Discover limited production estate bottled wines such as Vergenoegd's internationally
acclaimed 2005 Cabernet Sauvignon, imported exclusively for our members.
DISCOVER OUR FOUR CLUBS