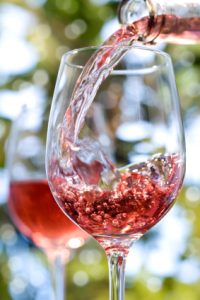 Rosé wines are hot, even more popular than ever before and not just in summer. That will come as no surprise to consummate wine drinkers, but what is surprising is the recent proliferation of varietals and styles of rosé that were unheard of just a few years ago. What started as a sea of rosé wines from France's Provence and nearby Languedoc has turned into an international tsunami of exciting pink wines from all over the globe and from a host of grape varietals. No longer are Grenache, Syrah and other Rhône grape varieties the only games in town.
In addition to seeing the proliferation of rosé wines from an assortment of grape varieties, increasingly fine Provençal rosés proliferate across the board from top to bottom. Languedoc is offering many great value rosé wines, too, many with a bit more swagger than their Provençal neighbors. Château Sainte Eulalie's 2018 Printemps d'Eulalie Minervois rosé is a splendid example of Languedoc's full-bodied style of rosé. And from Provence, one can't beat the 2018 Le Provençal Côtes de Provence rosé for value and flavor. For the ultimate in Provençal rosé, Château Margüi's 2018 Côteaux Varois en Provence rosé from George Lucas' Skywalker estate delivers all year round and ages beautifully, too.
Quality newcomers to the world of pink include Artesana's 2017 Tannat rosé, which is made in Uruguay (yes, Uruguay, and it is first rate) from the grape that gave us the word tannin. Deep, full-bodied, and wonderful by itself, it also complements flavor-filled dishes, including Vietnamese and Thai specialties. South Africa's 2018 Rustenberg Petit Verdot rosé adds a whole other dimension and style to today's rosé scene, and it, too, makes a fine choice to serve with flavorful, spicy dishes.
Oregon and California Pinot Noir rosés are also first class, although most tend to be pricier than their international counterparts and available in limited quantities. Spain and Italy have also increased the quality and production of their pink wines with Garnacha (Grenache) and Sangiovese, respectively, leading the varietal charge in each of those countries. Last but not least, Bordeaux, the world's largest fine wine producing region, has come awash with Cabernet and Merlot based rosés that are increasingly tasty and food friendly.
So the choice is ours! Let's enjoy the fruits of summer now and all year round.