Bright, eye-catching, and thoroughly seductive, the 2018 Château Sainte Eulalie Printemps d'Eulalie sets a new bar for rosé. Redolent with the scents of ripe strawberries, raspberries, melons, and herbs, one is immediately enchanted. Better still, the 2018 Printemps d'Eulalie offers juicy flavors and a real mouthful of wine to satisfy the palate, without sacrificing delicacy or freshness. A true crowd pleaser from start to finish, the 2018 Château Sainte Eulalie Printemps d'Eulalie captures the savory scents of spring and evokes the allure of southern France. Drink this flavorful rosé early and often. But have no fear; there is enough stuffing in this wine to carry it through until well into next year and beyond. For optimal enjoyment, we suggest serving the utterly charming 2018 Château Sainte Eulalie Printemps d'Eulalie moderately chilled (40º-45º F). Salut!
Young, fresh, and full of flavor, the 2018 Château Sainte Eulalie Printemps d'Eulalie drinks beautifully now on its own or in the company of hors d'oeuvres, fish, fowl, pork, and grand salads. A traditional Provençal Bouillabaisse or Salade Niçoise provides the ideal companion to this juicy flavor-packed wine. More traditional Mediterranean favorites such as ratatouille, orecchiette with broccoli rabe, vegetarian lasagna, and of course pizza also make fine accompaniments to Sainte Eulalie's Printemps d'Eulalie. Smoked meats such as salami, pepperoni, prosciutto and soppressata provide more tasty pairings with this wine, especially in the company of aged, hard cheeses. The 2018 Printemps d'Eulalie also pairs nicely with Pad Thai, Vietnamese noodle dishes, and Asian stir fries. Grilled fish and chicken make fine companions, too, but then almost anything seems to take to Sainte Eulalie's 2018 Printemps d'Eulalie. Bon Appétit!
Editor's Note: The International Wine of the Month Club is proud to offer our Premier Series members the 2018 Château Sainte Eulalie Printemps d'Eulalie, a special rose-colored wine from Minervois, France's oldest continuously producing wine region. Produced like a white wine with minimal skin contact using the saignée method, this delicate but flavorful wine spends no time in oak barrel. The wine's rose color evolves from a brief contact with the dark skins of the region's traditional red grapes before being bled off into tanks until early February, when the young rose-colored wine is bottled for maximum freshness. Rosés of this nature are again this year's "hottest" wines. We trust you will enjoy the 2018 Château Sainte Eulalie Printemps d'Eulalie for its delicacy, flavor and purity.
Château Sainte Eulalie quickly became one of our favorite properties in Languedoc and a favorite among our membership for its several outstanding wines. Under the ownership of Laurent and Isabelle Coustal since 1996, Château Sainte Eulalie has joined the top echelon of Languedoc producers for rosé as well as the region's traditional Rhône style red wines. The Coustals, who hail originally from Bordeaux, have resurrected and restored the ancient Minervois vineyards surrounding their estate, including many old vines at Château Eulalie, some of which are in excess of 100 years of age. The Coustals grow Syrah, Grenache, Cinsault, Mourvèdre and Carignan, the traditional and most important grape varietals of southern France.
Isabelle and Laurent Coustal serve as artisans in residence at Château Sainte Eulalie. They tend the vines and fashion a number of wines from old vines, including Plaisir d'Eulalie and La Cantilène. Both red wines spring from old vines from Languedoc's most renowned terroir. In fact, La Cantilène is the first official Cru of Languedoc. All of Château Sainte Eulalie's grapes are grown organically, picked entirely by hand, and bottled unfiltered in order to preserve their freshness and rich, seductive flavors. After more than two decades of outstanding work at Château Eulalie, the Coustals have earned a reputation as one of the Languedoc's most dynamic couples and their estate one of the finest in all Languedoc.
Languedoc is the world's largest single viticultural area, encompassing many appellations and distinctive sub regions – all of which are capable of producing fine wine. This sprawling viticultural wonderland stretches all the way from the Spanish border in the southwest, within sight of the towering snow-capped Pyrenees, to the banks of the Rhône River far to the northeast. Languedoc cuts a huge swath of dry coastal plain and sheltered mountains from which flow the guts and the glory of French viticulture.
The Languedoc, whose name is synonymous with the language of southern France, was the first part of ancient Gaul to be extensively planted to the vine and has remained widely cultivated for millennia. For centuries the Languedoc reigned as France's most important viticultural region until the advent of phylloxera in the late 19th and early 20th centuries, causing the Languedoc to languish in the doldrums of viticultural obscurity until the 1970s when this once proud bastion of French viticultural excellence began its renaissance. Since then, the Languedoc has steadily set its course on attaining its former glory. The emphasis today is on quality rather than quantity and the results are nowhere more apparent than in the favored ancient appellation of Minervois, named for the Roman goddess Minerva, the goddess of wisdom, medicine, and the arts.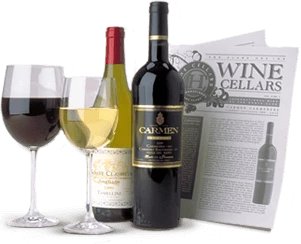 Enjoy Limited Production Estate
Bottled Wines
Discover limited production estate bottled wines such as Vergenoegd's internationally
acclaimed 2005 Cabernet Sauvignon, imported exclusively for our members.
DISCOVER OUR FOUR CLUBS