The 2006 Zantho Zweigelt provides more than ample testimony to the much heralded quality of the 2006 vintage in Austria. It, also, pays tribute to the enological acumen of Umathum and Peck. In short, Zantho's 2006 Zweigelt captures all the juicy red fruit, subtle spice, and lively refreshment that well-bred Zweigelt has to offer. Although somewhat reminiscent of Grand Cru Morgon or a serious village Burgundy, the 2006 Zantho Zweigelt offers plenty of its own unique character, too. Up front, it is loaded with gorgeous cherry fruit in both aroma and flavor, which nearly bursts from the glass with just a few minutes of aeration. If pleasure is what you are after in wine, Zantho's Zweigelt is up to the task and ready to deliver. Mouth filling flavors caress the mouth; cinnamon, sassafras, vanilla, and of course layer upon layer of beautiful, juicy red fruit come to fore. Dressed in a regal purple robe and bringing all the good cheer one can ask for, this medium-bodied Zweigelt shines like the sun. From the first sniff through to this Zweigelt's balanced and refreshing finish, the 2006 Zantho will put a smile on your face. For optimal enjoyment, we suggest serving this delightful wine between cool room temperature and cellar temperature (56° - 66° F). Prost!
The 2006 Zantho Zweigelt is a wonderful tableside companion. It is equally at home with bistro food as it is with an eclectic assortment of Mediterranean fare. Austria's Burgenland is surprisingly warm, so its climate bears more resemblance to that of Italy than it does the rest of Austria. Correspondingly, pizza, pasta, and many authentic regional Italian specialties provide Zantho with ideal accompaniments. Pork Bracciole from the Marches or even Bracciole Florentine, made with beef and mushrooms, provides a hedonistic feast to match the Zantho Zweigelt. Pasta with a genuine Alfredo sauce is a good bet, too. We can also recommend white fish, especially when prepared in the Livornese style with black olives, capers, herbs, and fresh tomato sauce. Peppercorn-Crusted Tuna Steaks, served with Parmesan Risotto, is another superb rendering with the Zantho Zweigelt. And certainly, dumplings, schnitzels, and other dishes that are commonly thought of as typical of Austrian cooking offer superb companionship to Zantho's flagship wine, too. And if it's simply a burger or barbecue night, Zantho's Zweigelt will surely add some panache to an otherwise mundane meal.
Deep within the Austrian province of Burgenland lies the tiny village of Andau, which was first known as Zantho as far back as 1488. The region's gravelly soil, rich in iron and minerals, is ideal for producing premium red wine, especially the area's two most important red varieties: St. Laurent and Zweigelt. Zantho is home to a rare genus of woodland lizard, too, and now the name of one of Austria's hottest new wineries. Zantho is a fledgling venture, starring Josef Umathum, Austria's undisputed master of the rare but difficult to cultivate St. Laurent varietal and his equally astute partner Wolfang Peck, a specialist with Zweigelt. Both men are regarded as two of Burgenland's finest winemakers and they started Zantho in conjunction with the Andau winegrower's cooperative. They founded Zantho in 2001, christening their enterprise with Andau's original name. They placed an image of the village's other main attraction, a rare woodland lizard that has become synonymous with the village as well as the winery, solidly on the label. Yet, what may be scarcer these days than the Zantho lizard is the availability of Zantho's Zweigelt and St. Laurent wines. Recently, several highly complimentary reviews have caused a wellspring of interest in Zantho's wines and strained allocation for this budding winery. However, we were fortunate to procure just enough of Zantho's delicious 2006 Zweigelt to slake the thirst of our membership. We trust you will enjoy this gregarious Zweigelt as much as we do. Zweigelt and St. Laurent Zweigelt (pronounced TSVYE-gelt) is an indigenous Austrian varietal. However, its appearance in the world of wine is relatively recent. Zweigelt was created only in 1922 by an Austrian scientist named Fritz Zweigelt. The grape is a cross between two indigenous Austrian varietals, Blaufränkisch and St. Laurent. Zweigelt was originally referred to as rotburger, but its name was changed to honor its creator – and for that we are all thankful. Today, Zweigelt is the most highly cultivated and sort after red grape variety in Austria. And by nearly all accounts, Zweigelt produces the finest red wine in Austria as well. In excellent vintages such as 2006, Zweigelt shines with juicy, ripe fruit and a warm, huggable structure that other indigenous varietals struggle to match. St. Laurent is another indigenous Austrian grape variety, even though it is likely a far distant relative to Pinot Noir of Burgundy fame and fortune. Interestingly, Umathum's single vineyard St. Laurent, which hails from his own 45-acre estate, has been compared to Chambertin, the great Grand Cru red Burgundy that remains one of France's most treasured viticultural legacies. However, St. Laurent does not always reach its pinnacle of quality in every vineyard because it is so difficult to grow. It requires special attention in the winery – something Umathum and Peck know something about – in order to extract the utmost from the vine's persnickety temperament. However, in the right hands and when all goes well, St. Laurent furnishes a rare treat.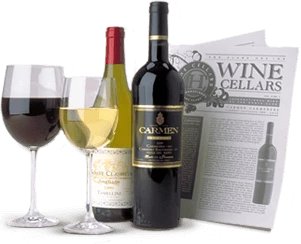 Enjoy Limited Production Estate
Bottled Wines
Discover limited production estate bottled wines such as Vergenoegd's internationally
acclaimed 2005 Cabernet Sauvignon, imported exclusively for our members.
DISCOVER OUR FOUR CLUBS