The 2012 Yali Lolol Valley Sauvignon Blanc, like many of Chile's best Sauvignon Blanc wines, captures the best attributes of traditional Sancerre and New World Sauvignon Blanc. Bright, juicy, and pleasantly herbaceous, the 2012 Yali Lolol Valley Sauvignon Blanc offers up plenty of fresh melon, herb, fig, and zesty lime scents to make any ardent admirer of Sauvignon Blanc beg for a second and third glass. Better still, Yali's captivating aromas flow full throttle into the mouth where rich fruit flavors imbued with herb and citrus twists tantalize the palate. Medium-bodied, balanced and immensely fresh and clean, the 2012 Yali Lolol Valley Sauvignon Blanc outshines many Sauvignon Blancs at twice the price. Enjoy this exuberant Sauvignon Blanc moderately chilled (38°-45° F), and as often as you can.
Seafood has been the longstanding go-to accompaniment to Sauvignon Blanc, and for good reason. The fresh zesty qualities of the varietal complement good seafood without overwhelming its delicacy. At the same time, fresh fish and shellfish highlight Sauvignon Blanc's aromatic and flavor profiles. So, for starters crab legs, mussels, oysters, and scallops top our list of go-to foods to serve with the 2012 Yali Lolol Valley Sauvignon Blanc. A glass of Yali Sauvignon Blanc in company of a plate of Alaskan King Crab Legs served with drawn butter gets our two thumbs up as do New Zealand Green Tip Mussels served in a creamy, aromatic broth. A filet of cod, grouper, or halibut baked with white wine, garlic, and herbs offers another tasty accompaniment. But there's more for Yali than what swims in the sea. Creamy pastas; salads served with avocado, cherry tomatoes, and grilled chicken; and Asian specialties such as Pad Thai, Vietnamese noodles, and even sushi pair beautifully with the 2012 Yali Sauvignon Blanc, too. Even light curry sauces shouldn't dull Yali's fresh, energetic flavors. Enjoy!
Yali hails from Chile's meticulous Viña Ventisquero winery. Yali begins life in Lolol, an area of southern Colchagua Valley that is influenced by the cool breezes of the nearby Pacific Ocean. The climate of Lolol is similar to Bordeaux, the traditional home of Sauvignon Blanc. In Lolol cool mists and maritime breezes temper the long hot summer days of central Chile, which afford the grapes an extended growing season and greater aroma and complexity.
Viña Ventisquero is a young winery founded in 2000 that offers further evidence of how far Chile has come in the past two decades in producing world class wines at affordable prices. Many of this young estate's wines have garnered much deserved gold medals in international competitions and best buy awards from various wine publications, and that includes the Yali Sauvignon Blanc. The winery's motto remains "We challenge the status quo, always searching for unique and different ways to accomplish our goal… to create great wines." And from the wines we have tasted, we would heartily concur: the professionalism, positive energy and steadfast commitment at Viña Ventisquero to sustainable viticultural practices highlight this winery's fidelity to its mission and overriding commitment to quality.
Viña Ventisquero has estate owned vineyards in Chile's premier wine producing regions, including Maipo, Casablanca, Leyda, and Colchagua. Under the guidance of Viña Ventisquero's head winemaker Felipe Tosso, the winery continues to grow and explore the best terroirs that Chile has to offer. In addition to producing world class Sauvignon Blanc, Viña Ventisquero fashions excellent Chardonnay, Viognier, Cabernet Sauvignon, Carmenère and Syrah.
Sauvignon Blanc is a premium white wine grape that for all intents and purposes is indigenous to Bordeaux. Yet, in Bordeaux Sauvignon Blanc has traditionally been blended with a percentage of Semillon and other grapes to create a special flavor profile all of its own. This stands in contrast to the 100% varietal offerings from France's Loire Valley, most notably from Sancerre, Pouilly-Fumé, and increasingly Menetou-Salon, whose wines remain some of the world's truest expressions of the grape. Other French appellations have mostly followed suite, preferring 100% varietal bottling so as not to diminish Sauvignon Blanc's inimitable characteristics.
In the New World, winemakers mainly follow the Loire Valley's lead in bottling Sauvignon Blanc as a single varietal. In California, Sauvignon Blanc is sometimes called Fumé Blanc, a relic of a marketing ploy that popularized the grape, but confused the consumer, since there is no clear cut difference in California between wines labeled Sauvignon Blanc and Fumé Blanc. In the past three decades, Australia, Chile, New Zealand, and South Africa have proven to be equally adept at producing excellent Sauvignon Blanc. Each country appears to have developed a unique variation on the same theme. Yet, what nearly always distinguishes Sauvignon Blanc is its distinct aroma, which resonates with the scents of citrus, herb and freshly cut grass that range from almost imperceptible to nearly intoxicating.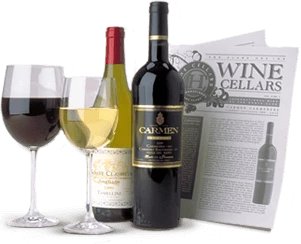 Enjoy Limited Production Estate
Bottled Wines
Discover limited production estate bottled wines such as Vergenoegd's internationally
acclaimed 2005 Cabernet Sauvignon, imported exclusively for our members.
DISCOVER OUR FOUR CLUBS