Wildberry's 2014 Estate Reserve Cabernet Sauvignon will convince any wine lover of Margaret River's supremacy as a viticultural region. Many scientists and viticulturists have identified Margaret River as the finest place on earth to grow grapes, and Wildberry's 2014 Reserve Cabernet adds further testament to that finding, having received 95 points from James Halliday and 92 points from The Wine Advocate. Abundant winter rains, gravelly, well-drained soils and cool maritime breezes tempered by surrounding karri, jarrah and peppermint forests translate into long hang times for grapes and consistently fine, balanced Cabernets. The 2014 Wildberry Estate Reserve Cabernet Sauvignon is elegant, ripe, lush and beautifully arrayed in a purple robe. Enticing blackberry and cassis aromas infused with cedar and oak waft from the glass. In the mouth, bold fruit and herb flavors flow across the tongue and caress the palate. Medium to full-bodied with smooth, polished tannins, the 2014 Wildberry Reserve Cabernet Sauvignon provides superb concentration and length without hard, mouth-searing tannins. Enjoy this charming, flavorful Cabernet at cool room temperature (60°-64° F) now through 2024. For optimal enjoyment, we suggest at least 15-20 minutes of aeration before consuming. Enjoy!
Comfort food and Cabernet seem to go hand in hand, and the juicy, sophisticated 2014 Wildberry Estate Reserve Cabernet Sauvignon provides a whole lot of comfort. Beef and lamb are two traditional go-to choices for comfort. Seared Wagyu Flank Steak prepared with a honey-lavender glaze, sautéed kale, and butternut squash au gratin makes the grade, as does Prime Filet Mignon grilled over an open flame and served with a lightly coated wild mushroom sauce beside creamy garlic mashed potatoes. Braised Lamb Shanks provide another tried and true accompaniment. An equally compelling, heart healthier option calls for Coffee Crusted Bison Filets. And for those who prefer to keep it simple, it is hard to beat a truly great grilled hamburger. Add some fine aged cheddar to that hamburger, a little ripe avocado, or a good bit of caramelized onions along with your favorite condiments and there should be plenty of comfort when accompanied by a glass or two of the 2014 Wildberry Reserve Cabernet Sauvignon. Mushroom Wild Boar Sausage Ravioli, a delectable Spicy Four Bean Chili, or a knock-out Mac-n-Cheese made with smoked Gouda and Pepper-Jack cheeses add additional layers of comfort. For those seeking lighter fare or additional vegetarian complements, consider serving the 2014 Wildberry Estate Reserve Cabernet Sauvignon with a hearty lentil dish, grilled eggplant, or a toasted bun filled with a homemade vegetarian bean burger topped with roasted red pepper and melted cheese. Salut!
Wildberry is a single vineyard site owned by the Flying Fish Cove winery in Wilyabrup, Margaret River, Australia's most lauded wine region and a prime source for outstanding Cabernet Sauvignon. It was established by growers passionate about producing great wine using traditional practices, the best technology and, of course, superb fruit.
The Margaret River, Western Australia's only major river, winds through the Margaret River appellation before flowing gently into the Indian Ocean. The appellation of Margaret River is actually a peninsula that sits astride the sea, not unlike Bordeaux. The oldest and most illustrious of Margaret River's wines flow from the sub-region of Wilyabrup, home to a host of the finest Australian wineries and award winning wines: Moss Wood, Vasse Felix, Leeuwin, Howard Park, Voyager and Wildberry are all clustered in the highly favored Wilyabrup sub-region of Margaret River.
Cabernet Sauvignon is king at Wildberry Estate as it is for most of Wilyabrup wineries. However, Wildberry's Estate Reserve Chardonnay is equally impressive, garnering consistent 90+ points from major critics and magazines. Both the 2014 Wildberry Estate Reserve Cabernet Sauvignon and 2015 Estate Reserve Chardonnay landed in the top 5 in The Wine Advocate report. Wildberry's Cabernet and Chardonnay constitute the highest quality wines and offer tremendous value. Sadly, quantities are limited, but alas the greatest wines are hardly everywhere or on every shelf or table.
The Margaret River is a green, temperate corner of Western Australia that sits beside the sea. Here the Margaret River makes its way through wooded hills and steep ridges carpeted with wild flowers, before sighing almost inaudibly into the gleaming Indian Ocean. Crystalline waters and high rolling surf offer Australia's finest surfing as well as its most compelling seascapes. These very same waters, along with steady ocean breezes, a unique soil, and a Mediterranean climate also make Margaret River one of the finest natural wine producing areas on earth and a great place to peacefully whittle away the time.
In the early 1960s, a scholar named John Gladstone was the first to recognize and publicize Margaret River's special climate, soil, and conditions known as terroir. In a detailed account, Gladstone wrote glowingly of the similarities between Margaret River and the finest wine producing regions of Bordeaux. Moreover, he extolled the perfect weather of Margaret River for the cultivation of the vine, especially for traditional Bordeaux varietals. And, indeed, Gladstone's proclamation has proven to be more than just wishful thinking, surpassing even his own expectations; in the past three decades, the Margaret River has established itself as a world-class wine producing region for Shiraz and Chardonnay, but most especially Cabernet Sauvignon and other traditional Bordeaux varietals.
Almost in spite of its enviable reputation for producing balanced, world-class wines, Margaret River has remained widely unknown to the average wine consumer in the United States. Barossa, Hunter, McLaren Vale, and even the Clare garner more attention, and this may be due to the relatively small production in the Margaret River; the Margaret River produces less than 3% of Australia's wine, despite extensive planting in the last four decades. Yet, the Margaret River garners the highest proportion of gold medals and trophies for its wines of any viticultural region of Australia – a tribute to the region's dedication to premium varietals, quality winemaking, and outstanding terroir.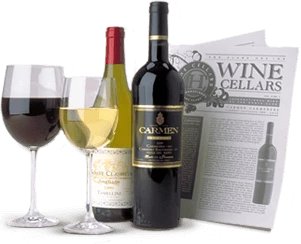 Enjoy Limited Production Estate
Bottled Wines
Discover limited production estate bottled wines such as Vergenoegd's internationally
acclaimed 2005 Cabernet Sauvignon, imported exclusively for our members.
DISCOVER OUR FOUR CLUBS