The 2015 vintage in the Russian River Valley delivered an exceptional crop of Chardonnay. An unseasonably cold spring produced tiny clusters and low yields that developed under near perfect summer conditions to deliver outstanding quality. The 2015 Wild Goose Russian River Chardonnay offers a rich color and amplifying aromatics redolent of apple, pear, and honey with appealing hints of exotic spices. Refreshing on the palate, Wild Goose's 2015 Russian River Chardonnay displays an engaging mélange of orchard and stone fruits along with a creamy texture. A well-balanced acidity adds to the complexity of the wine and amplifies the finish, while subtle well-integrated oak tones add to the overall appeal, without overpowering the wine's juicy fruit. For optimal enjoyment we suggest moderate chilling (38°-45° F) before allowing the wine at least a few minutes in the glass before imbibing. Anticipated maturity: 2017-2019. Enjoy!
The 2015 Wild Goose Russian River Chardonnay is a particularly food-friendly wine. Its bright fruit, creamy texture, and moderate alcohol levels make it a delight to bring to table. Whether it is served with salmon rillettes, shrimp salad, a grilled chicken and avocado wrap, or a bucket of crispy chicken wings, the 2015 Wild Goose Russian River Chardonnay is sure to provide a delightful partnership. Grilled fish, poultry, and pulled pork also make tasty accompaniments to this easy to drink Russian River Chardonnay. A new twist on an American classic such as Mac-n-Cheese made with Smoked Gouda and Pepper-Jack with hints of green onion and chili provides an intriguing accompaniment. Soft, creamy cheeses served with fresh apples, pears, or strawberries also provide simple, satisfying, and uncomplicated pairings to Wild Goose's 2015 Russian River Chardonnay.
Each year around harvest, flocks of majestic Canadian Geese appear over the Wild Goose vineyards in their familiar v-formation. Hence, the name Wild Goose Vineyards, a name that reminds the folks at Wild Goose of the harmony and rhythm of nature of which we all play an integral part, a part that includes the fine Chardonnay that flows from Wild Goose's Russian River Valley vineyards. Adler Fels, one of Sonoma County's premier wineries, is the source for Wild Goose. Only Chardonnay bears the name Wild Goose from Russian River Valley vineyards.
At Wild Goose, Chardonnay is the sole focus and that attention comes through in the finished product. From vineyard to consumer, the utmost attention is given to making memorable Chardonnay. The workers pick the grapes for their highly acclaimed Chardonnay in the cool stillness of the morning in order to preserve bright acidity and optimum freshness. They then utilize the finest modern equipment to preserve the delicacy and complex flavors inherent in their Chardonnay grapes. All the while, alcohol levels are kept to moderate levels to maintain balance before the resulting wine is aged gently in oak. Taste and see!
Chardonnay is not only the most widely cultivated white varietal on the planet; it is also the most treasured. Twice each year at harvest time (because the seasons are reversed in the northern and southern hemispheres) in its native France and in countless locales on six continents Chardonnay grapes command premium prices. In tribute, Chardonnay produces the finest, most flavorful dry white wines in the world to which writers and connoisseurs devote countless columns and untold hours exalting its virtues and dissecting its flavors. Whether it be from Chablis or Champagne, the Russian River Valley or the Santa Lucia Highlands, or from the most illustrious of vineyards perched atop the slopes of Corton and Montrachet, Chardonnay is the yardstick by which all other dry white wines have come to be measured.
With food, Chardonnay is a peerless match. Chablis and other Chardonnays that see little or no oak provide superb complements to seafood. Fuller, richer, and more heavily oaked renditions of Chardonnay, typified by the finest examples from California and France, pair beautifully with more complex fare, such as rich cream sauces, poultry and white meats. Moreover, the finest Chardonnays shine on their own, and they require nothing but a clean glass to please the palate.
The Russian River Valley appellation or American Viticultural Area (AVA) is one of the largest and most important appellations in California. The Russian River AVA is centered in Sonoma County, south and west of Healdsburg, as it follows the Russian River itself towards Guerneville and the Pacific Ocean. The southwestern end of the AVA lies just 55 miles north of San Francisco's Golden Gate Bridge.
Along the cool fog-shrouded banks of the Russian River one finds some of the finest Chardonnay, Pinot Noir, Syrah, and Zinfandel in the world. Chardonnay constitutes the largest single grape variety in the valley, but Pinot Noir and Syrah are fast catching up. At present there are more than fifty wineries, hundreds of grape growers, and more than 16,000 acres of planted grapes in the Russian River Valley. The well-draining soils of fractured rock and gravel along with the cool climate of the Russian River Valley provide some of the longest hang time for grapes in California, which translates into highly aromatic, balanced wines of distinction.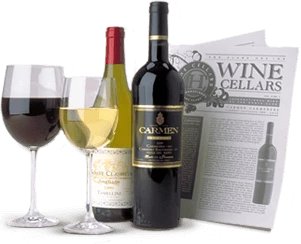 Enjoy Limited Production Estate
Bottled Wines
Discover limited production estate bottled wines such as Vergenoegd's internationally
acclaimed 2005 Cabernet Sauvignon, imported exclusively for our members.
DISCOVER OUR FOUR CLUBS