If Happy Canyon and Westerly have been off your radar, they won't be after tasting the 2010 Westerly Happy Canyon Cabernet Sauvignon, which garnered a 92 rating from Wine Enthusiast and 94 from our own tasting panel. Westerly has fashioned a truly beautiful, classically styled Cabernet Sauvignon. As a blend of 96% Cabernet Sauvignon and 4% Petit Verdot, it may just be California's answer to top notch Bordeaux. Black currant, plum, cassis, cedar, cacao and freshly cured tobacco notes all make their appearance in the aroma and on the palate of this harmonious wine. While remaining fresh, complex and impeccably balanced, the Westerly Cabernet delivers tremendous flavor with considerable finesse. It blends the best attributes of California Cabernet Sauvignon and Bordeaux from prized Médoc growths into one delicious wine. Bottled unfiltered and unfined, the 2010 Westerly Cabernet Sauvignon proves that California Cabernet can offer substantial depth of flavor and mouth-coating finely-grained tannins without a biting tannic overload. Allow the 2010 Westerly Cabernet about 20-30 minutes of aeration, and enjoy it now and for the rest of the decade. Too bad a mere 801 cases of the 2010 Westerly Cabernet were produced.
Cabernet lovers will have no trouble happily consuming the 2010 Westerly Happy Canyon Cabernet Sauvignon with nary a morsel. Those who often find Cabernet on its own to be a bit tannic for their tastes won't have any problem with the 2010 Westerly Cabernet either, with or without food. However, it would be a shame not to build a splendid meal to accompany the 2010 Westerly Cabernet, but as with the finest aged Bordeaux and Cabernets, the simpler the accompaniment the better to showcase the wine. Consider pairing the 2010 Westerly Cabernet with roast chicken, fine cuts of beef, or grilled lamb chops. Coat the chicken, beef or lamb with a little olive oil, sprinkle thyme and rosemary on the oil-coated flesh, and then roast or grill the meat to perfection. A thick lentil stew or vegetarian lasagna pairs nicely with this wine, too. An even simpler and easier accompaniment is a selection of cow's milk cheeses. Cheddar, Comté, Gruyere, and mild or medium Beemster all provide tasty companionship to the Westerly Cabernet.
Roger Bower is the owner and visionary behind Westerly and Crown Point Vineyards in Happy Canyon, Santa Barbara County, an area many critics believe will one day eclipse Napa Valley as America's premier viticultural area for Cabernet Sauvignon. A native Texan with a love for horses, Roger purchased Westerly and Crown Point Vineyards with the idea of producing California's greatest Cabernet Sauvignon. Roger made his fortune producing fire-fighting foam and contracting a private fire-fighting squad to battle blazes in the Gulf of Mexico and the Middle East. Now as a wine grower, farmer and rancher, he rides his horses among the estate's vineyards, orchards and olive groves, overseeing every aspect of his burgeoning venture. To add credence to his vision, he hired Adam Henkel, a winemaker at the legendary Harlan Estate, to help him turn vision into reality.
Adam Henkel, a Kentucky native, has been hailed as one of California's greatest winemakers. After running a boutique wine shop in Jackson Hole, Wyoming and making numerous trips to the world's most renowned wine regions in Australia, California, Oregon and France, Adam headed to California's Napa Valley to learn how to make wine. After stints at both Merryvale Vineyards and Swanson Vineyards, Adam went to the great Harlan Estate in Oakville where he worked for eight years making wine and where he is said to have been inspired by Harlan's "culture of perfection." Harlan Estate and Screaming Eagle enjoy lofty reputations for producing America's most renowned and expensive Cabernet Sauvignons. Adam brings the culture of perfection to Westerly and Roger Bower's Crown Point Vineyards with a the belief that Happy Canyon will challenge Napa Valley as America's leading AVA for Bordeaux varietals.
Happy Canyon is emerging as one of California's most exciting wine regions for the production of Bordeaux varietals. It is one of the smallest and least traveled viticultural areas of California, yet in spite of its diminutive size Happy Canyon and its splendid hillside vineyards are making big names for themselves among savvy Cabernet drinkers.
Located at the far end of the Santa Ynez Valley in the easternmost part of Santa Barbara County, Happy Canyon and its pastoral surroundings first gained renown for its premier orchards and sprawling cattle and horse ranches. It wasn't until 1996 that vineyards first emerged on Happy Canyon's bucolic hillsides, yet it didn't take long to realize the canyon's viticultural potential; with only a handful of vineyards and a tiny production, Happy Canyon gained its own official American Viticultural Area (AVA) designation in 2009. Happy Canyon enjoys the warmest climate in Santa Barbara County and the AVA's unique microclimate and magnesium-rich, serpentine-laced soils provide ideal growing conditions for Cabernet Sauvignon and other high quality Bordeaux varietals – all of which are making critics and wine lovers swoon. As one would expect, with a growing reputation for outstanding wines and only eight vineyards and three bona fide wineries to its name, Happy Canyon's hand-crafted wines are highly allocated.
Happy Canyon is thought to have gained its name during Prohibition. In those days, the nearby Los Padres Mountains enjoyed a well-deserved reputation for making "moonshine." As the story goes, those who sought the pleasures in "them there" hills would "take a trip up Happy Canyon" to conduct their business. The name stuck. With a growing number of high quality wines flowing from Happy Canyon, it is continuing to live up to its well-earned reputation.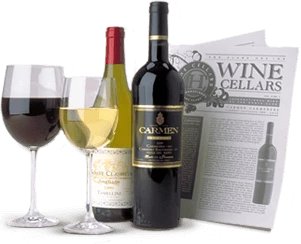 Enjoy Limited Production Estate
Bottled Wines
Discover limited production estate bottled wines such as Vergenoegd's internationally
acclaimed 2005 Cabernet Sauvignon, imported exclusively for our members.
DISCOVER OUR FOUR CLUBS