Having earned 91 points from Wine Advocate, the juicy, seamless 2016 Walt La Brisa Pinot Noir testifies to the fabulous vineyards from which La Brisa springs and the acumen of Walt's winemakers, Steve Leveque and Megan Gunderson Paredes. La Brisa, Spanish for "The Breeze," pays homage to the brisk Pacific breezes that cool the Sonoma Coast and impart freshness and vigor to Walt's La Brisa Pinot Noir, a wine that delivers a delicious blend of cherry, plum and wild berry scents and flavors subtlely infused with hints of exotic spices, lavender and minerals. Harmonious, vibrant and thoroughly satisfying, it is hard to imagine a more gratifying young Pinot Noir than Walt's 2016 La Brisa, yet one need not be in a hurry to drink up this smooth, gracious Pinot Noir: it should continue to improve in bottle for years to come. For optimal enjoyment, we suggest affording the 2016 Walt La Brisa Pinot Noir at least thirty minutes of aeration before serving it at cool room temperature (60° F). Drink now through 2023.
Walt is an outstanding boutique producer of hand-crafted Pinot Noirs from a growing number of California's premier Pinot Noir vineyards in Anderson Valley, the Sonoma Coast, the Santa Rita Hills, and Oregon's Willamette Valley. Walt also specializes in fashioning small batches of superb Chardonnay.
Walt is owned by Kathryn Walt Hall and Craig Hall. Kathryn Walt Hall has been involved in the wine industry since her family first purchased a vineyard in the 1970s. She and her brother managed the family vineyard from 1982-1992. Kathryn has also enjoyed a distinguished career as a businesswoman, attorney and community activist, and she served as the United States Ambassador to Austria from 1997-2001.
Winemakers Steve Leveque and Megan Gunderson Paredes work magic with Walt's small hand-crafted wines. They practice non-interventionist winemaking that naturally allows each individual vineyard site to express its individual character. Taste and see why critics have been wowed by Walt's wines and why Walt's La Brisa Pinot Noir consistently receives 90+ ratings.
Walt's 2016 La Brisa Pinot Noir from California's Sonoma Coast provides a whole lot of flavor in an elegant, harmonious, beautifully balanced format. Consequently, many Pinot Noir lovers will want to savor this wine on its own, while those who normally eschew Pinot Noir with the claim that it doesn't pack enough flavor will be delighted to drink this wine with or without culinary accompaniments. With that said, we couldn't pass up enjoying Walt's 2016 La Brisa Pinot Noir with some delectable morsels. Roast turkey served with a savory onion and sage dressing, giblet gravy, and roasted root vegetables receives two thumbs up from us. Roast duck prepared with a blackberry or cherry reduction and served over savory wild rice makes for another tasty pairing. Rack of lamb accompanied by potato gnocchi, sweet peas, pearl onions, and mushrooms offers another exciting companion to Walt's La Brisa Pinot Noir. A wood fire grilled salmon served with polenta and seasonal vegetables provides another tasty pairing with this wine. And if you believe less is more, consider serving some perfectly aged Fontina or Gruyere cheese with the 2016 La Brisa and enjoy!
Pinot Noir stands at the pinnacle of all of the world's grape varieties, but it is not because the planet's other favored varietals (Chardonnay, Cabernet Sauvignon, Syrah, Sangiovese, and Tempranillo, to name a few) are incapable of greatness; rather Pinot Noir is the rare grape variety that is capable of being transformed annually into the planet's most complex red wines as well as the most exquisite rosé, still, and sparkling wines. Although born in Burgundy a millennium before Cabernet Sauvignon made its appearance in Bordeaux, it now thrives in Champagne, California, Oregon, and a few other hallowed parcels across the planet in addition to its native Burgundy. However, the difficult to grow, often unforgiving Pinot Noir varietal demands attention, a cool, temperate climate, and a deft hand in the cellar. When all stars align, Pinot Noir yields light to full-bodied wines of stunning aromatics, depth, and length of flavor. Moreover, good Pinot Noir can age gracefully for as long as any wine when stored properly. Not surprisingly, it is also the world's most expensive wine on average, which makes it all the more attractive to collectors and a growing legion of admirers.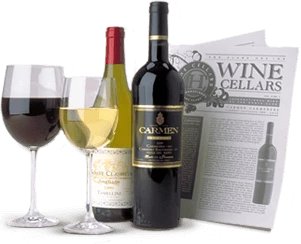 Enjoy Limited Production Estate
Bottled Wines
Discover limited production estate bottled wines such as Vergenoegd's internationally
acclaimed 2005 Cabernet Sauvignon, imported exclusively for our members.
DISCOVER OUR FOUR CLUBS