The 2010 Vinyes del Terrer Nus del Terrer is a powerful red wine that wows the palate and warms the heart. Produced in minute quantities from select plots of old vines in view of the Mediterranean, the 2010 Nus del Terrer rivals in quality the greatest reserve bottles of Châteauneuf-du-Pape. Awarded 92 Points by Josh Raynolds of International Wine Cellar when first released, the 2010 Nus del Terrer is a tour de force in winemaking. Moreover, it has continued to improve in bottle since it was first reviewed, adding depth of flavor, polish and weight. The 2010 Nus del Terrer offers up a complex, perfumed bouquet of woodland berries, wood smoke, incense and spices. Deep rich fruit flavors infused with subtle hints of chocolate and tobacco well up on the palate of this highly structured wine to fill the senses. And if you are looking for a long, satisfying finish, the 2010 Nus del Terrer delivers that and more with just the right amount of ripe tannins infused with cracked pepper and spice. Afford the 2010 Nus del Terrer plenty of breathing time and enjoy it now and for the next 8-10 years.
As a robust wine the 2010 Vinyes del Terrer Nus del Terrer calls for accompaniments as big and befitting as itself. The finest cuts of meat, complex sauces, and hearty country dishes made from the freshest ingredients provide excellent companions to Nus del Terrer. Consequently, braised Osso Buco short ribs with gravy, parsley, creamy garlic mashed potatoes and green beans earn high marks to accompany the robust 2010 Nus del Terrer. A loin lamb chop grilled on a wood fire and basted with Spanish olive oil, garlic, fresh mint and rosemary gets our nod, too. A thick veal chop, served with shitake mushrooms and an herb rice pilaf, offers another mouthwatering accompaniment to the 2010 Nus del Terrer. Roasted Quail, stuffed with apple-smoked bacon and mushrooms and served over a corn based risotto, provides yet another wonderful pairing with Nus del Terrer. Thick juicy steaks from the grill as well as almost any full-flavored dish will complement this world class wine. Enjoy!
The Morell family's Vinyes del Terrer vineyard estate is comprised of nine tiny parcels totaling just seventeen acres. Each parcel lies just outside of the city of Tarragona on Spain's Mediterranean coast. And much like the great wines of Bordeaux's legendary Graves and Pauillac appellations, Terrer clings to a patchwork of green in defiance of the urban sprawl from its civic neighbor. Correspondingly, the estate's vineyards lie within a mile and a half of the sea, much as they do in the Bordeaux appellations of Pauillac and St. Estèphe, and their soils are composed of calcareous loam derived from shell (fossil) limestone, known locally as lumaquela.
Vinyes del Terrer's Nus del Terrer (Nus meaning Knot or Tangle ) is a beautifully integrated blend of 60% Garnacha and 40% Cabernet Sauvignon from extremely low yielding vines that average less than 1.5 tons per acre. Only 15,000 bottles of this rare blend was made. Although the red wines of Tarragona typically rely primarily on Garnacha and not Cabernet Sauvignon, the unique terroir of Vinyes de Terrer, namely the property's lumaquela soil, is especially conducive to Cabernet Sauvignon which renders Nus del Terrer a very special wine. It also underscores the word TERRER (terroir) as the clear choice of name for the winery and the wine – Nus del Terrer.
In addition to producing Nus del Terrer, Vinyes del Terrer also makes an equally compelling wine in Terrer d'Aubert from 100% Cabernet Sauvignon. And, like its sibling Nus del Terrer, only a mere 15,000 bottles of Terrer d'Aubert are produced each year.
Cabernet Sauvignon is one of the most widely cultivated of the world's noble red grape varieties. For centuries it was thought to be an ancient varietal, but DNA studies conducted in the 1990s revealed that Cabernet Sauvignon is not nearly as old as was once thought. Moreover, what is even more startling is that Cabernet Sauvignon is actually the offspring of Cabernet Franc (a red variety) and Sauvignon Blanc (a white variety).
The origin of Cabernet Sauvignon has traditionally been attributed to Bordeaux, where it holds court with Merlot, Cabernet Franc, Malbec, and Petit Verdot. The combination of any three or more of these varieties is what is known in Europe as the Bordeaux Blend or in California and elsewhere as a Meritage selection. Some evidence suggests that northern Spain, just south of the Pyrenees, may also lay legitimate claim to being an original site of the planet's most important red grape variety. However, Bordeaux rightly claims to be the disseminator of this noble red grape because it is from Bordeaux that Cabernet Sauvignon has traveled the world far and wide – Argentina, Australia, California, Chile, South Africa, and almost anywhere else Cabernet thrives.
Garnacha, which is Spanish for the varietal more commonly known by its French name, Grenache, claims to be Spain's most planted grape variety. Although ubiquitous throughout Spain, Garnacha is often blended with other varietals by Spanish winemakers, so much so that it rarely stands alone as a 100% varietal. Because of its thin skin and ability to tolerate extremely hot conditions, the grape ripens slowly to produce wines of vigor with high alcohol levels. In warm dry climates Garnacha yields a fruit forward wine complemented by a spicy quality that makes it a perfect canvas upon which to paint. It can either mellow more highly tannic varietals with its smooth rich fruit or add character and strength to thinly structured varietals. In addition, Garnacha's thin skin carries relatively little pigment, so it doesn't drastically affect the coloring of a wine when it's blended. From old vines grown in an ideal terroir such as Provençe or Tarragona, Garnacha can be majestic and pure magic, as Nus del Terrer and the bevy of Grenache based, old vine Châteauneuf-du-Papes will readily attest.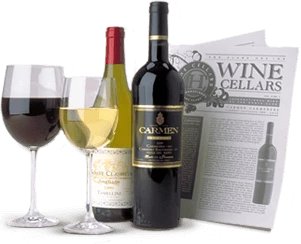 Enjoy Limited Production Estate
Bottled Wines
Discover limited production estate bottled wines such as Vergenoegd's internationally
acclaimed 2005 Cabernet Sauvignon, imported exclusively for our members.
DISCOVER OUR FOUR CLUBS