A soft, delicious rendition of Piedmont's classic variety, the 2006 Villa Giada Surì Barbera d'Asti expresses the hedonistic side of Barbera and highlights the tender qualities of this classic red wine from Asti. The 2006 Surì is scented and savory, like the Barbera wines of yesteryear. And unlike its varietal counterparts from nearby Alba, the 2006 Villa Giada Surì Barbera d'Asti does not try to mimic Barolo – Barbera's big, brooding brother that often requires years to resolve itself. Instead, Villa Giada's Surì Barbera is made to be drunk young and fresh within the first few years of life. The ruby robed 2006 Surì Barbera d'Asti bears the scent of ripe cherries, violets, and lush woodlands. It is light and lovely on the palate, so that one gets a full taste of Barbera fruit and spice, without a tannic after burn. However, as plush and easy to drink as the Surì Barbera is already, it still requires a bit of aeration to reveal its ultimate charm and grace. We suggest you allow this wine to breathe for at least thirty minutes before serving at cool room temperature (62°-66°F). Enjoy!
Although full and savory enough to accompany many traditional Piedmontese recipes such as Agnolotti (Piedmont style ravioli), Veal Marengo, and Fonduta (melted Fontina cheese from nearby Val d'Aosta, butter, eggs, and milk with shavings of white truffle), the 2006 Villa Giada Surì Barbera d'Asti may provide an even greater service to more mundane, everyday fare. A stuffed rotisserie chicken, Mom's meatloaf, or a dish of ordinary pasta will positively shine in the presence of the 2006 Villa Giada Surì Barbera d'Asti. Pizza, calzones, and simple meat dishes will enjoy the noble company of the Surì Barbera d'Asti as well. Polenta (Northern Italy's version of grits), prepared with plenty of fresh butter and cream, and grilled Italian sausage, with cheese or fennel, offer other easy to prepare treats with Villa Giada's lovely 2006 Surì Barbera.
Andrea Faccio's Azienda Agricole Villa Giada brings exquisite wines to the table from the classic grape varieties his family has grown in Italy's Piedmont for more than two centuries. Located midway between Asti and Alba, the world's foremost production zones for Barbera, Villa Giada specializes in the making of handcrafted Barbera wines from single vineyards. With more than forty-five acres of estate vineyards, located around three ancient farmhouses, Villa Giada's aim is to fashion great wines from individual vineyards and terroirs – a goal that local cognoscenti and international wine critics alike agree that Andrea Facccio has more than fulfilled. Villa Giada's historical property dates to 1790, and the estate's ancient farmhouses and winery remain in use today. The old part of the winery still plays host to all of the estate's barriques (small oak barrels), which refine the classic Barbera wines that Andrea Faccio so adeptly crafts. In addition, Villa Giada also sports a modern winery that features stainless steel vats, temperature and pressure control equipment, and the latest technological accoutrements. Moreover, Donato Lanati, a professor at nearby Turin University and one of Italy's foremost oenologists, assists Andrea in the crafting of Villa Giada's wines. Together this dynamic duo fashions wines that are both internationally appealing and traditional in character. For this reason Villa Giada wines has begun sealing some of its wines with a specially designed synthetic cork, which preserves the wines original fruit and character while it prevents any possible taint that cork can imbue. Although Barbera remains the flagship varietal at Villa Giada, this erudite estate also turns out small quantities of other classic Piedmontese specialties, including several still whites from local varieties and a lovely frizzante (lightly, naturally sparkling) Moscato d' Asti. The Piedmont In the north of Italy, nestled just beneath the great Alpine wall as it tumbles out of Switzerland and the gleaming Mediterranean Sea, lies the Piedmont. It is a region of myriad beauty. It is also the region of Italy closest to France in proximity as well as in the sheer quality and variety of exceptional wines it produces. For centuries, Italy's Piedmont remained a prize to be won, no doubt in part on account of the province's world famous cuisine that still draws happily on the abundance and quality of local truffles. Yet today, it is the superbly made wines of Italy's Piedmont that garner the most international recognition: complex, hedonistic red wines, still delicate whites, and sweet haunting Muscats. With such exquisite fare, should anyone question why the hearty robust delights of the Piedmontese table remain the region's most famous ambassadors to a hungry and thirsty world?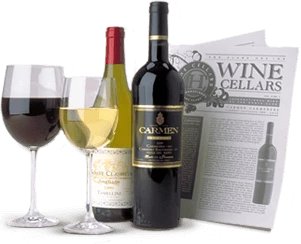 Enjoy Limited Production Estate
Bottled Wines
Discover limited production estate bottled wines such as Vergenoegd's internationally
acclaimed 2005 Cabernet Sauvignon, imported exclusively for our members.
DISCOVER OUR FOUR CLUBS