We have admired and consumed Villa di Capezzana's delicious Carmignano wines for more than two decades, but we could never secure quite enough to feature it, until now. The 2016 Villa di Capezzana Carmignano (94 points – Wine Advocate; 93 points – Wine Spectator) captures the essence of Carmignano by wedding the beautiful silk and spice of Sangiovese (80%) to the deep down redolent flavors of Cabernet Sauvignon (15%) and Cabernet Franc (5%), which adeptly add flesh and bone to the wine along with intriguing deep berry scents and flavors imbued with savory forest floor notes, which always seem to magically appear in the finest Tuscan reds. Add a silky, voluptuous texture along with a harmony of fruit, earth, mineral and spice that are carried on the finest of tannins, and Villa di Capezzana's 2016 Carmignano is nothing short of irresistible. Enjoy this Tuscan treat now and over the next 8-10 years. For optimum enjoyment, we suggest decanting and allowing this complex, elegant red at least 30 minutes in a decanter before serving at cool room temperature (58°-62° F). Enjoy!
The elegant, rich, and supremely packed 2016 Villa di Capezzana Carmignano can easily hold court with the finest of Tuscan wines and is often found gracing the tables of noble villas throughout Italy. If your tastes gravitate to the finest of fare, consider serving Villa di Capezzana's 2016 Carmignano with such Tuscan classics as Florentine Steak or Roasted Wild Boar encrusted with herbs and served with root vegetables. An equally delightful treat with the 2016 Villa di Capezzana Carmignano is Herb Roasted Veal with cherry tomatoes and Tuscan Eggplant Parmesan. Pappardelle Pasta with Chianina Beef Ragu provides another classic pairing and is a personal favorite. A Pecorino Cheese Pie served over a bed of caramelized pears with balsamic vinegar, wild honey, and cinnamon makes another fine companion. However, Villa di Capezzana's Carmignano is no snob. It offers an equally appealing companion to poultry and vegetarian dishes, especially those made with beans or lentils, so as you like. Buon Appetito!
We have been following the Contini Bonacossi family's Villa di Capezzana and their exceptional Carmignano for quite some time, and we are excited to finally offer to our members the estate's exceptional Villa di Capezzana Carmignano, a true Tuscan treasure and the scion of the exceptional 2016 vintage.
The Contini Bonacossi family have been in possession of the ancient Villa di Capezzana property since the 1920s, though the family's presence in Carmignano dates back many centuries to when the Medicis ruled Tuscany. Much of modern Carmignano's return to prominence among Tuscany's elite wines belongs to the Contini Bonacossi family who have worked assiduously to gain DOC and then DOCG status for Carmignano. Villa di Capezzana's Carmignano is certified organic and Villa di Capezzana is unquestionably Carmignano's most iconic producer.
In addition to fashioning outstanding Carmignano, Villa di Capezzana also produces a number of delicious red wines, including Barco Reale di Carmignano and Nera Rosso di Toscana, lighter red blends for early consumption. A very fine Vin Santo and Extra Virgin Olive Oil also emanate from Villa di Capezzana.
Carmignano is one of the oldest wine regions of Tuscany. The Etruscans and Romans tended vines in what is now Carmignano. Written records of Carmignano's distinctive wines date back to the middle of the 14th century, where documents as early as 1369 illustrate the importance of this small, but illustrious wine region. Carmignano was so highly regarded that written accounts attest to Carmignano selling for four times the cost of any other wine.
Throughout the centuries, Carmignano has retained its favored status, becoming a favorite of dukes and popes. The Medicis introduced French varietals in the 1500s, and in the early 1700s the Grand Duke Cosimo III de' Medici established the area of Carmignano as a nursery for grape varieties, which included the planting of international varietals such as Cabernet Sauvignon that he had imported from France. Cosimo III also issued a decree controlling Carmignano's production standards and sales, a precursor to today's strict DOCG regulation. His decree is believed to be the first modern denomination of controlled origin for wine in the world. Moreover, the boundaries for Carmignano have remained the same to this day, making it also one of the smallest Italian DOCG areas.
Although lesser known today than Brunello di Montalcino, Vino Nobile di Montepulciano, and Chianti Classico, Carmignano has consistently fashioned distinctive Tuscan reds of exceptional quality from a mere 270 acres. Carmignano was awarded its own DOC in 1975, thanks to the efforts of Count Ugo Contini Bonacossi, and received its much coveted DOCG status in 1990. Given the region's centuries old tradition of growing Cabernet Sauvignon and Cabernet Franc (centuries before the creation of Super Tuscan reds throughout the rest of Tuscany), Bordeaux varietals have long played an important role in the highly prized wines of Carmignano. Other permitted varietals include Sangiovese (which must constitute at least 50% of the blend), Canaiolo Nero, Mammolo, Merlot, Colorino, Syrah and two traditional Tuscan white varieties, Trebbiano and Malvasia. However, the zone's white varietals rarely any longer find their way into Carmignano.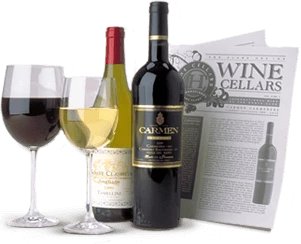 Enjoy Limited Production Estate
Bottled Wines
Discover limited production estate bottled wines such as Vergenoegd's internationally
acclaimed 2005 Cabernet Sauvignon, imported exclusively for our members.
DISCOVER OUR FOUR CLUBS