Vigne Sannite's 2017 Falanghina del Sannio embodies the allure and beauty of Campania's Amalfi Coast. It blends the full tropical flavors of Falanghina with the salty freshness of the nearby Tyrrhenian Sea. To whet the appetite, fresh scents of green apple, lime, and sea spray splashed with a dash of quince spring from the glass to tantalize the nose before magically re-emerging in the wine's fresh, invigorating mid-palate. Crisp and zesty from start to finish, Vigne Sannite's 2017 Falanghina makes a convincing case for the ancient Falanghina variety, one of Italy's oldest and most revered grapes. The Romans highly valued Falanghina, which they called Falernina, and included it in Falernum, the ancient world's most highly prized wine. We suggest enjoying Vigne Sannite's delicious rendition of Rome's classic wine moderately chilled (40° F).
Seafood specialties constitute traditional Campanian fare and are perennial favorites with the zesty white wines of the Campania, including Vigne Sannite's quintessential 2017 Falanghina. Spicy fish stews, fried calamari, mozzarella sticks, and thick cod or rockfish filets that have been smothered in a savory tomato sauce all provide exceptional accompaniments to Vigne Sannite's Falanghina. Mussels marinara, fried or steamed clams, and sautéed oysters offer other fine accompaniments to the fresh, flavor-packed 2017 Vigne Sannite Falanghina. Caesar Salad and spicy appetizers, especially those that make liberal use of mushrooms, olive oil, garlic, and traditional Mediterranean herbs complement this wine, too. Baked eggplant or zucchini offers another excellent choice to accompany Falanghina. Vigne Sannite's extroverted 2017 Falanghina also makes for a gratifying aperitif with nary a morsel. And when accompanied by a spring breeze or the sound of the sea, there is nothing better this side of Paradise.
Vigne Sannite is a small co-operative of selected winemakers located near the city of Benevento in the heart of Italy's Campania. Founded in 2005, this winery pays homage to Campania's ancient autochthonous grape varieties. The region has been intensively cultivated for centuries and boasts an outstanding level of productive specialization in fashioning Campania's finest white and red wines. Vigne Sannite is committed to preserving the region's premium varietals and enhancing the value of the terroir with its ancient autochthonous vines and two thousand year old tradition of vine growing.
The richness and the specialized viticultural tradition of Vigne Sannite's area of the Campania known as Samnium has spurred Vigne Sannite to commit itself to the creation of wines of "Origin" of the very highest quality, wines that reflect the ultimate expression of everything that the wine tradition of Samnium embodies. Moreover, Vigne Sannite is devoted to making its authentic premium wines as affordable as they are extraordinary. By teaming together and maintaining flawless control of their wines from vineyard to table, the growers of Vigne Sannite fashion an enviable assortment of excellent Campanian white wines that include Falanghina, Greco, Coda di Volpe, and Fiano. They also craft a delicious red wine from Aglianico, the Campania's most prestigious red grape variety.
Italy's Campania retains the allure and magic of ancient mythology. From the mystifyingly beautiful Amalfi Coast that still manages to conjure visions of gods and sirens, pleasure and lore, to the volcanic, fog shrouded spine of the Appenines that bisect the Italian peninsula, the Campania never fails to enchant. Known to the Romans as the Campania Felix, meaning the "joyous country" or the "face with an open smile," the Campania is the ancient province of the Roman Empire that sits just south of Rome and neighboring Latium. As its name implies, this region produces friendly, gregarious wines in addition to an abundance of high quality produce.
At the height of the Roman Empire, the Campania served as the granary of Rome, supplying sustenance to the capital and provisions to the legions of soldiers and magistrates who administered an empire. Today, Campania continues the tradition by furnishing Rome and Naples with a host of culinary delights, most notably fresh, delicious fruit, vegetables, and of course wine. And although Campania languished for more than a century from the deleterious effects of war, political neglect, and phylloxera, it has in the past several decades witnessed a renaissance in its wine industry. Specifically, Campania has re-focused its attention on its traditional assets: a host of premium red and white grape varieties, both indigenous and transplanted, such as Aglianico, Piedirosso, Falanghina, Greco di Tufo, and Fiano di Avellino to name just a few. Aglianico, the highly flavorful red variety the Greeks brought to southern Italy more than 2,500 years ago, has in this century emerged as one of Italy's greatest red grapes, yielding staggeringly rich wines of depth, power, and age-ability. In the Campania, Aglianico can match the finest red wines made anywhere in Italy, including the best wines of Tuscany and Piedmont. And what could be more exemplary of the good nature and open character of the land and people of the Campania than the region's fabulous white wines? Falanghina (pronounced Fah-Lahn-Gee'-Nah), Greco di Tufo and Fiano Di Avellino have re-claimed their rightful places among the finest seafood wines in the world, and the list goes on. So no matter if red or white is your preference, the wines of Campania are sure to put a smile on your face.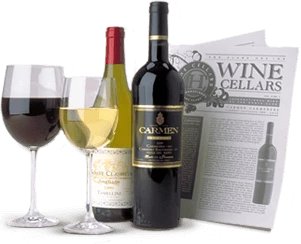 Enjoy Limited Production Estate
Bottled Wines
Discover limited production estate bottled wines such as Vergenoegd's internationally
acclaimed 2005 Cabernet Sauvignon, imported exclusively for our members.
DISCOVER OUR FOUR CLUBS