For those of us who spent time in Montsant and neighboring Priorat, a visit with Josep Grau was certainly one of the highlights. Not only is Josep engaging and informative, his 2010 Vespres Montsant remains a fond memory of our Spanish sojourn. The 2010 Vespres struck us to be at least as impressive as Grau's outstanding 2008 Vespres. Born of old vines of Garnacha (80% Grenache) and Samsó (20% Carignan), many of which are 100 years of age, the 2010 Vespres sports an opaque purple robe, a heavenly scent, and a boatload of flavors that gush from the glass. Fragrant with an alluring bouquet of woodland violets, wild blackberries and cherries, Asian spices, and budding woodlands, Vespres's Montsant unfolds slowly to seduce the nose. Its alluring olfactory happily carries through on the palate where layers of ripe, sweet fruit unfold, bolstered by fine, ripe tannins – all of which are infused with subtle mineral tones and finished with a mantle of well integrated oak. As a young, classic Montsant that's loaded with flavor, the 2010 Vespres Montsant needs time to breathe. Consequently, afford this world class offering as much aeration as your patience will allow before consuming it at cool room temperature (no more than 64º F).
Full-bodied, sophisticated wine such as the 2010 Vespres Montsant begs to be paired with foods of equal stature, or nothing at all. The finest cuts of meat, complex sauces, and simple fare made from the freshest ingredients provide all that the 2010 Vespres needs to work its magic. Roast Leg of Lamb, prepared with a marinade of rosemary, thyme, olive oil, garlic, pepper, and lemon juice; Beef Tenderloin, broiled to perfection; Loin Veal Chops, served with shitake mushrooms and an herb pilaf; and Roasted Quail, stuffed with apple-smoked bacon and mushrooms, served over a corn based risotto, all provide wonderful companions to Josep Grau's full-bodied Montsant. Regional Mediterranean specialties such as Chicken with Black Olives and Capers, Parmesan Risottos, and Porcini Mushroom Crepes get along equally well with a bottle of Vespres. Enjoy!
Josep Grau founded Vespres more than a decade ago in the venerable Priorat region of Spain's Catalonia. Grau purchased old vines of Garnatxa (Grenache) and Samsó (Carignan) in the traditional Priorat villages of Marca, Cacanes, and Falset. Many of these vines are over 100 years of age. Subsequently, Montsant, the equally intriguing horseshoe shaped appellation that encircles the original Priorat D.O. received its own status as a D.O., or appellation. Priorat and choice parts of Montsant, too, share a unique soil called llicorella, the Catalan word for licorice, chosen to describe the black, somewhat shiny rocky substrate that permeates the region. The special terroir of these appellations is high in mineral content, which allows for a refined interplay between ripe flavorful fruit and subtle minerality, a winsome combination in Grau's outstanding Montsant.
Grau is an engaging, passionate man who obviously loves his work. On a recent visit to Priorat, we had the opportunity to speak at length with him. Some of us stayed at his charming bed and breakfast in Montsant, surrounded by vineyards and in plain view of the forbidding mountains beyond that encircle Montsant. Two things impressed us most about Josep: his modesty and his willingness to experiment with all of the appellation's varietals in order to fully express the distinction and ultimate greatness of Montsant. Vespres is the most traditional of his Montsant offerings.
Although many wine drinkers have become acquainted with the fine wines of Spain and the names Rioja and Ribera del Duero are now familiar entities in wine stores and restaurants, Catalonia's Priorat remains relatively unknown except to serious, well-heeled wine lovers. A sparsely populated comarca (county) to the southwest of Barcelona, Priorat (pree-ohr-aht) remains off the beaten tourist track. The same obscurity can be claimed by the nearby appellation (Denominación de Origen or DO) of Montsant, which literally surrounds Priorat. However, all this may be about to change as these appellations are currently being hailed as "the new Tuscany" and "the source of some of the world's greatest wines." By adventurous travelers and savvy wine critics alike, Priorat and Montsant are touted as the next great travel destinations and the next must purchase wines.
Priorat is the birthplace of Antoni Gaudi, the celebrated Catalan architect whose hand is imbedded in the skyline of Barcelona. Priorat and Montsant display a rugged, breathtaking landscape of high mountains and sheep-studded pastures in which every village and hamlet appears steeped in history. Here the first Carthusian monastery in Spain was founded in the 12th century. And during the 20th century, one of the greatest and most decisive battles of the Spanish Civil War took place in Priorat along the banks of the Ebro River. However, what sets Priorat and Montsant above other, more renowned wine producing regions are their expanse of ancient, ungrafted vines of Garnacha (Grenache) and Cariñena (Carignan, also known locally as Samsó) to which varying amounts of Cabernet Sauvignon, Syrah, and Merlot may be added. The areas' mineral rich soils, most notably the black llicorella that characterizes Priorat, add complexity and depth. What results are lush, full-bodied, natural tasting wines of great distinction. Moreover, the best wines of Priorat and Montsant age remarkably well and can compete with the finest wines made anywhere in the world. Unfortunately, the finest Priorat and Montsant wines are increasingly priced accordingly.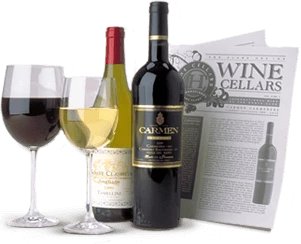 Enjoy Limited Production Estate
Bottled Wines
Discover limited production estate bottled wines such as Vergenoegd's internationally
acclaimed 2005 Cabernet Sauvignon, imported exclusively for our members.
DISCOVER OUR FOUR CLUBS