A staggering wine in all respects, the 2002 Vergenoegd Estate Cabernet Sauvignon begins life in your glass as a deep, brooding, nearly impenetrable potion. However, it rapidly expands into a smooth, stunning, richly endowed Cabernet that delivers charm as well as deep-down flavor. "Bold, but impeccably balanced" is how one panel member described it to the affirming nods of the other members. The 2002 Vergenoegd Estate Cabernet Sauvignon tantalizes the nose with the redolence of cassis, dark chocolate, and roasted coffee to which just the right amount of loamy richness from the soil of the Cape is added for depth and dimension. The ensuing draught possesses the velvety texture of classified Bordeaux along with the kind of deep down fruit and tannin one comes to expect from the very best Cabernet Sauvignon from New World estates. Although capable of improving for several more years in the bottle, we highly recommend this big boned beauty for current consumption. However, like all Bordeaux-style reds, it will lose some of its subtlety and charm if served too warm, so we suggest serving the 2002 Vergenoegd Estate Cabernet Sauvignon at no more than 66º F. It is further enhanced by resting in a clean decanter for at least thirty minutes before serving. Enjoy!
Fine wine deserves fine food, and this adage holds especially true for the 2002 Vergenoegd Estate Cabernet Sauvignon. Given the depth and breadth of this wine, it provides a palate pleasing canvas upon which to plan a special menu. Hence, we suggest you don your apron and begin practicing the culinary arts. Why not consider either a braised or slow roasted loin of lamb, served with fava beans and a Roquefort cheese and potato au gratin? Noisettes of filet mignon, served with a blackberry, cassis, or mulberry reduction sauce provide another culinary delight. Beef Wellington is another perennial favorite that brings out the depth and latent goodness of the 2002 Vergenoegd Estate Cabernet Sauvignon. Steaks, stews, grouse, venison, and other wild game offer superb complements, too.
Vergenoegd (which literally means "satisfaction has been achieved" in Dutch) is a family owned winery, beautifully situated at the gateway to the Stellenbosch Wine Route in the Cape of South Africa. Vergenoegd is one of the oldest wine estates in South Africa; the property's founding dates to 1696. For the last 6 generations the Faure family has been farming the estate and making exceptional wines. Producing traditional, full-bodied, age worthy wines of depth and power has been Vergenoegd's calling card from generation to generation. Appropriately, Vergenoegd has consistently received the highest praise for its wines, both internationally and in South Africa, and the estate now ranks as one of the leading producers of wine on the entire African continent. Although modern wine making equipment is employed and sustainable vineyard management techniques are practiced throughout the estate's vineyards, minimal intervention in the wine making process is the order of the day at Vergenoegd. The result is a bevy of Old World style red wines that aptly reflect the unique terroir of the False Bay area of Stellenbosch. Moreover, the estate's red wines age beautifully for up to 10 years or more. Each receives 16-20 months in small oak barrels before bottling and then at least another year to rest in the bottle before release. All of the major Bordeaux varietals, Syrah, and two Portuguese grapes, Tinta Barocca and Touriga Nacional, are grown at Vergenoegd, but Cabernet Sauvignon remains the winery's single most decorated varietal. Vergenoegd Cabernet Sauvignon first made its name at South Africa's National Red Wine Show, having been named a five time champion and a four time Grand Champion wine. And Vergenoegd's Cabernets only seem to be getting better, moving from strength to strength in successive vintages. Now that Vergenoegd has a national importer in the United States, we are almost certain to hear more about this great property's oenological exploits, so stay tuned! Wine has been Vergenoegd's claim to fame since the 18th century, but the estate possesses several other noteworthy attributes. After Johannes Gysbertus Faure purchased the estate in 1820, he and his brother, Sir Peter Faure, bred racehorses at Vergenoegd. In addition, the Faure's 18th century homestead, constructed in 1745 and remodeled in 1773 with its "holbol" gable, is one of the finest examples of what has come to be known as "Cape" architecture. The plasterwork on the Manor House and original bell tower are well preserved examples of European building traditions becoming uniquely "Cape" in the hands of early tradesmen. Consequently, Vergenoegd is truly a historic site as well as a paragon of great wine.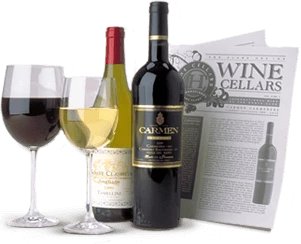 Enjoy Limited Production Estate
Bottled Wines
Discover limited production estate bottled wines such as Vergenoegd's internationally
acclaimed 2005 Cabernet Sauvignon, imported exclusively for our members.
DISCOVER OUR FOUR CLUBS