The Margaret River style of Shiraz is typified by the deeply colored 2004 Vasse Felix Adams Road Shiraz. This sleek balanced Shiraz offers up a seductive nose of blackberry, plum, eucalyptus, pepper, and aniseed. On the palate, this medium to full-bodied red displays a lavish dollop of ripe, textured fruit that is suitably underpinned by natural acidity and a tight, balanced structure. Reminiscent of the great Syrah wines of France's Rhône Valley, the 2004 Vasse Felix Adams Road exhibits all the character and stuffing it needs to age gracefully, including a nice touch of terroir in the form of mineral, slate, and subtle earth tones. All of this wine's sensual pleasure culminates in a long dry finish that contains a nice hint of oak. Although this latest Shiraz offering from Janet Holmes à Court is already a pleasure to drink now, our experience tells us that allowing this wine additional time in bottle will only augment the gratification. However, that calls for restraint on your part. For optimal enjoyment, we suggest you afford the 2004 Adams Road Shiraz at least thirty minutes of breathing time before serving. And like most Shiraz, we advise serving this wine at cool room temperature (62°-68° F).
Packed with flavor but beautifully balanced, the 2004 Vasse Felix Adams Road Shiraz can play host to all kinds of well prepared foods from simple vegetarian pleasures to the finest carnivorous fare. Filet mignon or beef tenderloin, served medium rare with grilled or sautéed portabella mushrooms, is one of our favorite choices with the Adams Road Shiraz. With this pairing, the wine and the beef truly complement each other, allowing for the full flavor of each to be released in tandem. Lamb, rabbit, venison, and rich stews provide other excellent choices with the Adams Road Shiraz. The more adventuresome among you may even want to try a kangaroo steak, one of Western Australia's perennial favorites with Shiraz. Homemade lasagna, manicotti, and Zucchini Parmigiana also make rewarding partners to this classically wrought Shiraz. Serving these Italian classics under a rich homemade marinara that contains plenty of fresh tomatoes and herbs further complements the wine. Enjoy!
Vasse Felix is the oldest commercial vineyard and winery in Western Australia. Many critics also consider it to be the finest winery in the state. It produces award winning Shiraz, Cabernet Sauvignon, and Merlot among reds and a bevy of excellent whites, including Chardonnay and Sauvignon Blanc. Thanks to astute winemaking and an ideal terroir, Vasse Felix consistently fashions compelling wines, which have served to put Western Australia on the viticultural map and raise the eyebrows of the world's true connoisseurs. At the same time, Vasse Felix has inspired others in Australia's largest state to follow suit. The name Vasse Felix is derived from the Latin word for luck (Felix) and the name of an early 19th century French sailor (Vasse) who died while exploring the section of the captivating coast of Western Australia we now know as the Margaret River. At first, the name may seem quite ironic, but to anyone who has ever caught a glimpse of this eye-popping place, pure good fortune and a perpetually smiling face are no exaggerations when speaking of this enchanted land. Therefore, to die in such a place is far more fortunate than never to have seen it. Margaret River The Margaret River is a green temperate corner of Western Australia that sits beside the sea. Here the Margaret River makes its way through wooded hills and steep ridges carpeted with wild flowers, before sighing almost inaudibly into the gleaming Indian Ocean. Crystalline waters and high rolling surf offer Australia's finest surfing as well as its most compelling seascapes. These very same waters, along with steady ocean breezes, a unique soil, and a Mediterranean climate also make Margaret River one of the finest natural wine producing areas on earth and a great place to peacefully whittle away the time. In the early 1960's, a scholar named John Gladstone was the first to recognize and publicize Margaret River's special climate, soil, and conditions known as terroir. In a detailed account Gladstone wrote glowingly of the similarities between the finest wine producing regions of Bordeaux and Margaret River. Moreover, he extolled the perfect weather of Margaret River for the cultivation of the vine, especially for the traditional Bordeaux varietals. And, indeed, Gladstone's proclamation has proven to be more than just wishful thinking, surpassing even his own expectations: In the past three decades the Margaret River has established itself as a world-class wine producing region for Shiraz and Chardonnay as well as the traditional Bordeaux varietals. In 1967, just two years after Gladstone's initial report on the soils and climate of the Margaret River, Dr. Tom Cullity planted vines at the present property and Vasse Felix came to life. Twenty years later, the estate was purchased by the Holmes à Court family. Today, Vasse Felix continues its pursuit of excellence under the leadership of Mrs. Janet Holmes à Court, who seems bent on taking this showcase property to the next level. Fortunately or unfortunately, and that depends upon one's perspective, Margaret River remains widely unknown to the average wine consumer in the United States. Presently, Margaret River produces less than 2% of Australia's wine, despite extensive planting in the last three decades. Yet, the Margaret River garners a higher proportion of gold medals and trophies for its wines than any other viticultural region of Australia – a tribute to the Margaret River's dedication to premium varietals, quality winemaking, and outstanding terroir.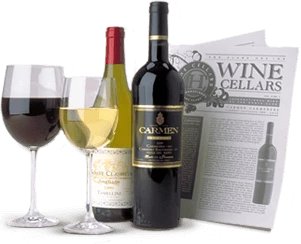 Enjoy Limited Production Estate
Bottled Wines
Discover limited production estate bottled wines such as Vergenoegd's internationally
acclaimed 2005 Cabernet Sauvignon, imported exclusively for our members.
DISCOVER OUR FOUR CLUBS