Valle Secreto's 2014 Key Cabernet Sauvignon Carmenère underscores just how well Cabernet and Carmenère complement one another and why Carmenère has become Chile's most important red varietal. A classic Chilean blend of Cabernet Sauvignon (70%) and Carmenère (30%), the 2014 Key embodies the deep color, pronounced aromatics and full rich flavors inherent in both of its constituents. The 2014 Key offers up a set of captivating aromatics and flavors reminiscent of freshly picked blackberries and currants, spring woodlands, and hints of dark chocolate and freshly brewed coffee – all of which are set in a body of silky tannins. But as with all wines containing the aromatic Carmenère varietal, we strongly recommend affording the 2014 Valle Secreto Key at least thirty minutes of aeration before consuming at cool room temperature (60°-65° F).
The pronounced berry scents, woodland flavors and smooth texture of the 2014 Valle Secreto Key Cabernet Sauvignon Carmenère make it a natural accompaniment to a wide variety of foods and types of cuisines. Although many will enjoy the 2014 Key with its distinctive flavors and smooth tannins without food, this classic blend of Cabernet Sauvignon and Carmenère truly shines at table. Grilled New York Strip Steak served with mushroom truffle butter over red pepper risotto and roasted vegetables makes a splendid accompaniment to Key. Wild Mushroom, Walnut, and Whipped Ricotta Filled Ravioli served with wilted greens provides another tasty accompaniment. Juicy burgers with avocado, bacon, Pepper Jack cheese, tomato and fresh greens make great companions to Key, too. Pizzas provide more tasty accompaniments, whether as a traditional Margherita, Mushroom, Pancetta and Sage, or Sweet Sausage or Pepperoni pizza. Equally compelling as companions to Key are homemade Baked Ziti and Zucchini Parmigiana. A plate of creamy cow or sheep's milk cheeses served with ripe Bosc pears makes a tasty, easy to prepare accompaniment as well. Enjoy!
Editor's Note: The 2014 Valle Secreto Key Cabernet Sauvignon Carmenère has never before been sold in the United States and is making its North American debut with The International Wine of the Month Club.
Valle Secreto, which means secret or hidden valley, is true to its name. This estate and its vineyards had managed to elude most of the outside world, until quite recently. I suppose we shouldn't be surprised. It happens all the time. Just when we think we've scoured every bit of a region for its finest wines and most compelling producers, another hidden treasure suddenly appears. Trust me, we're not complaining, there's nothing better than stumbling upon a new and exciting cache of wine. Besides, who in his right mind turns down an embarrassment of riches? But what makes the appearance of Valle Secreto somewhat startling is that the estate lies just 60 miles or so south of Chile's capital Santiago in the Cachapoal Valley (pronounced kah-cha-po-AL).
Valle Secreto fashions a number of delicious red and white wines in addition to Key Cabernet Sauvignon Carmenère. Other outstanding offerings from Valle Secreto include First Edition, which refers to the winery's first releases of single varietals and Private Edition, a very limited reserve offering consisting of Syrah, Cabernet Sauvignon, and Carmenère.
Cachapoal Valley, also known as Rapel Valley, is one of Chile's oldest wine producing areas. It is part of the great Central Valley of Chile, the country's agricultural heartland that stretches south from Santiago etching the green coastal mountain ranges and the towering Andes. Cachapoal is red wine country, a region renowned for producing balanced full-bodied Cabernet, Syrah, and Carmenère based wines. The cool maritime influences from the nearby Pacific temper the hot summer days. The extreme variation between day and night time temperatures results in wines of pronounced aromatic profiles and ripe, fresh fruit flavors.
Cabernet Sauvignon and Carmenère along with Chardonnay, Pinot Noir, Syrah and other traditional French varietals traveled the globe, consistently producing many of the world's finest and most expensive red wines.
Cabernet Sauvignon and Carmenère hail from Bordeaux. Cabernet Sauvignon, the more prominent and prolific of the two varietals, has made its way to nearly every wine growing region on earth. It is often referred to as the "King of Red Grapes" for its dominating flavor profile as well as for the myriad of world class wines that rely upon it. The greatest wines of Bordeaux and Napa Valley are just a few examples of Cabernet's preeminence in the world of wine. On the other hand, Carmenère, one of six legal red Bordeaux varietals, only occasionally makes its appearance now in Bordeaux, and always as a minor player. However, Carmenère has been resurrected in Chile where it thrives in the dry, phylloxera free environment of Chile's Central Valley, which includes the Cachapoal (Rapel) and Colchagua Valleys. Although cultivated in Chile for centuries, Carmenère has in the past generation come to fore to produce Chile's most emblematic wines. In Chile, Carmenère not only makes a wonderful partner to Syrah, Merlot and Cabernet Sauvignon, it shines on its own when bottled as a single varietal.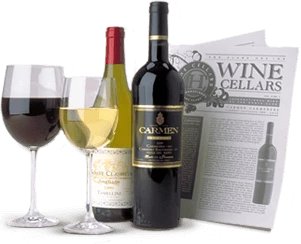 Enjoy Limited Production Estate
Bottled Wines
Discover limited production estate bottled wines such as Vergenoegd's internationally
acclaimed 2005 Cabernet Sauvignon, imported exclusively for our members.
DISCOVER OUR FOUR CLUBS