The 2010 Valle Secreto First Edition Syrah sports a strikingly deep violet color that foreshadows the wine's gregarious, larger than life personality. Huge black fruit aromas bound from the glass, redolent with the scents of blackberry and blueberry preserves. Although pungent, seductive, and utterly intriguing, this larger than life Syrah offers more than just big fruit in its repertoire of scents and savors. To complement its hedonistic berry flavors, the folks at Valle Secreto have somehow imparted their 2010 First Edition Syrah with luscious touches of dark chocolate, licorice, mocha, spice and smooth fine-grained oak tones that explode in the mouth. Intense, but not overbearing, this Syrah can be summed up in a quote from a panel member who with a look of deep regret had just drained the last sip: "This wine kicks me in all the right places, do you think I could have some more?" Warm, supple, and full of flavor, this wine rocks, yet it will continue to improve for several years in bottle. So whether you drink it now or later, give it a bit of aeration and drink the First Edition Syrah at cool temperature (60°-65°F).
Although savory and stylish, and quite delicious on its own, the extroverted nature of the 2010 Valle Secreto First Edition Syrah calls for accompaniments to match its sizeable stature. Why settle for half the pleasure when you can have it all? Horseradish Crusted Beef Tenderloin, served over twice fried pommes frites; and Grilled Marinated Pork Tenderloin, prepared with sautéed vegetables and cheesy Arborio rice, offer tasty complements to Valle Secreto's First Edition Syrah. Slow cooked Barbecued Baby Back Ribs, one of the panel's favorite accompaniments, provide another superlative pairing. Grilled Chicken with plenty of fresh rosemary, thyme, and garlic, and Deep Dish Cheese Pizza with pesto, sundried tomatoes and avocado provide tasty complements to this wine, too. In fact, most tomato based pasta sauces and herb laden Mediterranean dishes will work well with this wine.
Valle Secreto, which means secret or hidden valley, is true to its name. This estate and its vineyards have managed to elude us, and nearly everyone else in North America, until now. I suppose we shouldn't be surprised. It's happened before. Just when we think we've scoured every bit of a region for its most compelling producers, another hidden treasure suddenly appears. Trust me, we're not complaining; there's nothing better than stumbling upon a new and exciting cache of wine. Besides, who in his right mind turns down an embarrassment of riches? But what makes the appearance of Valle Secreto somewhat startling is that the estate lies just 60 miles or so south of Chile's capital Santiago in the Cachapoal Valley (pronounced kah-cha-po-AL).
The Cachapoal or Rapel Valley is one of Chile's oldest wine producing areas. It is part of the great Central Valley of Chile, the country's agricultural heartland that stretches south from Santiago etching the green coastal mountain ranges and the towering Andes. Cachapoal is red wine country, a region renowned for producing balanced full-bodied Cabernet, Syrah, and Carmenère based wines. The cool maritime influences from the nearby Pacific temper the hot summer days. The extreme variation between day and night time temperatures results in wines of pronounced aromatic profiles and ripe, fresh fruit flavors.
First Edition, as the name indicates, is the first set of varietals produced by Valle Secreto. The winery refers to its First Edition wines as its first secret. Valle Secreto's First Edition portfolio includes Cachapoal's premier varietals: Syrah, this month's feature, Cabernet Sauvignon, Carmenère, Merlot, and Sauvignon Blanc. First Edition wines strike a fine balance between vibrant fruit, tannic structure, and oak barrel ageing to offer freshness and plenty of deep down flavors.
Whether we refer to this great varietal as Syrah or Shiraz, we are talking about the same illustrious grape. Grown for centuries in the Rhône Valley of France, where it is responsible in all or part of many of the greatest red wines of France (Hermitage and Châteauneuf-du-Pape specifically), the exact origin of this full-flavored varietal remains a question to debate. However, historians do agree on one point: Syrah was brought to Europe from the Middle East, but when and by whom remains a mystery.
Some historians maintain that it was the Crusaders, who first brought Syrah to France, while others point to the earlier Roman legions under Probes, and yet others claim it was the remnants of Alexander the Great's army on its return from Persia. The latter theory is particularly intriguing since Alexander himself was so enamored of the wines he found around the city of Shiraz in central Persia that he insisted on staying there. Nonetheless, the one point that everyone seems to agree upon is that the name Shiraz, from the Persian city of that name, is the origin of the varietal's name. In any case, Syrah, or should we say Shiraz, flourishes today not only in the south of France but in other Mediterranean climates. It fares particularly well in Australia, California, Chile and South Africa, where it is frequently called by its original name – Shiraz.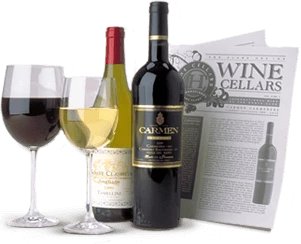 Enjoy Limited Production Estate
Bottled Wines
Discover limited production estate bottled wines such as Vergenoegd's internationally
acclaimed 2005 Cabernet Sauvignon, imported exclusively for our members.
DISCOVER OUR FOUR CLUBS