Luis Valentin exudes quiet confidence and a self-assurance born of discipline, patience, and a true love of wine. Spending time with this gracious gentleman is a lesson in humility as well as an inspiration to pursue the high road, wherever that road may lead. It is our good fortune, indeed, that Luis' innate charm and character make their appearance in Valenciso's beautifully wrought Reservas. Simply stated, the 2006 Valenciso Reserva offers further testimony to the acumen of Luis and Carmen, as their 2006 Reserva is another flawlessly balanced effort. The 2006 Valenciso Rioja Reserva captivates and inspires with its harmonious flavors. It has often been said that the bouquet alone of a Valenciso Reserva is worth the price of admission, and that is certainly true of Valenciso's 2006 Reserva. The wine tantalizes the nose with savory scents of dark woodland berries, black cherry, mulberry, sandalwood, cinnamon, and more. On the palate, soft silky fruit flavors lend polish and panache to the wine's substantial underpinning, which will allow the 2006 Valenciso Reserva to age gracefully for a decade or more. Layers of complex flavors satiate the palate and linger long after the wine slips gracefully down the throat. Once again, Valenciso's Reserva strikes a perfect balance between fruit and structure, which has earned this offering the accolades of all major wine critics, including Wine Advocate. We suggest serving the extraordinary 2006 Valenciso Rioja Reserva at cool room temperature (60º-64º F) after an hour or more of aeration.
A wine as fine and ingratiating as the 2006 Valenciso Rioja Reserva deserves some of the finest accompaniments one can bring to table. As a complex, elegant Rioja, the 2006 Valenciso Reserva pairs beautifully with the traditional specialties of Rioja and the surrounding Ebro River region of Spain as well as with classic continental favorites. An entrée of grilled lamb chops, served with wild mushrooms sautéed in olive oil, garlic, and herbs, gets our nod as does a traditional stew, prepared a la riojana, with chicken or game birds, white beans, chorizo sausage, peppers, paprika, and tomatoes. However, one of the most memorable meals we enjoyed on a recent trip to Spain was a delicious oxtail stew accompanied by a bottle of Valenciso Reserva. Venison stew served in a thick brown sauce, grilled venison tenderloin, or a slowly braised pork shoulder served with tiny lentils, also provide memorable pairings with Valenciso's charismatic Reserva. On a simpler note, a plate of fine Spanish cheeses and a loaf of warm crusty bread or a few slices of perfectly cooked duck or rotisserie chicken, accompanied by grilled vegetables and onions, offer all the companionship the 2006 Valenciso Reserva needs to resonate. Salud!
The Compania Bodeguera de Valenciso is the artistry of Luis Valentin and Carmen Enciso. The name Valenciso, a combination of the proprietors' two last names, was born when Luis and Carmen left their respective positions at one of Rioja's oldest and most prestigious bodegas. With a shared a vision of creating a truly boutique Rioja in their own cellar, Luis and Carmen have created one of the finest and most seductive of all Rioja wines. Their dream comes to life each vintage in the outstanding Rioja Reserva that flows harmoniously from their bodega into our glasses.
The secret to the nearly instantaneous success of Valenciso is the criteria Luis and Carmen apply to making wines. Each relies upon the inherent greatness in old vine Tempranillo, the quintessential Spanish grape varietal that steals the heart and defines the soul of Rioja. Yields in the vineyard are kept draconically small in order to fashion wines of finesse, flavor, and symphonic harmony. In addition, all of Valenciso's wines are made in very small lots or cuvees in the cleanest, most impeccably run winery we have ever visited. Moreover, only small barriques are used for aging, a third of which are renewed annually. French oak predominates and all of it is of cork "flor" quality, the highest level possible. Yet, without expert winemaking, all of these measures would be of marginal value at best. With a string of successes that began with Valenciso's inaugural vintage in 2000, Luis and Carmen have made their dream come true. Only Rioja Reserva is made at Valenciso, and none of this bodega's wine is released until it attains a minimum of four years of age and is able to comport itself in the glass.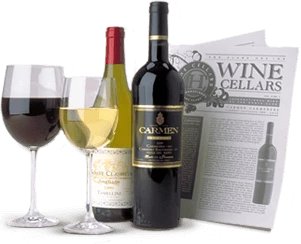 Enjoy Limited Production Estate
Bottled Wines
Discover limited production estate bottled wines such as Vergenoegd's internationally
acclaimed 2005 Cabernet Sauvignon, imported exclusively for our members.
DISCOVER OUR FOUR CLUBS