The Valenciso Rioja 2001 Reserva sings a glorious song. Imitative of the finest choral ensembles, a glass of Valenciso Rioja Reserva 2001 resonates with perfectly harmonious notes. The nose of this beautifully balanced Rioja releases aromas of earth and dark fruits; blackberry comes to mind, and astride this fruity richness wafts the scent of a fine woodworking shop. On the palate, the Valenciso distinguishes itself by a lush overt fruit flavor that is perfectly pitched, yet long and ever evolving. A pleasing smokiness, even a faint hint of tobacco, mixes beneath the distinct, hedonistic fruit. Complexity and interest derive from an evident and appropriate spiciness sprinkled with cinnamon and pepper. As the wine moves across the mouth, a formidable structure wells up to support the opening notes. Yet, the tannic element introduces itself with a velvety smooth entrance that swells the bass line and never overwhelms. Here the wine hits the perfect note. The wine and flavor remain full on the mouth and ever so gracefully depart with a creamy, satisfying finish. An aftertaste laden with familiar spices forms a perfect coda to one's first sip. Fortunately, a first sip can be reprised, so revel in the concert offered by the Valenciso Rioja 2001 Reserva. We suggest serving this lovely Rioja Reserva at cool room temperature, after a half hour or more of aeration.
Since the Valenciso Rioja 2001 Reserva is such a finely wrought Rioja, duty requires us to pay homage to the straight forward, earthy, and satisfying fare typical of the Ebro River region of Spain. One will never go astray with an appetizer of wild mushrooms sautéed in olive oil and garlic followed by an entrée of grilled lamb chops. Yet, we also recommend a stew a la riojana. Although the availability of small game in the Rioja suggests roasted quail, the accompanying stew recipe substitutes chicken while incorporating traditional white beans, chorizo sausage, peppers, and tomatoes. Adding Spanish paprika to our recipe adds a smoky note to the stew that marries well with the voluptuousness of the Valenciso. Serve with a simple, fresh green salad and a fresh loaf of crusty bread and allow the distinct flavors of the stew to carry on a sensuous duet with the Valenciso Rioja 2001 Reserva. If by chance a quick meal, a comfortable chair by the fire, and a great book are simultaneously calling your name, simply fry an egg with some chorizo in olive oil or whip together a potato, garlic, and onion omelet and lose your senses in an astounding glass of Valenciso Reserva. Salud!
The Compania Bodeguera de Valenciso was born when Luis Valentin and Carmen Enciso left their respective positions at one of Rioja's oldest and most prestigious bodegas. Together they shared a vision of creating their own cellar, replete with only the finest and most seductive of Rioja wines. Their dream has come to life in the outstanding offerings that now flow harmoniously and joyfully from their bodega to our glasses. The secret to the nearly instantaneous success of Valenciso is the criteria Luis and Carmen apply to their wines. All of Valenciso's wines are made in small lots or cuvees. Each relies upon the greatness of old vine Tempranillo, the grape varietal that steals the heart and defines the soul of Rioja. Yields in the vineyard are kept draconically small in order to fashion wines of finesse, flavor, and symphonic harmony. In addition, only small barriques are used for aging, a third of which are renewed annually. French oak predominates and all of it is of cork "flor" quality, the highest level possible. Yet, without expert winemaking, all of these measures would be of marginal value at best. With the glorious 2001 vintage in Rioja and all other bases covered, Luis and Carmen have come to realize their dream. Taste and see. La Rioja: A Special Wine Like most of the great viticultural regions of Europe, the face of modern Rioja was cast during the 19th century. With the hope of escaping the dreaded phylloxera, the deadly vine louse in Bordeaux, many successful Bordeaux growers began moving south across the Pyrenees to La Rioja in the 1870's. With them flowed the capital and the expertise to enrich and improve the already splendid wines of La Rioja. They instituted extended barrel ageing, which remains the signature of fine Rioja wines. Even today, modern Rioja spends more time in small oak barrels than almost any other contemporary wine. And, like Bordeaux, the wine of La Rioja is a blend of up to four premium grapes: Tempranillo, Mazuelo, Graciano, and Grenache. Tempranillo is, however, the primary player. Nonetheless, this unique blend of grapes, coupled with a long lavish hiatus in small oak barrels called barriques, produces a warm, very dry, but richly fruity wine of great finesse and perfume that in great vintages such as 2001 can be nearly immortal.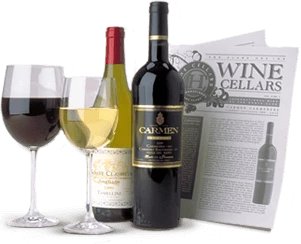 Enjoy Limited Production Estate
Bottled Wines
Discover limited production estate bottled wines such as Vergenoegd's internationally
acclaimed 2005 Cabernet Sauvignon, imported exclusively for our members.
DISCOVER OUR FOUR CLUBS