In fairy tales, toads turn into handsome princes when kissed by beautiful princesses. And in the real world of wine, downright ugly labels often hide the finest oenological treasures and the most comely of wines. If there were ever a wine label that hid its inner charms more adroitly than Urban, we have yet to come across it. Fortunately, what lies behind the stark, homely label on a bottle of 2008 Valle de Uco Malbec is knock-out gorgeous in every sense. Moreover, it confirms our mantra: No one can drink a label or a price tag. A deeply colored and hauntingly aromatic wine, the 2008 Urban Valle de Malbec over-delivers in every way. Upon opening, ripe lush berry fruit gushes from the bottle and splashes delectably into the glass. Fragrant spice tones fold seamlessly into this wine's plush, fruit driven core to well up with delight on the nose and palate. On the finish, a hint of ripe tannin frames this wine's down right sexy mid palate, making it hard to believe that this polished medium bodied Malbec contains 14.5% alcohol, but it does. Wow! From the first glorious sip to the last, Urban's 2008 Valle de Uco Malbec has it going on. Enjoy this delicious Malbec at room temperature, with or without aeration.
Pasta, smoked meats, and the varied delights of la cucina italiana get our nod as supreme accompaniments to the 2008 Urban Valle de Uco Malbec. Pasta Arrabiata; Penne Pesto with Mushrooms, Cherry Tomatoes and Artichokes; or better still Sciu Sciu, a simple but delicious country pasta made from warm buffalo mozzarella, fresh tomatoes, basil, and roasted garlic, are all superb choices to accompany Urban's warm, huggable Malbec. Roasted asparagus, wrapped in prosciutto or thinly sliced mortadella; homemade pan pizzas with three types of cheese; and Eggplant Parmigiana or spicy caponata provide other exceptional choices with which to enjoy the Urban Malbec. Actually, there are few foods, with seafood as a possible exception, that wouldn't be uplifted in the presence of this wine. Enjoy!
Urban is the handiwork of Bodegas y Viñedos O. Fournier, one of Argentina's premier wine producers in Mendoza's Valle du Uco. Begun in 2000, O. Fournier is part of international wine maker José Manuel Ortega's recently established wine empire that includes exceptional wineries in Argentina, Chile, and Spain. Recently nominated by the Wine Enthusiast for its much coveted Innovator of the Year Award, José Manuel Ortega is responsible for raising the quality quotient and the proverbial bar wherever he makes wine. However, nowhere has his influence and wine making prowess been more significant than in Argentina, which until recently was known more for its potential than its performance. Thanks to Ortega and a budding number of quality minded wine makers, Argentina no longer stakes its reputation on just how much wine it produces; today, Argentina is able to claim its long awaited place as a producer of exceptional wines. And although Ortega has excelled with traditional Argentine varietals such as Malbec and Torrontes, he has also achieved notable success at Urban with Tempranillo and other European grape varieties. Grapes for Urban's finest selections hail from Mendoza's magical Valle de Uco, a high elevation zone (up to 4,000 ft.) where grapes ripen fully over an extended period of time. Here a difference of 50º F between day and night time temperatures during the long growing season affords the grapes the perfect combination of sugar and acid. Such conditions also lend themselves to amplifying aromatics – the calling cards of Urban wines. Argentina: Where Quality and Quantity Abound Argentina has long been one of the world's leading producers and consumers of wine. Presently, this sprawling nation, which contains some of the world's most diverse geography: tropical jungle, barren desert, towering snow-capped mountains and windswept deserted islands that herald Antarctica, is the world's fifth largest producer of wine and the planet's third largest consumer of the fruit of the vine, placing it just behind Italy and France. As an interesting comparison, Argentina consumes more than five times the amount of wine per capita as does the United States (10.5 gallons per capita in Argentina versus just 2.00 gallons per head in the United States). Moreover, Argentina is no longer just a source of good, plentiful, everyday plonk; it is increasingly a treasure chest of world class wines. Since the 1980s, an infusion of international talent has transformed the Mendoza. With the likes of Paul Hobbs, Jacques and Francois Lurton, José Manuel Ortega, and most recently Marco de Grazia, Argentina and the "Mighty Mendoza" are finally coming into their own. This once sleeping giant now houses a treasure trove of fine wines, with the wonders of Malbec in the vanguard. Excellent Cabernet Sauvignon is also being fashioned here, and in recent years, Argentina has made great strides in the production of white wines, too, most notably with Chardonnay and Torrontes, the latter an Argentine specialty. Viva Argentina!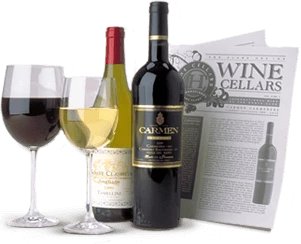 Enjoy Limited Production Estate
Bottled Wines
Discover limited production estate bottled wines such as Vergenoegd's internationally
acclaimed 2005 Cabernet Sauvignon, imported exclusively for our members.
DISCOVER OUR FOUR CLUBS