The Gnarly Dudes Shiraz is one of Two Hands' flagship offerings. The name Gnarly Dudes refers to the old gnarled dry farmed Shiraz vines from whence the wine comes. As Twelftree and Mintz are fond of saying, "Shiraz grapes, mature vines and the Barossa Valley, there is nothing quite like it." And they're right. The 2006 Gnarly Dudes Shiraz exhibits a deep, saturated purple robe that appears nearly black; and from this deep brooding potion rise the heaven scent and savor of raspberry, blackberry, graphite, cedar, plum, and spice. On the palate the wine is supple and textured, though ohhh so rich and fulfilling. Given the supreme balance and lithe spirit of this delicious Shiraz, one would never suspect that a hefty 15.1% alcohol content lurks within, as Gnarly Dudes is anything but rough around the edges. Enjoy this luscious Barossa Shiraz cool (59°-65° F) after a half hour or more of aeration or lay it down for a few years to garner even greater flavor and finesse. Anticipated maturity: 2008-2014.
At first, it may not sound supremely appetizing, but you really must have the 2006 Two Hands Gnarly Dudes Barossa for dinner. Certainly, just about any meal will do: the Gnarly Dudes are not very hard to please. However, appearances can be deceiving: the 2006 Gnarly Dudes just as readily rise to the splendors of the table. Consequently, the finest cuts of beef, lamb, and pork all afford excellent accompaniments to the Gnarly Dudes, as do most classic Mediterranean style dishes. Black Olive Encrusted Rack of Lamb, with roasted garlic, fresh rosemary and herbes de Provence is a perennial favorite. A rich Ratatouille, served with homemade pasta; and a full-flavored Chickpea, Tapenade and Roasted Red Pepper Spread, served on toasted rounds, provide other outstanding choices with the Gnarly Dudes. Hand crafted cheeses such as Fontina, Gouda, Muenster, and Port Salut also provide simple, tasty accompaniments to the knock out 2006 Gnarly Dudes. Enjoy!
Two Hands is one of South Australia's hottest boutique wineries. The "two hands" at this remarkable young winery belong to Michael Twelftree and Richard Mintz. Together, they fashion an array of full-throttle, super saturated Shiraz wines from ancient Barossa, Padthaway, and McLaren Vale vines. Although Twelftree and Mintz began making wine at Two Hands only in 2000, their wines have quickly won the hearts and palates of consumers and wine critics alike, the world over. Twelftree and Mintz have been friends for years and share a passion for Australian wine. However, each brings to their exemplary venture a unique experience in the Australian wine industry. Michael Twelftree spent his early years in the construction industry before becoming a major exporter of Australian wines to the United States and Asia. Richard Mintz, a chartered accountant (the American equivalent of a CPA) was formerly the CEO of one of Australia's leading cooperages in South Australia's Barossa Valley. By 1999, both gentlemen had decided they would rather make wine than count beans. Moreover, their overriding passion was to create great wines from the many noble terroirs and single, dry-farmed vineyards throughout South Australia – a goal that the "two hands" have continued to fulfill repeatedly since the inception. In 2000, the "two hands" began their oenological odyssey by crushing 17 tons of fruit from McLaren Vale and Padthaway. From their very first release, Twelftree and Mintz scored big at home and abroad, garnering a steady stream of peerless reviews. And just five years after launching their venture, Two Hands was dubbed the "the finest negociant south of the equator" by Robert M. Parker. Two Hands has also been listed in the Wine Spectator Top 100 for the last five years, and two listings have even been in the top 10. Similar accolades have been bestowed upon Two Hands by the Wine Advocate, International Wine Cellar, and the UK'S most prestigious wine journal Decanter. In order to fulfill their dream of fashioning small lots of the finest Australian wines from old vines, Twelftree and Mintz designed and built a new winery that is suited specifically for small batch production of the very finest fruit. Located in Marananga in the heart of South Australia's Barossa Valley, the Two Hands winery features a very contemporary interior and all the amenities for special handling. Since opening its doors in December 2003, Two Hands has become one of the must stops in the Barossa. Shiraz (shee-raz) Shiraz is the Australian name for the Syrah grape, and probably a bastardization of either Heraz, a river and region of ancient Persia (present day Iran) or Herat, a former Persian city now in Afghanistan, where Shiraz is thought to have originated. How Shiraz made its way to France remains a mystery, but by the Middle Ages, Syrah was an important grape variety in southern France. Even today, it remains immensely popular in Provence and along the steep banks of the swift moving Rhône River, where it is responsible in all or part for many of the greatest red wines of France (Hermitage and Châteauneuf-du-Pape specifically). Most of the Shiraz vines planted in Australia (where Shiraz is one of the most planted red wine grapes) trace their ancestry back to France, though some evidence suggests that Syrah arrived in Australia from France via South Africa. Such a circuitous route points to the likelihood that Syrah left France before the twin plagues of oidium and phylloxera in the last half of the 19th century and that the Syrah vines that arrived in Australia stem from older clones of the varietal than those found presently throughout most of southern France and California. Furthermore, as France recovered from the devastation of phylloxera, new clones of old favorite grape varieties such as Syrah were often replanted in the vineyards. For these reasons some consider Shiraz to be a distinct clone of the Syrah varietal and entitled to its own name. However, for all intents and purposes, the two names, Shiraz and Syrah, are synonymous.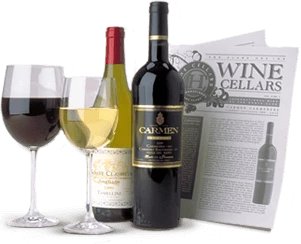 Enjoy Limited Production Estate
Bottled Wines
Discover limited production estate bottled wines such as Vergenoegd's internationally
acclaimed 2005 Cabernet Sauvignon, imported exclusively for our members.
DISCOVER OUR FOUR CLUBS