As a delicious, full throttle, gooseberry and herb laden Sauvignon Blanc, the 2006 Tuatara Marlborough Sauvignon Blanc provides everything a top notch Marlborough Sauvignon Blanc should . . . and then some. Bold but not brazen, the 2006 Tuatara Sauvignon Blanc offers up a wonderfully pure nose of fresh citrus, gooseberry, and herb. It then follows up the delightful olfactory with plenty of round, voluptuous varietal flavors, which are gently laced with savory mineral tones – a veritable taste of Marlborough terroir. Enlivening and lingering on the palate, this comely wine finishes as beautiful and satisfying as it starts. Neither delicate nor complex, the 2006 Tuatara Marlborough Sauvignon Blanc offers the best of all worlds: an easy drinking wine with both looks and personality. We suggest chilling this irresistible Sauvignon Blanc to 38°- 40° F and then inviting a friend over to help you enjoy it. Otherwise, you may find you have emptied the bottle long before you had planned. Enjoy!
As the weather warms and our thoughts turn to the beach, the sound of the sea, and the solace of sunny days, we are more than ever convinced that summer was made for Sauvignon Blanc. Then again, what would one be without the other? What other wine can capture the season we call summer, those long languid days between Memorial Day and Labor Day, quite like Sauvignon Blanc? The 2006 Tuatara Marlborough Sauvignon Blanc is the perfect accompaniment to halcyon days. It also provides great companionship to seafood and a whole array of summertime fare. So, why not shuck the clams, fire up the grill, and heat up the lobster pot? Lobster is indeed one of our perennial favorites with Sauvignon Blanc, and the 2006 Tuatara provides one more compelling reason to pair up this award winning combination. Oysters, served nearly any way you can imagine, grilled fish, and traditional sushi and sashimi offer other excellent pairings. Asian stir fries and Vietnamese spring rolls adeptly highlight this wine's many charms as well, so no need to play it safe with the 2006 Tuatara Sauvignon Blanc. Mild goat cheeses and most soft or semi-soft cheeses will do well by this wily Tuatara, too!
Tuatara Bay makes only one wine, a tiny production of excellent, full-flavored Marlborough Sauvignon Blanc. In fact, this producer's entire harvest from the laudable 2006 vintage barely hit 500 cases, making the Tuatara Bay Sauvignon Blanc almost as rare as its namesake – the endangered tuatara. The tuatara is a rare lizard like creature that inhabits islands in New Zealand's Marlborough Sound and nearby Cook Straight, which separate New Zealand's two largest islands: North Island and South Island. Tuataras are reptiles that belong to the family of Sphenodontidae. Sphenodontidians are the closest living organisms to prehistoric creatures known as diapsids. Consequently, tuataras have been called living fossils and are of great interest to scientists. At first glance, the tuatara appears menacing in its heavy armor-like shell, which can range from olive green to brown to orange red. However, this mostly nocturnal creature shares many characteristics with lizards as well as birds and snakes. It sheds its skin yearly and can change color. Tuataras mature slowly and only reproduce every 2-5 years. However, their average life expectancy is over 60 years and there are presently many tuataras over the age of 100. Scientists believe that the tuatara has not undergone any significant evolutionary change in nearly 200 million years, making it as rare and interesting as the wine that bears its name. Marlborough: A Noble Land Marlborough is situated on the northern tip of New Zealand's mystical South Island, where it enjoys a unique dry maritime climate. High mountains isolate this enchanted land from the cold alpine interior of the rest of the South Island, while the spectacular Marlborough Sound to the north provides a conduit to the sea as well as the planet's most majestic view of New Zealand's North Island as it soars skyward across the swells of Wellington Straits – a sight that ranks as one of the world's most stunning vistas. Moreover, Marlborough is about as close to viticultural paradise as one can find, especially for Chardonnay and Sauvignon Blanc. Marlborough's long, sunny, but not excessively hot growing season provides nearly ideal conditions for grape growing. The average summer daytime temperature hovers between 24° C and 28° C (72° - 80° F) depending upon one's altitude and proximity to the sea. The air is crystal clear and the light luminous; with nary an overcast day let alone much rain during the long growing season. Cool nights keep acid levels high in the grapes, even as sugar levels rise abruptly. Such conditions lend themselves to an extended growing season, which provides slow even ripening and extended hang time for the grapes. The result is ripe healthy fruit, with fresh vibrant flavors and a crisp herbaceous zing. In addition to its superb summer climate, Marlborough also boasts excellent soil for grapes. Most of Marlborough consists of silty, free draining alluvial loams over gravelly sub-soils. In addition, river stones lie scattered throughout Marlborough, remnants of the many rivers that once coursed through the pretty valleys of Marlborough. These river stones store heat from the warm sunny days and radiate that heat back into the vineyards at night, thereby providing a unique microclimate and terroir, much like that of Châteauneuf-du-Pape. Moreover, most Marlborough growers are committed to sustainable agricultural practices in order to preserve the region's noble terroir. And the French thought they had a monopoly on terroir; we think not.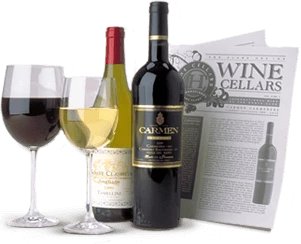 Enjoy Limited Production Estate
Bottled Wines
Discover limited production estate bottled wines such as Vergenoegd's internationally
acclaimed 2005 Cabernet Sauvignon, imported exclusively for our members.
DISCOVER OUR FOUR CLUBS