The 2007 vintage was one of the finest in California for Pinot Noir in many years, and the 2007 Trinity Oaks Pinot Noir captures all of the splendor of that year's long growing season, with its cooler than average day time temperatures. Yields were low in 2007, too, which is reflected in the color and intensity of the 2007 Trinity Oaks' Pinot Noir. Aromatic and flavorful, this expressive Pinot Noir offers up a good dose of cherry and strawberry fruit in the nose, to which the savor of fresh green tea and spring mint have been gently infused. Rich on the palate, but never blousy or over the top, the 2007 Trinity Oaks Pinot Noir makes us wonder why so many other California Pinot Noirs fall short, even those costing three and four times the price of the Trinity Oaks. For optimal drinking pleasure we suggest consuming this delightful Pinot Noir at cool room temperature (60- 65º F), after affording it just a few minutes of aeration.
Good Pinot Noir rarely needs much in the way of accompaniment to be thoroughly enjoyed, and the 2007 Trinity Oaks is no exception. However, given this wine's smooth, silky texture and relatively soft tannins it pairs well with all kinds of savory delights. Fish, roast chicken, ham, and most cured meats all get our nod with this wine. Furthermore, crispy, grilled salmon and marinated tuna steaks complement this wine and may be two of our favorite foods to accompany any Pinot Noir. In addition, we can vouch for how well the Trinity Oaks Pinot pairs with meatloaf and other hearty fare. And then there is cheese; the 2007 Trinity Oaks won't let you down here, either. Enjoy!
Trinity Oaks Vineyards was founded in 2001 by the Trinchero family, a long time Napa Valley producer of exceptional single vineyard offerings and a national leader in sustainable agriculture and land management. The guiding winemaking principle at Trinity Oaks is to produce the highest quality wines at the best value. To this end Trinity Oaks has over 50 years of winemaking tradition and experience. Furthermore, the Trinchero family practices sustainable methods of agriculture and farms all of their estate vineyards using organic and biodynamic practices. They eschew the use of potentially harmful chemicals and work with the state of California and other wineries to develop healthy, natural alternatives. Instead of insecticides, they use botanical oils and natural predators to take the place of potentially hazardous chemicals. In addition, Trinchero Family Estates (TFE) recycles 50 million gallons of water annually and re-cycles 20 tons of office paper, 850 tons of cardboard, and 100 tons of plastic each year. All proceeds from recycling revert to TFE's employees in the form of an employee-in-need fund. In recognition of the Trincheros' outstanding leadership, Trinchero Family Estates has received California's Waste Reduction Awards Programs (W.R.A.P.) Award for at least eight consecutive years. Grapes for Trinity Oaks' wines are sourced from vineyards along the cool Central Coast, the marine-influenced vineyards of Lodi and the Sacramento River Delta, the emerging Lake County district, and the classic Sierra foothills region. Care is taken to manage each vineyard in a way that optimizes the quality of the fruit and maintains healthy, balanced vineyard ecosystems. And for each bottle of Trinity Oaks wine that is sold, Trinity Oaks plants a tree. Trinity Oaks Plant a Tree Program: Some Basic Program Facts Question – Is there really no limit to the number of trees Trinity Oaks will plant? That's correct. It's literally a tree planted for EVERY bottle Trinity Oaks sell, without limitation. Question - How many total trees do you think Trinity Oaks will plant? If all goes according to plan, Trinity Oaks will be planting at least 1,800,000 trees as a result of this program. Editor's Note: Since 2008, Trinity Oaks has planted more than 1,250,000 trees and hopes to plant 2,000,000 trees by the end of 2009.... That's a lot of trees. Question – Who is helping plant the trees? Trinity Oaks is working with an organization called Trees for the Future (www.treesftf.org) to handle the actual tree planting process. They've been around since 1989, helping rural communities around the world restore tree cover to their lands. Major replanting efforts are taking place throughout Africa, Asia and Latin America. Check out their website for a wealth of knowledge. Question – Why plant trees in the tropics rather than in the United States? In terms of reducing carbon emissions and combating climate change, it is certainly best to plant trees in the tropics. Tropical species, planted in the tropics, grow much quicker and for longer periods each year than do non-tropical species planted in drier climates (i.e. North America). Therefore the trees are able to sequester much more carbon dioxide each year if they grow in the tropics. For instance, if Trinity Oaks plants one million trees over the course of a year in the tropics they would sequester around 25,000 tons of CO2 each year. This same number of trees, planted as local species in the US would, at best, sequester only about 7500 tons of CO2 per year. Editor's Note: In addition to planting trees in the tropics to offset CO2 emissions, the Trinchero family has planted thousands of trees in California to counter erosion and restore an ecological balance to the land.
The rich berry aromas of the 2007 Trinity Oaks Pinot Noir offer superb companionship to a wide variety of natural rind cow's milk cheeses as well as to many sheep cheeses. Brillat-Savarin, Cheddar, and Aged Gouda constitute some of the most notable cow's milk cheeses to pair with the Trinity Oaks. For additional suggestions or to find out how to enjoy more outstanding gourmet cheeses from around the world, contact us at www.cheesemonthclub.com. Enjoy!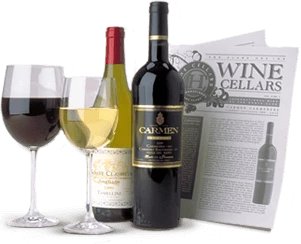 Enjoy Limited Production Estate
Bottled Wines
Discover limited production estate bottled wines such as Vergenoegd's internationally
acclaimed 2005 Cabernet Sauvignon, imported exclusively for our members.
DISCOVER OUR FOUR CLUBS