Suave, sophisticated, and smooth as satin, the 2005 Trinchero St. Helena Napa Valley Estate Reserve Cabernet Franc makes most other New World renditions of this glorious varietal look crude and uninteresting. Furthermore, Trinchero's Estate Cabernet Franc blows away a goodly number of St. Emilion Grand Cru and Pomerol offerings, too. It hails from a tiny plot of just three acres at Trinchero's Main Street Vineyard, located just behind the winery. For centuries, Cabernet Franc has played a pivotal role in the blending of red Bordeaux wines, and it serves as the main player in Château Cheval Blanc, the greatest of all St. Emilion; so all we can say about Trinchero's 2005 rendition of Cheval Blanc can be summed up in just one word: Wow! This deep garnet wine offers a beguiling aroma of red and black fruits steeped in exotic herbal tea: crushed blackberry, raspberry, and strawberry all make their appearance in this wine in one seamless ensemble. In the mouth, the Trinchero St. Helena Napa Valley Reserve Cabernet Franc is equally compelling. It is rich in berry and chocolate flavors, and it is ripe and complex. Moreover, this wine offers supreme balance and texture, which make it a joy to drink now. We suspect this glorious Cabernet Franc will continue to improve in bottle, but why wait? It is superb now with just twenty or thirty minutes of aeration.
The rich, complex flavors and supreme balance of the 2005 Trinchero St. Helena Napa Valley Estate Reserve Cabernet Franc pair beautifully with foods of equal stature. Thick juicy steaks, wild game, winter stews, and hearty lasagnas are some of the Trinchero family's favorite foods with their Reserve Cabernet Franc. We second their notion and would add lamb and poultry to that list. A duo of Veal Medallions and Lamb Loin wrapped with prosciutto ham gets a serious nod, as does Roasted Colorado Rack of Lamb served with potato gnocchi, pearl onions, and mushrooms. These are two of our favorite offerings with this wine, but roast duck or chicken and many types of soft cow's milk cheeses, too, provide enough pleasure in the company of Trinchero's Reserve Cabernet Franc to offer most imbibers a glimpse of paradise. However, no matter your choice of complement, this superb Cabernet Franc will surely shine. Enjoy!
Trinchero is a historic name in Napa Valley and one of California's best kept secrets in premium Bordeaux varietals. The Trinchero family immigrated to the United States from Italy in the 1920s during Prohibition. After World War II they purchased the abandoned 19th-century Sutter Home Winery that had lain fallow for decades. They revived the winery and the brand, and by 1960 the Trinchero family had garnered an enviable reputation for quality wines, most notably single-vineyard Zinfandels from Amador County. In the early 1960s, Sutter Home was at the forefront of fine wine production in California. Unfortunately, by the late 1960s, the demand for Zinfandel and other traditional California varieties was on the wane in favor of Chardonnay, Cabernet Sauvignon, and other French grape varieties. White wine became the craze throughout the 1970s, which sent red Zinfandel to the proverbial backburner among consumers. The Trincheros responded by creating the world's first white Zinfandel in 1972 as an outlet for their award-winning Zinfandel grapes. White Zinfandel was an immediate sensation, and most other Napa Valley producers followed suit. The rest is history. However, the Trincheros' quest has always been to produce only the finest premium California wines – a dream the family revived with the Trinchero Family Estate and a host of small family vineyards. The Trinchero family owns 200 acres of the some of the finest vineyard land in Napa Valley. Trinchero's Reserve wines (of which the St. Helena Cabernet Franc is a part) all come from the family's own home Napa Valley estate, which includes vineyards in Calistoga, St. Helena, Rutherford, and southern Napa Valley along San Pablo Bay. In addition to the family's elite Napa Valley vineyards, the Trincheros own 200 acres of vines in nearby Lake County and an additional 525 acres in Santa Barbara County. All of Trinchero's estate bottled wines are produced using sustainable methods of agriculture and with the utmost care for the environment. As of 2007, Trinchero opened a brand-new 22,000-square-foot winery in St Helena, which replaces the old Folie à Deux Winery that served the Trincheros for many years. In addition to housing a state-of-the-art winemaking facility, Trinchero's new winery is also home to a stunning Tuscan style Culinary Center that will serve as the headquarters for Trinchero's internationally recognized Vine to Dine (a registered trademark) wine and culinary education program. However, what is most impressive about Trinchero Family Estates is the high quality wine they fashion, with the least amount of environmental impact. Trinchero Family Estates and Environmental Leadership Trinchero Family Estates (TFE) is a leader in the employment of sustainable methods of agriculture, recycling, and green land management. Trinchero Family Estates employs only sustainable, organic, and biodynamic practices in their estate vineyards. They eschew the use of potentially harmful chemicals and work with the state of California and other vineyards to develop healthy, natural alternatives to harsh chemicals. No chemical pesticides or herbicides are used at TFE, and natural groundcovers such as barley and clover prevail throughout all the estate vineyards. Furthermore, botanical oils and natural predators take the place of potentially hazardous chemicals. TFE also recycles 50 million gallons of water annually and recycles 20 tons of office paper, 850 tons of cardboard, and 100 tons of plastic each year. All proceeds from recycling revert to TFE's employees in the form of an employee-in-need fund. In addition, Trinchero has planted over 3,000 oak trees near their vineyards and created extensive greenbelts and lakes to improve the natural environment. Not surprisingly, Trinchero Family Estates has received California's Waste Reduction Awards Programs (WRAP) Award for seven consecutive years.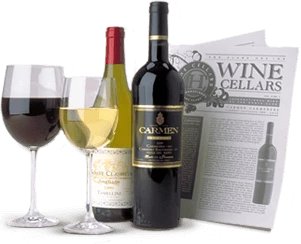 Enjoy Limited Production Estate
Bottled Wines
Discover limited production estate bottled wines such as Vergenoegd's internationally
acclaimed 2005 Cabernet Sauvignon, imported exclusively for our members.
DISCOVER OUR FOUR CLUBS