Some wines strut their power and offer up a huge, muscular body along with more than their fair share of tannin to impress, while others ingratiate themselves with subtle complex flavors that require patience and a taste for refinement. Tremonte's 2010 Centauro makes its case with eminent drinkability. In other words, we couldn't stop drinking this wine. Centauro may not be the most complex offering, but it sure tastes good and goes down ever so easily. Like the constellation of the same name, Tremonte's Centauro has the capacity to enliven the evening. Berry, cedar, and soft cocoa tones waft from a freshly opened bottle of Centauro to greet the nose. But as pleasant as Centauro's bouquet may be, the wine's main attraction begins in the mouth, where this artful blend of Cabernet Sauvignon, Syrah, and Carmenère caresses the palate with a soft succulence reminiscent of summer berries and forest woodlands, laced with deft touches of herbs and spices. For optimal enjoyment, we suggest opening the 2010 Tremonte Centauro a few minutes before serving at cool room temperature (no more than 65° F). Enjoy!
Tremonte's 2010 Centauro requires no muss or fuss, so no need to wonder what to serve it with. It's a go-to wine for barbeques and burgers, pizza and spicy chicken wings. Beef, duck, and pork sliders pair nicely, too. Pasta, smoked meats, and the gustatory delights of la cucina italiana also provide outstanding accompaniments to the 2010 Centauro. Pasta Arrabiata; Penne Pesto with mushrooms, cherry tomatoes and artichokes: or better still Sciu Sciu, a simple but delicious country pasta made from warm buffalo mozzarella, fresh tomatoes, basil, and roasted garlic, offer other superb choices to accompany Centauro. Roasted asparagus wrapped in prosciutto or thinly sliced mortadella; homemade Paninis; and spicy Eggplant Parmigiana or Caponata provide other exceptional choices to accompany Tremonte's Centauro. But grilled chicken, a pan of meatloaf, or most anything else will do just as well. Buen Provecho!
The Tremonte estate is nestled along the slopes of Monte Rekewa at the southern edge of Chile's Cachapoal Valley where the Rekewa River separates Cachapoal from neighboring Colchagua. Monte Rekewa is the first major elevation of the Costa Mountains, a range that rises between the Pacific Ocean and the towering Cordillera of the Andes. Upon Rekewa's steep slopes, which were once mined for gold, the soil is poor and rocky. This unique terrain provides superb drainage, which forces the vines to burrow deep into the mountain for sustenance. Moreover, upon Monte Rekewa's rock-strewn ledges and precipitous slopes Tremonte's grapes mature slowly thanks to the area's clear air and unique terroir.
The weather on Monte Rekewa is nearly perfect every year during the growing season. Days are warm and nights quite cool on the mountain, a great recipe for the superb aromatics and supreme balance one encounters in Tremonte's wines. Moreover, afternoon breezes that flow down from the Andes sweep away the heat and moisture of the day, dry the vineyard's grapes, and concentrate the flourishing grapes' rich, natural flavors. Such conditions are ideal for the estate's Bordeaux and Rhône varietals, which thrive on Monte Rekewa. Consequently, Tremonte cultivates exceptional Cabernet Sauvignon, Malbec, Syrah, Carmenère, and Merlot in addition to small amounts of Viognier – the Rhône Valley's most formidable white grape.
Tremonte fashions a growing array of red wines in addition to this month's feature, Centauro, an ebullient blend of Cabernet Sauvignon, Syrah, and Carmenère. Centauro is named for the constellation that adds brilliance and dimension to the sky above the Southern Hemisphere. Single Vineyard Reserva selections of Malbec, Cabernet Sauvignon, and Merlot also serve as staples at Tremonte. Three more limited productions, Monte Rekewa Gran Reserva, Monte Rekewa Oro de Los Coipos, and an offering with the intriguing name of Meteorito round out Tremonte's red wine portfolio. Meteorito, a Cabernet Sauvignon, comes by its name because it literally begins life in the barrel with a sizeable million year old meteorite that was acquired by the nearby Astronomical Center affiliated with Tremonte's former Managing Director, Ian Hutcheon. Needless to say, there is more to do and see in Chile than sip wine by day; one can also enjoy Centauro or Meteorito by night under a dazzling array of light that illuminates the clear star-studded Chilean sky. Tremonte Centauro is a very limited production and an exclusive International Wine of the Month Club offering.
With its ebullient berry flavors and easy going personality, Tremonte's 2010 Centauro provides the ideal companion to a wide array of soft and semi-hard cheeses. Consequently, we suggest that you pour a glass of Centauro to enjoy with Gouda, Havarti, Muenster, or other favorite cheese. For additional cheese accompaniments or to learn more about gourmet cheeses, contact us at www.cheesemonthclub.com, and enjoy all the best there is in wine, life, and cheese.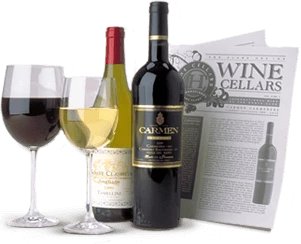 Enjoy Limited Production Estate
Bottled Wines
Discover limited production estate bottled wines such as Vergenoegd's internationally
acclaimed 2005 Cabernet Sauvignon, imported exclusively for our members.
DISCOVER OUR FOUR CLUBS