Torre Oria consistently fashions first rate Cava that is simply hard to beat – at any price. And for the moment this producer's delicious Cava still continues to fly under most people's radar as its production is relatively small and distribution sparse, but given Torre Oria's recent success in international competitions, which includes a Gold Medal at the prestigious Concours Mondial international wine competition in Brussels, it's doubtful we can keep Torre Oria to ourselves much longer. Made entirely from Macabeo grapes that are fermented in the bottle, Torre Oria Cava captivates from the moment the cork pops and the wine's delightfully frothy mousse graces the glass. The wine's pretty sunshine-imbued color and full floral bouquet of berries and wildflowers set the tone for a delightful interlude. With delicate, tiny bubbles that glide gracefully across the palate, Torre Oria carries its magic. It offers a wealth of charming, elegant flavors: savory peach, tropical fruit and spring flower tones slip easily down the thirsty gullet. Supple and medium-bodied throughout, Torre Oria exits with a long, uplifting finish that makes the imbiber beg for more. Refreshingly dry, we no longer wonder how long a single bottle of this delicious Cava can last: we always have another bottle or two on ice and suggest you do, too. Enjoy!
In our experience, the finest Cavas like preeminent Champagnes are at their best at the start of festivities or early in the evening when palates are fresh. Consequently, Cava's dry, delicate flavors are most suited to begin the festivities or event, rather than finish it. Therefore, appetizers offer some of the most rewarding accompaniments to Torre Oria Brut. Salmon mousse, stuffed mushrooms, sautéed oysters, foie gras, and sushi constitute some of our favorite starters with this wine. As entrées, crab cakes, scallops, prawns, shrimp, white fish, and light poultry dishes offer outstanding companionship to Torre Oria as well. In Spain, paellas are often paired with Cava, too. Nonetheless, some may still be tempted to save Torre Oria for dessert. Instead, we suggest serving the versatile Torre Oria Cava Brut with a plate of creamy, soft, ripe cheeses that will highlight the supple, savory aspects of the wine, something sugary treats cannot do . . . but as you like it.
Torre Oria, founded in 1897 in the Utiel Requena DOC near Valencia by the Oria de Rueda family, is a relative newcomer to the production of Cava. Originally founded to be close to the area's thriving silk industry in which the family had financial interests and to produce premium still wines, Torre Oria did not fashion Cava until 1981. However, as recent medals and accolades attest, Torre Oria has quickly mastered the art of producing world class Cava.
Nonetheless, Torre Oria was unknown in America until just a few years ago, as it made its maiden voyage here only in 2009. We quickly realized the extraordinary quality and value of this delightful, easy to drink Cava and are not at all surprised by the critical acclaim it is now receiving.
All of Torre Oria's vineyards are dry-farmed and tended using sustainable methods. Very little machinery or sprays are used in the vineyard. Only Macabeo grapes flow into Torre Oria's Cava and all are manually harvested from mineral-laden vineyards during the month of August. The grapes are then pressed and vinified at cold temperatures and stored for up to a month in large steel vats. The wine is then blended with a selection of yeast and natural sugar (known as the dosage) when it is bottled to insure the secondary fermentation that gives the Cava its fine bubbles. Torre Oria Cava Brut is aged in the winery's temperature and humidity controlled cellars for a minimum of 18 months before release, longer than required by law. The result is a supple, silky Cava with long, lingering flavors.
Cava may not sound like Champagne, but it tastes a lot like it. Produced by the traditional champagne method of fermenting the wine in the bottle, Cava is Spain's answer and some would even say rebuke to Champagne. More fine champagne method sparkling wine flows out of Spain than anywhere else on earth, including Champagne. Grown in limestone and mineral rich soils, the finest Cava is born of native Spanish varietals, most notably Xarelo-lo, Parellada, Viura, and Macabeo grapes. With the addition of champagne yeasts during the fermentation, the acid rich musts of Cava yield sparkling wines of rich flavor, softness and finesse to rival those of Champagne itself. Where Cava may even have the "edge" is in its soft, round, lingering finish – the antithesis of French Champagne which can often possess just a bit too much acidic verve in its aftertaste or finish to suit some tastes.
Although the distinguished Cava houses of Catalonia, centered in Penedès near the town of San Sadurni de Noya, were some of the first Spanish houses to fashion world class Cava, excellent Cava now flows from Utiel Requena (Torre Oria's home) and other distinguished appellations throughout Spain. Moreover, since the early 1980s, the production and export of Cava has grown from a relative trickle to Spain's leading wine export; Cava is presently the world's number one selling champagne method sparkling wine.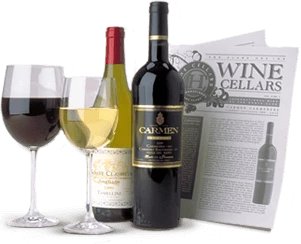 Enjoy Limited Production Estate
Bottled Wines
Discover limited production estate bottled wines such as Vergenoegd's internationally
acclaimed 2005 Cabernet Sauvignon, imported exclusively for our members.
DISCOVER OUR FOUR CLUBS