Big, bold, and beautiful but also wonderfully complex and multilayered, the 2015 Titus Napa Valley Merlot reminds us of many of Bordeaux's outstanding Saint Émilion Grand Cru offerings on steroids. Sporting a deep ruby red robe shading towards purple, what sets this Merlot apart is not only tremendous eye appeal but a tantalizing olfactory with intense aromas of black cherries, cassis, and ripe plums imbued with hints of vanilla and dark chocolate. Layers of berry fruits, cedar and chocolate coat the palate. Lush yet backed with ripe muscular tannins, the 2015 Titus Napa Valley Merlot is anything but a fading flower as the wine's 14.9% alcohol and long explosive finish will attest. Drink this full-bodied Merlot now at cool room temperature (60°-62° F) after 30 minutes or more of aeration or let it rest in the cellar for up to a decade. Enjoy!
The 2015 Titus Napa Valley Merlot embodies the best of the New World and Old World, which makes it an ideal wine to bring to table. Prime rib of beef and grilled rack of lamb, served with truffle and thyme infused mashed potatoes and haricots verts, provide classic accompaniments. Sautéed veal medallions topped with a port wine demi-glace and served with a ricotta cheese, wild mushroom and pancetta manicotti provides another splendid partner. Smoked chicken breast topped with bacon and Muenster cheese also makes a fine companion to Titus's complex full-bodied 2015 Merlot. For those who prefer something simpler, a vegetarian flatbread topped with goat cheese, cremini mushrooms, Brie and kale gets our nod, as do a variety of cheeses made from either cow or sheep's milk. Two of our favorite cheeses to serve with Merlot are Gouda and Havarti, but almost any soft cheese without a rind is likely to please in the company of the robust 2015 Titus Napa Valley Merlot. Enjoy!
Located along Napa Valley's famous Silverado Trail just north of St. Helena, Titus Vineyards lays claim to 40 acres of historic vineyards and one of America's most iconic winemakers, Phillip Corallo-Titus. Phillip and his brother Eric Titus are 2nd generation guardians of this historic family owned and famed vineyard, which now features one of Napa Valley's newest and most innovative wineries.
The Titus brothers' tremendous work ethic and attention to detail have resulted in numerous 90 and 100 point scores for their artisan wines. Titus' enviable portfolio includes award-winning Cabernet Sauvignon, Merlot, Cabernet Franc, Zinfandel, Malbec, Petit Verdot, Petite Sirah and reserve offerings, including the estate's highly sought-after Lot 1, a rare blend of Petite Sirah, Petit Verdot, Malbec, and Zinfandel. In addition to fashioning world class wines at Titus, Phillip Corallo-Titus has been the winemaker at Chappellet and the man responsible for Chappellet's meteoric rise and multiple 99 and 100 point scores for its wines. In recognition of Phillip's consistent ability to make extraordinary wines, Wine Spectrum named Phillip Corallo-Titus 2018 Winemaker of the Year.
Since the last half of the 20th century, Merlot has lived in the shadow of its younger, more robust sibling Cabernet Sauvignon. Both Merlot and Cabernet Sauvignon are traditional French varietals whose origins are attributed to Bordeaux. However, after the 19th century phylloxera scourge in France, Merlot lost some of its prominence in Bordeaux and elsewhere in favor of the thicker skinned, more age-worthy Cabernet Sauvignon. Merlot had come to be viewed as the bridesmaid rather than the bride, and it found itself in a supporting role in many wine regions rather than as the star of the show. This phenomenon occurred in spite of the fact that many of Bordeaux's greatest red wines have for centuries been produced primarily from Merlot. The great Château Petrus, which is 100% Merlot, remains Bordeaux's most expensive wine, and nearly all of the finest wines of St. Émilion are based essentially upon Merlot.
However, Bordeaux is not the only wine region today where Merlot thrives. From its native France, Merlot has traveled the world. It is now cultivated on six continents and has over the last three decades become a staple in California, Australia, South Africa, South America, and Tuscany, not to mention its recent proliferation in southern France and throughout Europe. Moreover, Merlot is a very prolific grape variety when left to its own devices. Consequently, nearly everywhere it is cultivated, severe pruning is the key to the quality quotient with this varietal. Merlot suffers from a susceptibility to spring frosts and a very thin skin, too, which leaves it open to rot. Nonetheless, where conditions are right and the soil is well drained, Merlot thrives. Napa Valley meets all those criteria and rightly lays claim to being the source of the New World's finest Merlot. So, no more is the venerable Merlot the perennial bridesmaid.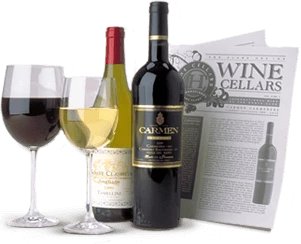 Enjoy Limited Production Estate
Bottled Wines
Discover limited production estate bottled wines such as Vergenoegd's internationally
acclaimed 2005 Cabernet Sauvignon, imported exclusively for our members.
DISCOVER OUR FOUR CLUBS