The hedonistic, downright seductive 2020 Titus Andronicus Napa Valley Bordeaux-style blend (50% Cabernet Sauvignon, 28% Merlot, 18% Cabernet Franc, 4% Petit Verdot) begs to be drunk. Sporting a deep purple color and amplifying aromatics redolent with the enticing scents of blackberry, cherry, cedar, and plum, the 2020 Titus Andronicus woos the taster from the moment it is poured. In the mouth, layers of dark berry fruits, cedar, chocolate, sweet tobacco leaf, and vanilla work their magic as they happily satiate the palate. Bold but not brazen, this young meritage offering is backed by ripe tannins that add structure and form without compromising the wine's fine, lush texture. Drink the comely, full-bodied 2020 Andronicus now at cool room temperature (58°-62° F) after 15 minutes or more of aeration, and lay some bottles away in the cellar to enjoy over the next five years. Anticipated maturity: 2022-2027. Enjoy!
The 2020 Titus Napa Valley Andronicus embodies the best of the New World and Old World, which makes it an ideal wine to bring to table. Prime rib of beef and grilled rack of lamb, served with truffle and thyme infused mashed potatoes and haricots verts, provide classic accompaniments. Sautéed veal medallions topped with a port wine demi-glace and served with a ricotta cheese, wild mushroom and pancetta manicotti provides another splendid partner. Smoked chicken breast topped with bacon and Muenster cheese also makes a fine companion to Titus's hedonistic, palate-pleasing 2020 Andronicus. Roast turkey served with stuffing and all of the trimmings makes a fine companion, too. For those who prefer something simpler, a vegetarian flatbread topped with goat cheese, cremini mushrooms, Brie and kale gets our nod, as do a variety of cheeses made from either cow or sheep's milk. Two of our favorite cheeses to serve with meritage or Bordeaux blends are Gouda and Havarti, but almost any soft, rindless cheese is likely to please in the company of the seductive 2020 Titus Napa Valley Andronicus. Bon Appétit!
Located along Napa Valley's famous Silverado Trail just north of St. Helena, Titus Vineyards lays claim to 40 acres of historic vineyards and one of America's most iconic winemakers, Phillip Corallo-Titus. Phillip and his brother Eric Titus are 2nd generation guardians of this historic family owned and famed vineyard, which now features one of Napa Valley's newest and most innovative wineries, which is superbly run by Titus protégé Stephan Cruzan.
The Titus brothers' tremendous work ethic and attention to detail have resulted in numerous 90 and 100 point scores for their artisan wines. Titus' enviable portfolio includes award-winning Cabernet Sauvignon, Merlot, Cabernet Franc, Zinfandel, Malbec, Petit Verdot, Petite Sirah, and reserve offerings including the estate's highly sought-after Lot 1, a rare blend of Petite Sirah, Petit Verdot, Malbec, and Zinfandel. Titus' latest release and media darling is Andronicus (this month's feature), a delicious Bordeaux-style blend or meritage offering.
In addition to fashioning world-class wines at Titus, Phillip Corallo-Titus has been the winemaker at Chappellet and the man responsible for Chappellet's meteoric rise and multiple 99 and 100 point scores for its wines. In recognition of Phillip's consistent ability to make extraordinary wines, Wine Spectrum named Phillip Corallo-Titus 2018 Winemaker of the Year.
Meritage is California's answer to Bordeaux. It is also a term that has come in vogue in the last two decades to describe New World blends that are made from traditional red Bordeaux varietals. Therefore, a meritage wine is essentially a Bordeaux blend of three or more traditional red Bordeaux grapes with Cabernet Sauvignon, Merlot, and Cabernet Franc the most notable participants. Malbec and Petit Verdot are the other two possible players. However, there are no legal or proscribed percentages for each grape variety in a meritage wine, so producers are permitted to vary how much of each varietal finds its way into the final offering, much as Bordeaux châteaux vary their cépages or blends depending upon the estate's desired style of wine and the vagaries of each individual vintage. Nearly all meritage wines in the United States must eschew the name of a single varietal on the label because by law varietal bottling requires that a minimum of 75% of a single variety or more, depending upon the American Viticultural Area (AVA), be present in a blend for a wine to be labeled as a varietal. The minimum requirement for varietal labeling in Europe and in most other New World producing wine countries is 80% of a single grape variety.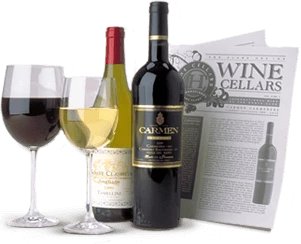 Enjoy Limited Production Estate
Bottled Wines
Discover limited production estate bottled wines such as Vergenoegd's internationally
acclaimed 2005 Cabernet Sauvignon, imported exclusively for our members.
DISCOVER OUR FOUR CLUBS