Ernesto Catena's sophisticated 2012 Tikal Júbilo is an artful blend of Malbec (60%) and Cabernet Sauvignon (40%). For our money and palate, high-end Bordeaux-style blends such as Júbilo from top Argentine producers represent Argentina's finest oenological endeavors. And apparently we are not alone: Wine Spectator awarded the 2012 Tikal Júbilo 94 Points. Whereas Malbec and Cabernet Sauvignon on their own offer dark, robust mouthfuls of wine, it is difficult to achieve the finesse and complexity in single varietals to accompany the flavor and power that blends such as Júbilo acquire. Deep in color, the 2012 Júbilo offers an amplifying bouquet followed by layers of blackberry, currant, black cherry liqueur, raspberry, spice, and dark chocolate flavors that glide gracefully over the tongue to enliven the senses and satisfy the palate. Medium-bodied but amply structured, the 2012 Tikal Júbilo unfolds gracefully in the glass, becoming lush but not heavy, recalling the much beloved style inherent in fine Pomerol. For optimal enjoyment we suggest an hour of aeration before consuming the joyful 2012 Júbilo at cool room temperature (60°-65° F).
A complex, sophisticated wine such as the 2012 Tikal Júbilo has many takers. Lovers of Malbec and Cabernet Sauvignon will delight in this Júbilo with nothing more than a large, clean glass. In fact, much of the panel enjoyed the 2012 Júbilo with nary a morsel. Nevertheless, the 2012 Júbilo makes such a splendid companion to grilled meats and vegetables, heady pastas, and spicy bean and lentil dishes that it would be a shame not to pair it with some delectable morsels to double the pleasure of this wine. In Argentina, the finest cut of beef would be the number one choice to accompany Tikal's Júbilo, an excellent choice indeed. Osso Bucco earns several thumbs up as well. Grilled lamb chops basted in garlic, olive oil, rosemary and thyme receive high marks as well. A thick lentil soup made with carrots and spicy ground sausage makes for another winning combination, but then nearly any food that one would pair with Malbec or Cabernet will shine and give cause for rejoicing in the company of the 2012 Tikal Júbilo.
Tikal is the passion of Ernesto Catena, the eldest son of Nicolás Catena of Catena Zapata. Catena reigns as Argentina's most revered name in wine, as Nicolás, Ernesto, and Ernesto's sister Laura fashion many of Argentina's finest wines. Considered experts with Malbec, Cabernet Sauvignon, and Bonarda, they fashion wines of both power and finesse and leave nothing to chance.
Ernesto grew up among the vineyards of Argentina's mighty Mendoza, traveled the world, and lived in New York, Buenos Aires, London, Milan and elsewhere before returning to his beloved Mendoza with its majestic mountains and jubilant people. Tikal reflects Ernesto's sensibilities and his desire for all that gives pleasure in life. As a skilled horseman, software developer, fashion designer, and book editor, he delights in offering wines that deliver the ultimate in pleasure. To say that "Tikal wines are hedonism in a glass" would not be an overstatement, as they all provide enormous pleasure and evoke a true sense of joy. With talented winemaker Luis Reginato, Tikal fashions four exceptional red wines: Patriota (Patriot), Corazon (Heart), Amorio (Love), and Júbilo (Rejoice, named for Ernesto's son, is this month's feature). Tikal wines routinely receive 90+ points from the world's most respected wine publications, with Júbilo leading the pack.
Malbec is one of the original red wine grapes of Bordeaux, France (where it is called Cot or Pressac). While Malbec plays a purely supporting role today in Bordeaux, adding color and body to the region's Merlot and Cabernet blends, it remains one of the six legal grape varieties permitted in red Bordeaux (along with Cabernet Sauvignon, Cabernet Franc, Merlot, Petit Verdot, and Carmenère). However, south of Bordeaux in the region of Cahors, Malbec still reigns supreme. It remains the chief grape of what historically has been called the "black wine" of Cahors.
Despite its deep French roots, Argentina has come to fore as the contemporary champion of Malbec, where the varietal reigns as the most important grape variety, both in terms of quality and quantity. The best Argentinean Malbecs and Malbec blends offer considerable flavor and body at a relative young age, yet they remain age worthy wines capable of true distinction.
Cabernet Sauvignon is one of the most widely cultivated of the world's noble red grape varieties. For centuries it was thought to be an ancient varietal, but DNA studies conducted in the 1990s revealed that Cabernet Sauvignon is not nearly as old as was once thought. Moreover, what is even more startling is that Cabernet Sauvignon is actually the offspring of Cabernet Franc (a red variety) and Sauvignon Blanc (a white variety).
The origin of Cabernet Sauvignon has traditionally been attributed to Bordeaux, where it holds court with Merlot, Cabernet Franc, Malbec, Petit Verdot, and in rare instances Carmenère. Although some evidence suggests that northern Spain, just south of the Pyrenees, may also one day lay legitimate claim to being an original site of the planet's most important red grape variety, Bordeaux rightly earned the right to be the disseminator of this noble red grape because it is from Bordeaux that Cabernet Sauvignon has traveled the world.
In Bordeaux, Cabernet Sauvignon is the heart and soul of the finest Médoc wines and a leading player in nearly all of the finest red wines of Graves (Châteaux Haut-Brion, Margaux, Latour, and Lafite). However, even in Bordeaux appellations where Cabernet is King, Cabernet Sauvignon partners with other traditional Bordeaux varietals. By nature, Cabernet Sauvignon is a thick skinned grape that requires a longer maturation than other red grape varieties, which makes blending it a natural choice in winemaking regions such as Bordeaux where climate conditions vary. By contrast, Cabernet Sauvignon thrives on its own in the hot, semi-arid conditions that Argentina, Australia, California, and other Mediterranean climates provide.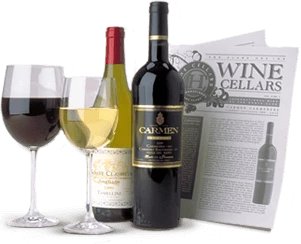 Enjoy Limited Production Estate
Bottled Wines
Discover limited production estate bottled wines such as Vergenoegd's internationally
acclaimed 2005 Cabernet Sauvignon, imported exclusively for our members.
DISCOVER OUR FOUR CLUBS