Despite the earthquake that struck southern Napa Valley on August 24, the 2014 vintage in Napa appears to be another near perfect affair. "Early, excellent, quality, exciting, fantastic, beautiful, demanding . . . and another great year" are just some of the words and phrases winemakers are using to describe the 2014 vintage. Consequently, the 2014 Tierra y Mar Page-Nord Vineyard Napa Valley Syrah has been the grateful beneficiary of a fine vintage, producing a wine that offers a deeply colored robe, plenty of classic Syrah aromas of blueberry, raspberry and clove, and a boatload of flavor. In the mouth, the 2014 Tierra y Mar Syrah exhibits juicy, deep down red and black fruit flavors and enough tannic backbone to carry it for an additional five years or more. Chocolate and spice tones make their appearance, too. Enjoy the youthful, thoroughly delightful 2014 Tierra y Mar Page-Nord Syrah at cool room temperature (no more than 65° F) after 15-20 minutes of aeration. Enjoy!
Herb Encrusted Beef Tenderloin served over twice fried pommes frites and Grilled Marinated Pork Tenderloin prepared with sautéed vegetables and Havarti-laced Arborio rice provide delicious accompaniments to the 2014 Tierra y Mar Page-Nord Vineyard Syrah. Barbecued Baby Back Ribs served with homemade slaw offers another tasty accompaniment. Roast Chicken with rosemary and garlic, Stuffed Ravioli, and just about any pasta dish of consequence provide additional complements to the 2014 Tierra y Mar Page-Nord Syrah. A classic Florentine Pizza, with fresh garden spinach, garlic, chopped tomatoes, ricotta, and mozzarella, is a personal favorite. Enjoy!
Tierra y Mar, meaning Earth and Sea, pays tribute to the elements that shape the rare and highly allocated wines that Tierra y Mar fashions from single vineyard sites in California's Napa and Russian River Valleys. Tierra y Mar dedicates itself to producing only wines that are the ultimate expression of nature's balance and harmony by allowing each wine to speak for itself as a unique creation of the grape, soil, water and climate of its individual terroir.
The 2014 Tierra y Mar Page-Nord Syrah hails from the historic Page-Nord Vineyard. The Page-Nord Vineyard, located on the banks of Dry Creek in the Oak Knoll district of Napa Valley, is renowned for its high scoring Syrah wines. It is a sustainably farmed vineyard that is Green Certified by Fish Friendly Farming as the vineyard does not use herbicides and has a complete no-till vineyard floor planted to native California grasses. In addition, the adjacent Dry Creek stream bank has been restored by the planting of willow trees and the addition of natural rock. The vineyard's soils are composed primarily of gravelly silt and loams with a heavy gravel layer that provide excellent drainage and much needed nutrients to the vines. Page-Nord Vineyard is blessed with cool morning fog, too, that rolls in from San Francisco Bay to temper the summer heat and complement the area's warm, dry, sunny afternoons.
Syrah is one of the planet's finest and most important red grape varieties. It has been grown for centuries in the Rhône Valley of France, where it is responsible entirely or in part for many of the greatest red wines of France, including Hermitage, Côte-Rôtie, and Châteauneuf-du-Pape specifically. The exact origin of the naturally full-flavored Syrah varietal remains somewhat of a mystery. However, most historians finally agree that Syrah was brought to Europe from the Middle East, but when and by whom remains a source of debate.
While some historians maintain that it was the Crusaders who first brought Syrah to France, others point to the earlier Roman legions under Probes, and yet others claim it was the remnants of Alexander the Great's army on its return from Persia. The latter theory is particularly intriguing since Alexander himself was so especially enamored of the wines he tasted (gulped in large quantities would be more accurate) around the city of Shiraz in Central Persia that he insisted on staying there. Some say he stayed in Shiraz far longer than he should have, since it was in Shiraz that he met an early, untimely death.
In spite of the mystery surrounding Syrah, the two points that everyone seems to agree upon is that the name Shiraz, from the Persian city of that name, is the origin of the grape varietal's name, and that Syrah produces more than its fair share of the world's most illustrious wines. Syrah flourishes today not only in the south of France but also in other Mediterranean climates. It fares particularly well in California, South Africa and Australia, where it is often called by its original name – Shiraz. Syrah and Shiraz are essentially the same grape and the two names are often used interchangeably.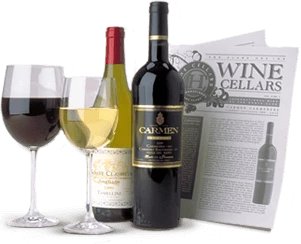 Enjoy Limited Production Estate
Bottled Wines
Discover limited production estate bottled wines such as Vergenoegd's internationally
acclaimed 2005 Cabernet Sauvignon, imported exclusively for our members.
DISCOVER OUR FOUR CLUBS