Like its namesake, the 2010 Thomas Alexander Le Tigre is an endangered species: only 175 cases of the 2010 Le Tigre was produced. "Rare but beautiful" is how one tasting panel member described this wine. "California Châteauneuf-du-Pape," added another. Needless to say, we liked this wine a lot, but we were equally impressed by Thomas Pitchon, Le Tigre's animated, down to earth winemaker and proprietor of Thomas Alexander wines. So taken were we that we asked Thomas to complete our tasting notes with his analysis of the 2010 Le Tigre.
Thomas states the "2010 Le Tigre is my signature Rhône blend comprising 175 cases out of a 500 total case production. With such a small production I am able to obsess over every barrel and create the best blend from an array of coopers I utilize, each of which imparts a slightly different characteristic on the wine. The 2010 Le Tigre is 5 barrels of Syrah (71%) and 2 barrels of Grenache (29%). The Syrah is the backbone of the blend providing the structure and tannin, while the Grenache lends some fruit and spice up front. The back of the palate is filled with once used French Oak and a perfect TA of 6.75 to carry the acidity through to the end. The pH is a little higher than what most winemakers are comfortable with at 4.05, but if skilled enough to complete fermentation correctly, the result is a luscious, dark fruit wine that is extremely pleasant on the palate. Le Tigre exhibits power and finesse from the fruit to the tannin to the oak." Enjoy!
As the 2010 Thomas Alexander Le Tigre exudes both charm and power, it provides the ideal companion to both simple well prepared dishes as well as more luxurious fare prepared with complex sauces. And like its mentor, Châteauneuf-du-Pape, the 2010 Le Tigre needs little or no accompaniment to shine, and it can be enjoyed young or mature after minimal aeration or extended decanting. In short, Le Tigre makes a good choice for a dinner party as it has the uncanny ability to elevate fine cuts of meat and well prepared country specialties to glorious new heights. Given this Syrah/Grenache blends rich, balanced flavors, we suggest that it accompany beef, lamb, and thick, rich, stick to your ribs kinds of meals. Consequently, we put a vote in for Filet Mignon au Poivre, accompanied by gorgonzola mashed potatoes and sautéed green beans. Tenderloin of New Zealand Lamb, stuffed with rosemary and garlic, and served over a white bean ragu makes for another memorable pairing. Barbecued Baby Back Ribs and Sausage and Cheese Risotto provide more superlative accompaniments, but these are just a few of the many accompaniments to pair with Le Tigre. If simple makes you smile all the more, try serving the 2010 Le Tigre with several slices of semi-soft cheeses, some crusty French bread, and a spicy Provencal ratatouille with plenty of eggplant; you'll think you died and went to Provence. A votre santé!
Thomas Alexander is a new boutique winery located in Paso Robles that specializes in Rhône varietals and some of Paso Robles's most individualized wines. And as you have heard us say several times before, many of the best and certainly most interesting California wines emanate from tiny boutique wineries and garagiste operations such as Thomas Alexander.
Thomas Alexander Pitchon, proprietor, winemaker, cellar master, and devotee of Châteauneuf-du-Pape and all else that is good and great from France's Rhône Valley, produces just 500 cases of wine in total and only 175 cases of the 2010 Le Tigre (Thomas Alexander's signature Rhône offering and this month's feature). Animated and articulate, Thomas Pitchon openly confesses his love for the wines of the Rhône Valley and his desire to create more nuanced European style wines in his corner of California than his Paso Robles compatriots. Thomas sources his grapes from the Hearthstone Vineyard, which sits adjacent to Tablas Creek Vineyard. Not surprisingly, Tablas Creek Vineyard is the sister winery of Château Beaucastel in Châteauneuf-du-Pape, the appellation's single greatest estate and the one of world's finest sources of Rhône varietals.
Before beginning Thomas Alexander, Thomas Pitchon made wines for Rosenblum Cellars, one of California's pioneer producers of Rhône varietals. However, Thomas wished to make Rhône style wines more akin to Châteauneuf- du-Pape (the wines that dominate his own personal collection), rather than the heavy, sometimes ponderous wines put out by Rosenblum Cellars. Thomas Pitchon adds a deft touch to his wine. Plus he adds unabashedly, "My wife is from France and I needed to keep her happy." We're glad he has the sense to listen to his better half.
In addition to Le Tigre, Thomas Pitchon produces two other Rhône style wines, including Les Origines, a blend of Syrah, Grenache, and Mourvèdre, and Le Pitchoun, a lighter red wine more akin to Côtes-du-Rhône than Les Tigre and Les Origines. The grapes for all three wines are picked by hand during early morning to maintain fruit integrity, and, just as importantly, every Thomas Alexander wine is bottled unfined and unfiltered.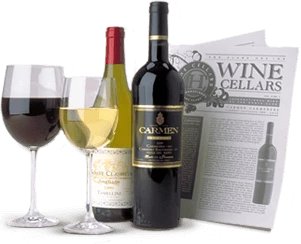 Enjoy Limited Production Estate
Bottled Wines
Discover limited production estate bottled wines such as Vergenoegd's internationally
acclaimed 2005 Cabernet Sauvignon, imported exclusively for our members.
DISCOVER OUR FOUR CLUBS