The dynamic duo behind Thistledown, Giles Cook and Fergal Tynan, are truly obsessed with Grenache, and for that we are grateful. And their great obsession is once again evident in the sexy, sensuous, and downright delicious 2021 Thistledown Gorgeous Grenache Old Vine Small Batch No. 1 (92 Points – The Wine Front, 90 Points – James Halliday). With a brilliant ruby and garnet robe, alluring aromatics, and juicy vibrant fruit, the 2021 Thistledown Gorgeous Grenache Old Vine Small Batch No. 1 is nothing short of seduction in a glass. With beautiful strawberry fruit, touches of exotic spices, and the texture and suavity of a superb Pinot Noir, this balanced, mouthwatering Grenache is hard to resist. The elegant yet flavor-packed 2021 Thistledown Gorgeous Grenache exhibits superb varietal character and real class. Afford this pure, meticulously crafted Grenache 10-15 minutes of aeration before serving cool (55°-60° F) to revel in all that it has to offer. Anticipated maturity: 2022-2027. Enjoy!
Thistledown has once again crafted a classy, in your face Grenache in their 2021 Gorgeous Grenache Old Vine Small Batch No. 1, a wine that doesn't need to beg for an accompaniment as it constitutes a meal in itself. Yet, most flavorful, honest dishes will only enhance your experience with this knock-out Grenache. Some of our favorite pairings with Thistledown's youthful 2021 Gorgeous Grenache include everything from turkey with all of the trimmings to an aged prime New York Strip or super Tex-Mex Chalupa served with homegrown green peppers and Monterrey Jack cheese. Three-Meat Meatloaf and an Herbes de Provence-Grilled Chicken Breast with rosemary truffle fries earn two thumbs up, too. Stews, cassoulets with several kinds of beans, and hearty lentil dishes also provide tasty companions. And if you have a penchant for something more adventuresome, consider pairing a lightly chilled glass of the 2021 Gorgeous Grenache with Grilled Ahi Tuna on focaccia with a light coating of Provençal aioli or herb mayonnaise. Grilled Wild Caught Atlantic Salmon served on a bed of arugula, avocado, cherry tomatoes, and warm black French lentils beautifully dressed with a delicious balsamico provides another memorable accompaniment. Bon Appétit.
Thistledown crushes Grenache, in every which way, all of if gorgeous. They specialize in old vine Grenache, but not just any Grenache. Think Gigondas, Châteauneuf-du-Pape, and the very best Australia has to offer, and then you will be talking about Thistledown's Gorgeous Grenache wines. In short, Thistledown fashions an incredible portfolio of Gorgeous Old Vine Grenache wines, mostly from very old vines in South Australia known as "soldier blocks." These blocks date back to World War I and World War II when the Australian government gifted land to returning soldiers to help them get back on their feet.
Two Masters of Wine, Giles Cooke (MW) and Fergal Tynan (MW) are the driving force behind Thistledown and their winery's elite portfolio of wines. With the help of renowned winemaker Peter Leske, they launched Thistledown in 2010. They hand-make small batches of wines from old vines that illustrate the unique benefits of great sites and intelligent winemaking. Specializing in fashioning tiny lots of wine from prized vineyards has earned Thistledown tremendous critical acclaim and high 90 point ratings from Wine Advocate, Decanter, James Halliday, James Suckling, and others. Although old vine Grenache has garnered the most attention, including the winery's Gorgeous Grenache (this month's feature), Thistledown is equally adept at fashioning incredible Chardonnay, Sauvignon Blanc, and Syrah.
Thistledown's approach to Grenache makes it quite unique in Australia. Although Grenache is Australia's most widely planted red variety and it figures significantly in Australia's signature wine, GSM (Grenache, Syrah, Mourvèdre), Grenache is less often bottled as a single varietal and it plays second fiddle to Shiraz/Syrah throughout Australia. Thistledown's use of severely pruned old vines, wild yeasts, extended whole bunch fermentation, aging in larger oak barrels, and no fining or filtration render the winery's Gorgeous Grenache wines some of the finest in the land. They are vegetarian and vegan friendly, too, and downright delicious.
Grenache, whose origin is thought to be Aragon in northern Spain, is the most widely cultivated red varietal throughout the world. The wine's propensity for vigor, drought resistance, high alcohol, and inherent ability to yield powerful, spicy, complex wines has made it a favorite in warm climates the world over. When judiciously pruned, it yields wines of extraordinary quality, especially in Spain's Priorat, where it is known as Garnacha, and in neighboring France, including the Languedoc and the Rhône Valley where it shines in all the greatest wines of Châteauneuf-du-Pape, Gigondas, and nearby Côtes de Rhône villages. It is also the most cultivated red grape in Australia where the country's very old bush vines, many in excess of 100 years of age, furnish some of South Australia's finest reds. Grenache also forms the basis for Australia's signature GSM blend, perhaps the world's most recognizable blend. California also enjoys a long history with Grenache where it increasingly plays a supporting role in the state's finest Syrah offerings.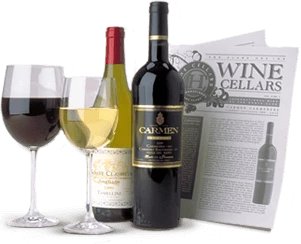 Enjoy Limited Production Estate
Bottled Wines
Discover limited production estate bottled wines such as Vergenoegd's internationally
acclaimed 2005 Cabernet Sauvignon, imported exclusively for our members.
DISCOVER OUR FOUR CLUBS