The Auctor 2014 Paso Robles Red represents a unique take on two of the Southern Rhône's most important grape varietals. A blend of 62% Mourvèdre and 38% Grenache, The Auctor doesn't act like a French wine, because it is not. Nonetheless, it exhibits some of the finest characteristics of Bandol, Provence's greatest Mourvèdre based wine. Born almost exclusively in Paso Robles along California's Central Coast, The Auctor draws much of its unique character from a range of bedrock-derived soils of weathered granite, old marine sedimentary rocks, volcanic rocks, and younger marine sedimentary rocks, which force the vines to struggle, thereby strengthening the vines' resolve to make their own way in the world. Sporting a brilliant ruby and deep garnet robe, The 2014 Auctor makes an eye-catching first appearance. It follows its appealing visual performance with a gorgeous bouquet. On the nose, cherries, red berries, spice and violets bloom in the glass to delight the olfactory, and then come bursting forth on the palate with layer upon layer of fruit and spice. Rich, ripe, and very comforting, The Auctor takes charge and delights the audience from the moment it is poured until long after the last sip has slipped down the applauding throat, leaving a lasting memory and a lingering taste of complex goodness. Enjoy The 2014 Auctor at cool room temperature (60°-64° F) after just a few minutes of aeration.
The Auctor 2014 Paso Robles Red draws attention to itself and will readily entertain and delight without a supporting cast, so feel free to grab a glass and enjoy a draught of The Auctor with nary a morsel. Although perfectly content to perform alone, The 2014 Auctor loves an audience and will accompany with gusto many a simple or complex meal. Short rib beef sliders and slow-cooked pulled pork served on brioche buns make excellent companions to a bottle of The Auctor. Duck served with a mushroom wild rice pairs beautifully, too, as the savory aspects of the dish complement The Auctor's ripe fruit and racy spice flavors. Skewered lamb kebobs with grilled potatoes and vegetables provide more tasty pairings. Crostinis, deep dish pizzas, vegetable paninis, and almost anything with a Mediterranean flare will more than hold court with the flamboyant, easy-going 2014 The Auctor. Enjoy this tasty, unique California red often, and with whatever you like!
Something new, from traditions old
Blended grapes, create the bold
feel this all as it was created
Don't refrain until your sated
—The Auctor
Wine Trees, a premium California producer that specializes in crafting small lots of exceptional blends and varietals, has fashioned a delicious mélange of Mourvèdre and Grenache that they have named The Auctor. "Known for being a cultivator, an originator, and above all else, an authority figure – The Auctor possesses the ability to make people do what he wants, just by being who he is. When Chaucer wrote of 'Mine Auctor' he suggested that this figure had the ability to take already established ideas and promote them with original style." It is with this simple philosophy that Wine Trees has created The Auctor – a unique combination of Old World tradition and varietals and endowed the result with a New World edge. This new rendition of two renowned Southern Rhône varietals, Mourvèdre and Grenache, possesses its own unique identity and represents all that The Auctor defines.
Grenache figures significantly in nearly all of the greatest wines of France's Southern Rhône Valley, including the iconic wines of Châteauneuf-du-Pape, Gigondas, and Vacqueyras where it is often blended with Syrah, Mourvèdre, Cinsault and other varietals. Grenache plays a major role in the Grenache, Mourvèdre, Syrah (GSM) blends of Australia and South Africa. The varietal appears to be increasing in popularity around the world, particularly in California and other dry, arid climates, for the grape has a propensity to thrive in hot, dry locales and produce a wine with considerable depth of flavor and high alcohol.
Mourvèdre is a grape variety indigenous to Spain (where it is known as Monastrell) and perhaps to the southern coastal areas of Languedoc and Provence in France as well. The most renowned Mourvèdre based wine flows from the coastal hills above Bandol, where it enjoys a reputation as one of Provence's greatest and most celebrated red wines. In its native lands, Mourvèdre has a propensity for producing deeply colored, highly tannic, age worthy wines. With the exception of Bandol and certain viticultural areas of Spain (most notably Jumilla), Mourvèdre is rarely bottled as a single varietal. Instead, it is most often blended with Grenache, Syrah and other warm weather grape varieties to add color, vigor, and tannic structure to a final blend. Like other premium Mediterranean grape varieties, Mourvèdre has traveled far and wide, though not as extensively as its compatriots, Grenache or Syrah. Mourvèdre enjoys a growing reputation around the world. In California, where it is often referred to as Mataro, it adds color, power, and intensity to many California Zinfandels. South Africa also fashions a considerable number of Mourvèdre based wines.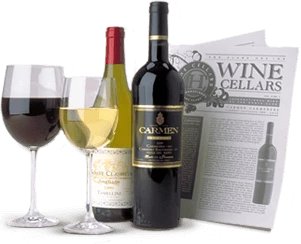 Enjoy Limited Production Estate
Bottled Wines
Discover limited production estate bottled wines such as Vergenoegd's internationally
acclaimed 2005 Cabernet Sauvignon, imported exclusively for our members.
DISCOVER OUR FOUR CLUBS