Although Cinsault figures prominently in many Châteauneuf-du-Papes and other exceptional reds from southern France, it is rarely bottled on its own, except on occasion as fine rosé. However, the 2016 Terres Falmet Cinsault dispels any notion that Saint-Chinian's old Cinsault vines yield anything but world class red wine. In his 2016 Cinsault, Yves Falmet has created a concentrated silky smooth red of uncompromising quality. A beautiful aroma reminiscent of raspberries, rose petals, and garrigue greets the nose. In the mouth, the wine's smooth texture and soft tannins carry a mélange of satisfying flavors: cherry, raspberry, and plum, mingled with soft, seductive spice tones. Delicious is the first word that springs to mind to describe Yves Falmet's 2016 Terres Falmet Cinsault. Easy to drink and thoroughly satisfying are the sentiments that follow. For optimal enjoyment, we suggest serving the 2016 Terres Falmet Cinsault cool (59° F) with or without extended aeration. Enjoy!
Patrick Allen, an erudite importer of fine French wines, represents Yves Falmet's delicious offerings. The first time Patrick met Yves, Terres Falmet's proprietor, Yves quickly took him out to see the most important component of his wines—his vineyards. They drove down a small road into a beautiful valley and looked across at a sweeping hillside of vineyards. Patrick asked which plots were his. "The whole hillside," Yves proudly said to Patrick's amazement. This is not typical of vineyards in France.
Yves owns 25 contiguous hectares (nearly 62 acres) of hillside vineyards, and this plot of land was truly a find for Yves. It would have been almost impossible to own or buy a similar vineyard in almost any other wine region in France. The other vignerons in the area, who sell to the local cooperative, had no interest in maintaining these steep hillside vineyards since they require so much work. But for Yves Falmet, whose family comes from the Côtes de Barre in Champagne, tending to steep hillside vineyards is second nature. To own an entire hillside of prime vineyard property is a dream come true for Yves, and the Languedoc's prized Saint-Chinian appellation, the region where it became possible.
Yves is a young man who thrives on the hard work required of him. He possesses a poetic, philosophical, and worldly approach to working his vines and making wine. Yves has learned his craft by working as an oenologist in many wine regions of the world. He has worked for Marris Wines in Australia, Mantanzas Creek in California, and Neudorf Winery in New Zealand. From each he has learned, quite simply, that good wine comes from good grapes. Yves believes it is important to step back and look at his vineyards and his wine in order to learn from them. The grapes will teach us what we need to know and how to work with them. With this objectivity he strives continually to improve the quality of his already delicious wines. For starters, Yves Falmet's wines are grown sustainably and are 100% hand harvested.
Terres Falmet's Cinsault IGP Pays d'Oc (this month's feature) emanates from a vineyard in Saint-Chinian whose vines are over 50 years of age. Vine cultivation in Saint-Chinian dates from the 9th century and Saint-Chinian ranks high among Languedoc's most prominent appellations. Saint-Chinian was awarded Appellation Control status (AOC) in 1982. However, AOC rules dictate that in order to enjoy Appellation Control status, the red wines of Saint-Chinian must be a blend of the appellation's legal grape varieties (which include Grenache, Syrah, Mourvèdre, Carignan and Cinsault), and cannot be made from just one single legal varietal, which accounts for the categorization of Terres Falmet's Cinsault as IGP (also known as Vin de Pays). In addition to fashioning an exceptional and rare 100% Cinsault, Terres Falmet also turns out enviable IGP Carignan and Mourvèdre as well as splendid AOC Saint-Chinian.
The 2016 Terres Falmet Cinsault is easily one of the most versatile food wines we have come across. This wine's light body and moderate alcohol make it an ideal match for poultry, pork, tuna, salmon, and a host of traditional Mediterranean recipes. We love this wine's ability to perfectly complement roast turkey and stuffing at the Thanksgiving table and how well it partners with savory dishes, whether meat, vegetable, or herb. Pasta dishes, especially those with black olives, red peppers, eggplant, and zucchini, offer equally tasty accompaniments. Split pea and lentil soups with ham or sausage also make fine companions to Terres Falmet's savory Cinsault. Smoked meats, cheeses, and almost any dish served with fresh tomato sauce, including bouillabaisse, should pair beautifully, too, with a cool bottle of the 2016 Terres Falmet Cinsault. Bon Appétit!
Terres Falmet's seductive 2016 Cinsault offers a superb opportunity to explore the wealth of the world's finest cheeses. The soft tannins and savory flavors of Yves Falmet's Cinsault make ideal companions to mild Chèvre, Port Salut and St. Paulin cheeses. This Cinsault also pairs beautifully with Fontina and most soft creamy cheeses.
To have a delicious selection of international cheeses delivered to your door each month (and to check out our new Rare Cheese Club!), please visit our Gourmet Cheese of the Month Club website at www.cheesemonthclub.com. Why settle for just one of life's pleasures when you can have twice the pleasure?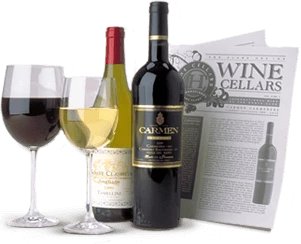 Enjoy Limited Production Estate
Bottled Wines
Discover limited production estate bottled wines such as Vergenoegd's internationally
acclaimed 2005 Cabernet Sauvignon, imported exclusively for our members.
DISCOVER OUR FOUR CLUBS