Vinyes del Terrer made its North American debut with the estate's outstanding 2010 Terrer d'Aubert Tarragona Cabernet Sauvignon. For the record, the 2012 Terrer d'Aubert Tarragona Cabernet Sauvignon (this month's feature) is every bit as delicious and engaging as the 2010. But don't just take our word for it. The 2012 Terrer d'Aubert Cabernet Sauvignon earned 92 points and a rave review from Wine Spectator. A wonderful bouquet, redolent with the scents of woodland blackberry, cassis, and fennel foreshadow this Terrer d'Aubert Cabernet's rich savory fruit flavors mingled with hints of chocolate, tobacco and complex earth tones. Mouth filling flavors caress the palate, before slipping down the thirsty throat with a flourish of ripe toasty tannins. A combination of unique terroir, excellent winemaking and the munificence of an outstanding vintage render the 2012 Terrer d'Aubert a very special wine. Decant the 2012 Terrer d'Aubert an hour before serving at cool room temperature (60°-65° F) and you'll taste and see how much this rare Cabernet Sauvignon can please. Enjoy it now and for the rest of the decade.
A sophisticated robust wine such as the 2012 Terrer d'Aubert calls for accompaniments befitting its world class stature. The finest cuts of meat, complex sauces, and simple country dishes made of the freshest ingredients provide excellent companions to Vinyes del Terrer's rare 100% Cabernet Sauvignon. Consequently, Loin Lamb Chops grilled on a wood fire and basted with Spanish olive oil, garlic and fresh mint and rosemary win our approval. Loin Veal Chops, served with shitake mushrooms and an herb rice pilaf, offer another mouthwatering accompaniment to the 2012 Terrer d'Aubert. Roasted Quail, stuffed with apple-smoked bacon and mushrooms and served over a corn based risotto, provides another wonderful pairing with Terrer d'Aubert. Thick juicy steaks provide excellent pairings, too. Yet, it is not so much what one serves with the Terrer d'Aubert that matters as much as it is the quality of the ingredients used in the dish, as simple well prepared foods often provide the best companions to world class Cabernet Sauvignon. Enjoy!
The Morell family's Vinyes del Terrer vineyard estate is comprised of nine tiny parcels totaling just seventeen acres. Each parcel lies just outside of the city of Tarragona on Spain's Mediterranean coast. And much like the great wines of Bordeaux's legendary Graves and Pauillac appellations, Vinyes del Terrer clings to a patchwork of green in defiance of the urban sprawl from its civic neighbor. Correspondingly, the estate's vineyards lie within a mile and half of the sea, much as they do in the Bordeaux appellations of Pauillac and St. Estèphe, and their soils are composed of calcareous loam derived from shell (fossil) limestone, known locally as lumaquela.
Terrer d'Aubert is fashioned from 100% Cabernet Sauvignon from extremely low yields, which average less than 1.5 tons per acre. Only 1,500 cases of this rare Cabernet Sauvignon are produced in any given vintage. Although red wines of Tarragona typically rely on Garnacha rather than Cabernet Sauvignon, the unique terroir of Vinyes del Terrer, namely the lumaquela soil, renders a special prize in Terrer d'Aubert. It also underscores the word TERRER (terroir) as the clear choice of name. In addition to the estate's Terrer d'Aubert Tarragona Cabernet Sauvignon, Vinyes del Terrer fashions a limited amount of another special, full-bodied red wine, Nus del Terrer, a lush, complex Garnacha and Cabernet Sauvignon blend.
Cabernet Sauvignon is one of the most widely cultivated of the world's noble red grape varieties. For centuries it was thought to be an ancient varietal, but DNA studies conducted in the 1990s revealed that Cabernet Sauvignon is not nearly as old as was once thought. Moreover, what is even more startling is that Cabernet Sauvignon is actually the offspring of Cabernet Franc (a red variety) and Sauvignon Blanc (a white variety).
The origin of Cabernet Sauvignon has traditionally been attributed to Bordeaux, where it holds court with Merlot, Cabernet Franc, Malbec, Petit Verdot, and Carmenère. The combination of any three or more of these varieties is what is known in Europe as the Bordeaux Blend or in California and elsewhere as a Meritage selection. Some evidence suggests that northern Spain, just south of the Pyrenees, may also one day lay legitimate claim to being an original site of the planet's most important red grape variety. However, Bordeaux rightly claims to be the disseminator of this noble red grape because from Bordeaux, Cabernet Sauvignon has traveled the world far and wide.
In Bordeaux, Cabernet Sauvignon is the heart and soul of the finest Médoc wines and a leading player in nearly all of the finest red wines of Graves. Châteaux Haut-Brion, Margaux, Latour, and Lafite are all Cabernet Sauvignon based wines. However, even in Bordeaux appellations where Cabernet is King, it is usually blended with Merlot and or other traditional Bordeaux varietals. By nature, Cabernet Sauvignon is a thick skinned grape that requires a longer maturation than most other red grape varieties, which makes blending it a natural choice in winemaking regions such as Bordeaux where climate conditions are variable.
In general, Cabernet Sauvignon thrives under warm, even hot, semi arid conditions, which is one reason why this noble variety has been extensively and successfully cultivated outside of its native France, in Argentina, Australia, California, Chile, Italy, South Africa, Spain, and elsewhere. In flavor profile, Cabernet Sauvignon can vary considerably depending upon climate and terroir. However, blackberry and blackcurrant (often referred to as cassis) flavors are most often associated with this premium variety. Earthy and herbaceous aromas, such as cedar, eucalyptus, graphite, and tobacco are also common. Moreover, of all the world's red grape varieties, Cabernet Sauvignon has the greatest propensity for successful ageing. Cabernet Sauvignon also contains high amounts of antioxidants and resveratrol, which make its wines some one of the most healthful of all wines. Enjoy!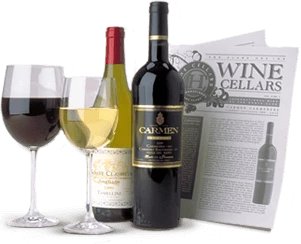 Enjoy Limited Production Estate
Bottled Wines
Discover limited production estate bottled wines such as Vergenoegd's internationally
acclaimed 2005 Cabernet Sauvignon, imported exclusively for our members.
DISCOVER OUR FOUR CLUBS