The 2012 Terra d'Oro Sangiovese is a beautiful wine that exudes elegance, yet it offers plenty of varietal character and flavor. After spending nearly two weeks in Italy earlier this year tasting many of Tuscany's finest Sangiovese based wines, including wonderful Chiantis and Vino Nobiles, it became quite apparent that Terra d'Oro's 2012 Sangiovese has nothing to be ashamed of. Although stylistically different from its Italian counterparts, the 2012 Terra d'Oro Sangiovese remains faithful to the varietal, and at the same time it expresses the soul of Amador County and aptly reflects the differences between Tuscany and California. The Terra d'Oro embodies California's sunshine, taming just enough of Sangiovese's natural high acidity. Furthermore, it offers inviting aromas of red currants and crushed raspberries along with hints of exotic spices and burnished wood. Rich, smooth flavors dominate the mid-palate, offering deft touches of cherry, allspice and white pepper all wrapped in smooth oak, which makes this wine slide almost surreptitiously down the throat. Although immediately charming upon opening, we found the wine to gain considerable complexity the longer it breathed, so try not to be in hurry. Enjoy this wine at cool room temperature now and over the next several years. Enjoy!
The medium-bodied 2012 Terra d'Oro Sangiovese offers bright acidity and long lingering flavors, which make it the perfect food-friendly wine. Veal, beef and lamb make ideal companions alongside of Terra d'Oro Sangiovese. Beef or lamb Osso Buco wins our hearts, but pairing it with marinated lamb kebobs works well, too. Tagliatelle pasta with a fine meat sauce and homemade ravioli stuffed with ricotta cheese, zucchini and zucchini flowers pair beautifully with the Terra d'Oro Sangiovese, too. And then there is lasagna layered with sliced meatballs and spicy Italian sausage. Risotto Fratacchione, a traditional Sienese dish made with lean sausages, Arborio rice, and a dollop of Parmigiano-Reggiano, also provides a zesty treat with this wine. Cheese or meat tortellini, roast pork with polenta, and the best brick oven pizza one can find also do justice to this classic Tuscan style red. Buon Appetito!
Terra d'Oro is a premium selection of wines made at Montevina, one of the oldest and most prestigious wineries in California. Set amid the foothills of the Sierra Nevada Mountains, Terra d'Oro lies at the heart of California's "Gold Rush Country." However, today Terra d'Oro is best known for its liquid gold in the form of excellent Syrah, Zinfandel, Barbera, Sangiovese, and assorted Italian grape varieties that emanate from the golden Amador foothills as well as several choice vineyards in Santa Barbara County.
The Trinchero family has owned Terra d'Oro since 1988, but this winery's passion for growing outstanding fruit and producing many of California's finest Rhône and Italian style varietals dates back even further to the 1960s. And since 1986, Jeff Meyers, unquestionably one of the most experienced California winemakers with Italian varietals, has been the General Manager and guiding force behind Montevina and Terra d'Oro's huge success. Possessing an encyclopedic knowledge of the region's viticulture along with a knack for fashioning distinctive Mediterranean varietals that possess elegance as well as fabulous flavor, Jeff is one of the first California winemakers to be enormously successful with Mediterranean varieties. Montevina's Barbera, Pinot Grigio, Sangiovese, Syrah, and Zinfandel, produced under the Terra d'Oro label, create a benchmark portfolio for these grape varieties that would be hard to find elsewhere. And unlike most of the wines from this estate's competitors, Terra d'Oro's wines are produced from a high percentage of old vines.
Sangiovese (literally translated as Blood of Jove), is the principal grape of Tuscany. It is the lifeblood of Chianti and Vino Nobile and the sole constituent of Tuscany's most illustrious wine, Brunello di Montalcino. It also serves as the backbone of many Super Tuscan blends. And despite its importance and proliferation throughout Tuscany and Central Italy, Sangiovese is a difficult grape to cultivate and master. It is notoriously slow growing and slow to ripen. Moreover, it is thin skinned and prone to high acidity, which under ideal conditions produces wines with delicious fruit and excellent structure, many of which can age for a decade or more. However, Sangiovese is not meant only for collectibles: the grape's light fruit and bright acidity also lend themselves to excellent everyday wines meant for the dinner table. Sangiovese's natural acidity makes it an ideal varietal for California, particularly Amador and Napa counties, and a natural accompaniment to meat, pastas and many tomato-based dishes.
Terra d'Oro is an integral part of Trinchero Family Estates. Trinchero Family Estates (TFE) is a leader in the employment of sustainable methods of agriculture, recycling, and green land management. Trinchero Family Estates employs only sustainable, organic, and biodynamic practices in their estate vineyards, which include Terra d'Oro. They eschew the use of potentially harmful chemicals and work with the state of California and other vineyards to develop healthy, natural alternatives to harsh chemicals. No chemical pesticides or herbicides are used at TFE and natural ground covers such as barley and clover prevail throughout all the estate's vineyards. Furthermore, botanical oils and natural predators take the place of potentially hazardous chemicals. TFE, also, recycles 50 million gallons of water annually and recycles 20 tons of office paper, 850 tons of cardboard, and 100 tons of plastic each year. All proceeds from recycling revert to TFE's employees in the form of an employee-in-need fund. In addition, Trinchero has planted over 3,000 oak trees near their vineyards and created extensive greenbelts and lakes to improve the natural environment. Not surprisingly, Trinchero Family Estates has received California's Waste Reduction Awards Programs (W.R.A.P.) Award each year for nearly a decade.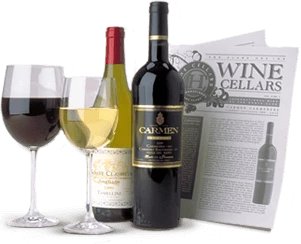 Enjoy Limited Production Estate
Bottled Wines
Discover limited production estate bottled wines such as Vergenoegd's internationally
acclaimed 2005 Cabernet Sauvignon, imported exclusively for our members.
DISCOVER OUR FOUR CLUBS