Thanks to some much needed rain at the end of July and balmy weather through September, the 2019 harvest in Bolgheri produced many outstanding wines, including the 2019 Tenuta Meraviglia Bolgheri Rosso DOC. Fashioned from 100% Cabernet Franc, it is the estate's first vintage with Certified Organic status. Meraviglia's 2019 Bolgheri Rosso is elegant, pure, and beautifully structured. Sporting a very deep ruby red color and an amplifying bouquet redolent with the scents of blackberry, currant, cocoa, and violets, it is a delight from start to finish. The wine's enticing bouquet re-emerges in the mouth, offering rich berry flavors infused with dark chocolate, violets, and touches of graphite from Meraviglia's special Ophiolite rich terroir. Velvety tannins carry the wine's rich, satisfying flavors to a long, lovely finish. A real beauty, we suggest affording the 2019 Tenuta Meraviglia Bolgheri Rosso at least 20-30 minutes of aeration before serving at cool room temperature (58°-62° F). Anticipated maturity: 2022-2029.
The 2019 Tenuta Meraviglia Bolgheri Rosso DOC deserves a place on the finest tables, both at home and in restaurants. This is Cabernet with a soul from a place that knows and values food. An excellent cut of meat such as filet mignon, grilled to perfection and served with mashed potatoes and haricots verts, makes an ideal choice to serve with the 2019 Tenuta Meraviglia Bolgheri Rosso, as a fine cut of meat highlights the wine's many attributes. Florentine Steak, an oversized T-bone rubbed with garlic and rosemary and basted with olive oil makes another fine companion. Rabbit stuffed with a truffle-infused wild rice provides an excellent complement, too. Pan-seared duck breast with wild rice and roasted Brussels sprouts provides another superb complement. However, if meat is not in the offering, why not consider pairing Meraviglia's 2019 Bolgheri Rosso with a trio of starters that consist of a white bean paste, a red pepper hummus, and a black olive and sun dried tomato tapenade, all served with crostini and freshly baked focaccia. Most cow and sheep's milk cheeses complement this wine, too. Buon Appetito!
Tenuta Meraviglia is a special place under the Tuscan sun. This historic property was purchased by Argentine entrepreneur Alejandro Bulgheroni in 2016, a man renowned for his great passion for wine and a penchant for organic viticulture. Bulgheroni has acquired an enviable portfolio of historic world-class wineries in Tuscany and throughout the world. Meraviglia ranks as Alejandro Bulgheroni Family Vineyards' most prized Bolgheri estate.
Meraviglia, whose name means wonder or marvel, is located on a high plateau in the most southern part of Bolgheri where its vineyards look out to the gleaming blue of the Tyrrhenian Sea. Meraviglia is an ambitious project, but Alejandro Bulgheroni is no stranger to ambitious projects. The Tenuta Meraviglia estate is comprised of 95 hectares of vineyards (about 234 acres), which are surrounded by an additional 500 acres of bush and woods that promote biodiversity. Meraviglia's high elevation is marked with an abundance of Ophiolite, a rare type of stone from the earth's crust that has been exposed to both oceanic and volcanic influences. The preponderance of Ophiolite renders special characteristics to the estate's wines. And, as of 2019, the entire estate is Certified Organic. The vineyards are plowed in order to oxygenate the soil and send the vines deep into the soil. No manure or fertilizers are applied. Instead, favas and other cover crops are planted between the rows. Moreover, as of 2019, Meraviglia's Bolgheri Rosso DOC (this month's feature) is comprised of 100% Cabernet Franc, a rarity but also testament to Cabernet Franc's status and growing importance in Bolgheri.
Bolgheri has emerged as Tuscany's premier DOC, and its red wines known as Super Tuscans are universally lauded and ranked among the planet's finest. Wines such as Tenuta San Guido's Sassicaia and Ornellaia's Bolgheri Superiore are world-renowned, receive great critical acclaim year in and year out, and fetch prices on par with the finest classified Bordeaux.
Located in southern Tuscany beside the cobalt blue Tyrrhenian Sea, Bolgheri has for centuries cultivated Cabernet Sauvignon and other French varietals along with Sangiovese, Tuscany's premier indigenous grape variety. Yet, on account of its reliance on Cabernet Franc, Cabernet Sauvignon, and other non-autochthonous grape varieties, Bolgheri attained DOC status for red wine only in 1994, making it one of Tuscany's youngest appellations.
Red wine serves as Bolgheri's ambassador to the world, accounting for much of the region's international acclaim. Bolgheri DOC regulations stipulate that Bolgheri Rosso can only be made from Cabernet Franc, Cabernet Sauvignon, Merlot, Sangiovese, and Syrah with at least 50% of the blend consisting of Bordeaux varietals (Cabernet Franc, Cabernet Sauvignon, and Merlot). Small amounts of Petit Verdot, another Bordeaux varietal, also find their way into some Bolgheri Rossos, but in reality, most of Bolgheri's Super Tuscans rely more heavily on Cabernet Franc, Cabernet Sauvignon, and Merlot with increasingly less Sangiovese and Syrah appearing in the finest examples. Some producers such as Meraviglia are now also bottling their Bolgheri Rosso with just a single varietal.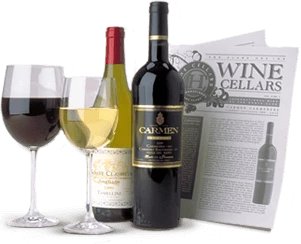 Enjoy Limited Production Estate
Bottled Wines
Discover limited production estate bottled wines such as Vergenoegd's internationally
acclaimed 2005 Cabernet Sauvignon, imported exclusively for our members.
DISCOVER OUR FOUR CLUBS