Simone Santini has once again fashioned a pure, exemplary Vernaccia di San Gimignano in 2019. In fact, his 2019 Tenuta Le Calcinaie Vernaccia di San Gimignano is every bit as compelling as the estate's 2015 Vernaccia di San Gimignano, which made Wine Spectator's Top 100 List. Rare among Tuscan white wines for its flavor, freshness, and longevity, Vernaccia di San Gimignano owes its 800-year reign as the region's most lauded white wine to the predominance of the unique Vernaccia clones that thrive in the environs of San Gimignano. Whereby most Tuscan whites rely upon the more innocuous and ubiquitous Trebbiano and Malvasia grape varieties, Vernaccia di Gimignano must be comprised predominantly or entirely of Vernaccia. As always Tenuta Le Calcinaie's Vernaccia di San Gimignano is produced from 100% Vernaccia di San Gimignano from Simone Santini's estate. True to form, the 2019 Tenuta Le Calcinaie Vernaccia di San Gimignano sparkles in the glass with a golden yellow glow and a flash of green, reminding us of Tuscany's magical landscape, fully illuminated by a scintillating Tuscan sun. In aroma, this wine offers a draught of freshly picked orchard fruits combined with the seductive scents of almond blossoms, and a twist of lime zest. In the mouth, a subtle minerality underpins the wine's pure fresh fruit flavors with hints of almond and citrus, all of which add freshness, length and vibrancy to the wine's intriguing finish. Beginning with the first sip and continuing to the last drop, Tenuta Le Calcinaie's highly acclaimed 2019 Vernaccia di San Gimignano tastes great, yet, it has the propensity to evolve further in the bottle for several years. For optimal enjoyment we suggest only moderate chilling (40°-45º F) and a few minutes of aeration in the glass before consuming. Enjoy!
One of the greatest attributes of the 2019 Tenuta Le Calcinaie Vernaccia di San Gimignano, or any vintage of this unique Tuscan white wine, is how beautifully it pairs with food, especially classic Tuscan bean dishes, poultry, and seafood. Seared sea scallops with a ragout of cannelloni beans and crispy pancetta bacon; grilled trout with almonds and fresh green beans; and freshly shucked oysters broiled with garlic butter, Parmesan cheese and a dash of lime juice all provide excellent accompaniments to Le Calcinaie's classic Vernaccia di San Gimignano. White pizza with rock shrimp, fresh ricotta, mozzarella, and arugula offers another fine pairing. Grilled vegetables, hors d'oeuvres, cream based pasta dishes, and hearty salads provide other opportunities to highlight the 2019 Tenuta Le Calcinaie Vernaccia di San Gimignano – a rare and authentic taste of Tuscany. The exceptional vibrancy inherent in this wine also makes it a splendid aperitif, with nary a morsel. Buon Appetito!
The tiny Tenuta Le Calcinaie estate is situated within the confines of the medieval Tuscan hill town of San Gimignano, made famous by its many towers. Considering the location and attention to quality at Le Calcinaie, this little jewel of a property has become quite renowned for its rare and exceptional Vernaccia di San Gimignano for which the town of San Gimignano is also justly famous. Considering the dearth of fine Tuscan whites, it should come then as no surprise that Tenuta Le Calcinaie has been so keenly identified with Tuscany's finest white wine. Come taste and see why Tenuta Le Calcinaie's Vernaccia di San Gimignano has been a perennial favorite with our members.
ehind the success of Tenuta Le Calcinaie is the affable and witty Simone Santini, known near and far as the Great Santini! Simone is gifted with an archetypal Tuscan sense of humor; he possesses a vibrant wit and an acute sense of irony. He is also an excellent winemaker, and his estate is completely certified organic. His Vernaccia di San Gimignano is classically wrought, exceptionally focused, and bursting with flavor.
However, what the world has not yet discovered is just how wonderful Tenuta Le Calcinaie's red wines are, most notably Le Calcinaie's Colli Senesi Chianti and its proprietary Super Tuscan red Teodoro. Simone's red wines are truly as exceptional and as delicious as his Vernaccia, yet few people outside of San Gimignano have ever tasted these wines. Come to think of it, how many Americans have ever tasted Vernaccia di San Gimignano or Colli Senesi Chianti, two of the friendliest of all Tuscan wines from the hands of a true artisan, "The Great Simone Santini"?
Tuscany enjoys a unique position in Italy. Located in the center of the Italian peninsula, its cities, culture, and people have existed for thousands of years in the throes of conflict. Drawing strength from its ancient Etruscan origin, which lent Rome its ability to build and engineer feats of unparalleled proportion, the inhabitants of Tuscany have shaped an austere, mystifyingly beautiful countryside into a rich, fecund land. And from the dynamic tension that held sway over Florence and its neighbors during the Middle Ages, there emerged the Renaissance – a 15th century ideal that made "man the measure of all things." In harmony with a singularly beautiful land that has been inexorably shaped by the finest artistry of man, Tuscans have created a nearly ideal world in which agriculture, architecture, art, thought, and wine continue to form one seamless vital union. Nowhere in Tuscany is this truer than in San Gimignano, where the city's medieval towers reach for the sky and point to the limitless nature of the Tuscan spirit.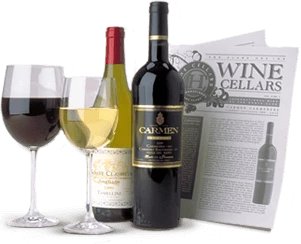 Enjoy Limited Production Estate
Bottled Wines
Discover limited production estate bottled wines such as Vergenoegd's internationally
acclaimed 2005 Cabernet Sauvignon, imported exclusively for our members.
DISCOVER OUR FOUR CLUBS