Tenuta di Tavignano continues to push the envelope on quality, so it should come as no surprise that this winery has turned out another delicious Verdicchio in the superb 2013 Villa Torre Verdicchio dei Castelli di Jesi. The bright flavorful 2013 Villa Torre is produced from 100% Verdicchio grapes that burst with freshness and an intensity that mirrors the pastoral beauty of the Marches and the alluring gleam of the nearby Adriatic Sea. Savory scents of apple blossoms, heather, and stone fruits delight the nose, while in the mouth the 2013 Villa Torre enlivens the palate with plenty of crisp fruit flavors, a twist of almond, and just the right amount of juicy acidity to make the tongue and thirsty taster plead for more. Full-flavored for a Verdicchio from Castelli di Jesi, Tavignano's Villa Torre continues to unfold in the glass and offer hints of tangy freshness that emanate from the nearby sea. Unlike commercial Verdicchio, the 2013 Tavignano Villa Torre truly does evolves in the glass, gaining length and depth as it breathes. Drink this wonderful white wine moderately chilled (40º-45º F) over the next couple of years.
Verdicchio dei Castelli di Jesi has earned the reputation as "the quintessential fish wine of the Marches," and the 2013 Tavignano Villa Torre Verdicchio plays that role far better than most. Like the finest white wines of Italy, Villa Torre is an expressive wine that's meant to be consumed at table in the company of food. Though it makes a splendid aperitif, as quite a few tasting panel members will attest (we drank a good bit of the 2013 Tavignano Verdicchio before dinner as an aperitif on our most recent visit to Italy), it truly does shine with hors d'oeuvres, seafood, poultry, cured meats, and the fresh ingredients that sprout from the garden. Consequently, we suggest pairing the Tavignano Verdicchio with calamari, grilled fish served in a savory tomato and herb broth, or Cioppino, the spicy Italian version of Bouillabaisse. Clams, mussels, stuffed mushrooms, Caprese Salad (ripe red and yellow tomatoes with fresh basil and warm, thinly sliced mozzarella), and finely cured salami, sopressata, and mortadella all provide tasty accompaniments to Tavignano's flavorful Verdicchio as well. Paninis with cheese and prosciutto; grilled sweet Italian sausage with peppers and onions; and even Black Bean and Chicken Chili make fine companions to this wine. Fresh fruit and soft cow's milk cheeses provide gratifying accompaniments, too. Buon Appetito!
Tenuta di Tavignano is an ancient estate in Italy's Marches. And like so many antique Italian properties, Tavignano has undergone a metamorphosis in the past two decades. The estate's old farmhouse and 30 hectares of vines were taken over in the early 1990s by Beatrice Lucangeli and Stefano Aymerich di Lacaroni, scions of two noble Marchesan families. Together they have implemented a total makeover at Tavignano by replanting the vineyards, completely renovating the 16th century farmhouse, and constructing a new underground winery. With this resurrection has come a meteoric increase in the quality of the wines made at Tavignano, so much so that noted wine critic Robert Parker Jr. once remarked that Tavignano produced "one of the two finest Verdicchios I have ever tasted," and we heartily agree.
In addition to producing renowned Verdicchio, Tavignano fashions excellent red wines – all from indigenous Marchesan varietals. They include two delicious Rosso Piceno wines made from the traditional Marchesan blend of Montepulciano and Sangiovese as well as Barbarossa from the rare Lacrima di Morro d'Alba variety. The total wine production of Tenuta di Tavignano is evenly split between Verdicchio and the estate's red wines. Since this estate's decade long renovation, Tavignano has consistently pushed the envelope on quality and fashioned a number of the Marches' most exciting wines.
Verdicchio is a white grape variety indigenous to the Marche region of Italy as well as the name of the Marche's most popular white wine. Verdicchio is derived from the word verde, which means green, due no doubt to the grape's greenish yellow hue. Verdicchio is a commonplace name among wine consumers, and so is the striking but hopelessly impractical fish-shaped bottle that encapsulates the most commercial and usually least exciting of Verdicchio's wines from the Castelli di Jesi DOC. However, very few experts and consumers alike know that there are actually two appellations for Verdicchio in the Marches, Castelli di Jesi and Matelica, and both these appellations produce some of Italy's most pleasing white wines, mostly from small estates such as Tavignano.
High quality Verdicchio is noted for its bright acidity, freshness, and nutty flavors. It is easily the white wine of choice along Italy's Adriatic Coast. And depending upon the vagaries of terroir and attention, Verdicchio can be a light, fresh, eminently drinkable everyday quaff or a wine rich in aroma, flavor, and structure that can age for several years or more in bottle, as is the case with Tavignano and other hand crafted Verdicchios. Up to twenty percent of Trebbiano and or Malvasia, two other local varietals, are permitted in Verdicchio. However, the finest versions like Tavignano contain only 100% Verdicchio.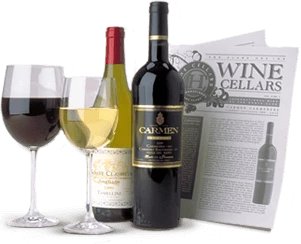 Enjoy Limited Production Estate
Bottled Wines
Discover limited production estate bottled wines such as Vergenoegd's internationally
acclaimed 2005 Cabernet Sauvignon, imported exclusively for our members.
DISCOVER OUR FOUR CLUBS